ARB Airlocker information
How to save some money on ARB air valves.
These valves were actually made by Mac Valves.
ARB now uses a different air valve that connects via a manifold setup to their compressor.
Since my MQ was set up with a Thomas air compressor in the days prior to ARB having their own compressor, I decided to use the MacValves since they suited my application better and had mounting holes.
Visit MacValve's web site to find a distributor near you.
While researching and purchasing components (in the US) to add a front locker to my oz MQ patrol (already having a rear ARB locker), I found the following information.
Air valve: MacValve (approx US$17 each for whole assembly). You can purchase just the valve, just the solenoid or the entire assembly.
| | |
| --- | --- |
| Part number | Description |
| 35A-AAA-DDBA-1BA | Whole assembly 12Volt solenoid |
| 35A-AAA-DDAA-1BA | Whole assembly 24Volt solenoid |
| 35A-AAA | Air Valve only |
| DDBA-1BA | 12 Volt Solenoid 5.4Watt |
| DDAA-1BA | 24 Volt Solenoid 5.4Watt |
This air valve has three ports, inlet (1), outlet (2) and exhaust (3). The inlet is piped to the compressor filled air tank, the outlet is piped to the diff lock and the exhaust is vented to air with a vent filter (to keep dust and dirt out of the valve). The three ports are 1/8" NPT females. The picture below shows two of the air valves with push-fit air fittings installed. You can see the breather vent - the gold coloured hex head plug in each air valve.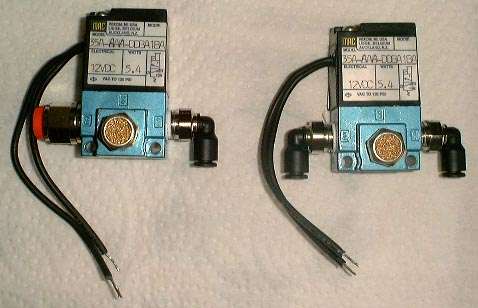 Breather Vent Filter: Alwitco (less than US$1 each - the salesman threw them in for free)
| | |
| --- | --- |
| Part number | Description |
| BF type, Model F18 | Vent filter |
The vent filter is a low profile male plug with a porous metal mesh to prevent ingress of dirt.
Tubing & Fittings: (Legris or Pisco)
I chose push-fit couplers and 5/32" (OD) nylon tubing to run all the pneumatic connections and lines. The ARB difflock air connection has compression fittings on it for the 5mm tubing that is supplied with the air locker. I used the provided ARB fittings and 5mm hose to the air valve, I then used the 5/32" tubing and push-fit fittings for the run to the compressor tank. Note: make sure the tubing you get is compatible with the push-fit couplers - it is required to meet certain standards - just buy it from the place you buy the fittings from.
Legris LF3000 series
Pisco Standard Fitting series
Each push-fit coupler will set you back from $1.50 to $3.50 depending on type, i.e. straight, elbow, tee etc.
Hint:
Use Loctite 242 on the threads of all the fittings prior to screwing into the valves. This is the preferred sealant, as teflon tape is more problematic - especially since it can tear and 'pollute' the airvalve passages.
Air Locker Switches: (Carlingswitch)
Since I got a rear air locker installed in my Nissan many years ago, it just had a cheap rocker switch. Now, ARB has some really nice looking switches for their air lockers. ARB ships both a front and a rear switch bezel (since they don't know if you are going to use the diff in the front or in the rear) and only 1 switch. So, I decided to upgrade my old switch, but to do that I had to find another switch to use with the rear bezel. Checking the details on the supplied ARB switch I found it was made by Carlingswitch - a quick search found their website. The full part number for the switch that ARB uses is: V1DAJ66B-00000-000 and it is known as the V-Series: Contura II & III. You can order samples via their web site (click on 'contact us' and then select the 'quote and sample request' tab. I just gave my company name and filled out the approximate yearly volume as 'small' - no lie there ;-) I ordered two, one that I needed plus a spare. Took around 10 days to get them. www.waytekwire.com also carries many of the Carlingswitch products though not the one above, they also carry different lenses and accessories.