The Mining Monster and shades of grey
I've never considered myself someone that is a 'greenie', but seeing some of the environmental damage being done to the West Australian bush by the greed of Mining and the all too eager to approve government has led me to some google investigating of various proposed areas of development. One area that some mates and I visited a couple of years back (2014) had a sign stating Macaurthur Minerals. Mate (Rod) mentioned I should check them out, so with google at the ready I figured, what the heck, worth seeing if they are ready to rip stuff out of the ground yet...
UPDATE: Ok it's 2017 now and many of the links below are now dead or the hosting services have been cancelled. I'll leave the dead links since it just confirms the total and utter shams some of the folk below have perpetrated. Given I only dug into a few of these 'companies', this is just the tip of the iceberg when it comes to this kind of business. BUYER BEWARE as always when it comes to believing any of the tripe some folk will spin...
Ok, was looking at Diemals area and found another nugget:
http://beaconminerals.com.au/pages/directors
These guys have rather recently 'become' Beacon Minerals (go back a few years and another board of directors existed).
So, they sold the exciting lease to fund further 'profits' (to themselves):
http://www.proactiveinvestors.com/companies/news/150214/beacon-minerals-sells-barlee-gold-mining-lease-to-fund-acquisitions-and-exploring-remaining-leases-24789.html
But their home page still says they are "Beacon Minerals Limited's current focus is on developing the Barlee Gold Project in Western Australia."
So, have they sold it or not?
These clowns have NO active mine, but are drilling. Just west of Lake Barlee and up 30k or so from Diemals is the area they are say is showing promise (in 2017). Ok, how long does it take for gold to convert from bullshit to shiny metal? The original clowns that ran Beacon Minerals were all excited back in 2008 as well:
https://www.businessnews.com.au/article/Beacon-Minerals-encouraged-by-Barlee-results
So, Beacon Minerals appears to be made up (lol) of 2 guys based in Kalgoorlie and a CPA somewhere in Perth. Another massive company, but has been listed on the ASX for a decade. I'll repeat again that I continued to be boggled how this shit continues. I guess there's a sucker born every minute and wants to believe that investing in smoke and mirror mining exploration companies will make them rich. I only see the riches getting to the directors when they float this crap onto the surface of the loo and then get it listed on the stock exchange.
They are also playing around Juardi and buying some tenements there to turn into 'profit' - or at least bump their ASX stock prices.
---
So, let's spend an informative few minutes checking what's under the veneer of a website, and we start with Macauthur Minerals. May 2016.
Ok, impressive sounding company name (that is exploring the Ullaring area for iron ore and now the Pilbara for Lithium - 'cos it is a hot commodity, right?). Do some google searching and Macauthur Minerals' 'Head Office' is based in a fancy building in Queensland. Huh, W.A. exploration experts based in Queensland, not West Oz?
Ok, lets search a bit further on their website:
Level 20, 10 Eagle Street
Brisbane QLD 4000
Australia
But a mailing address below. What larger company has a PO box as a mailing address? Really?
PO Box 7031
Brisbane QLD 4001
Australia
Ok, we google search on the PO address and we find the EXACT same PO AND building address as:
http://www.plusconnect.com.au/
Now that's interesting... A Mining company sharing the same address and PO as a "gaming" company... I guess they are related by a common cause eh?
More searching on both sites and another nugget (and that's not gold, mate) pops up:
Joe Phillips: http://www.plusconnect.com.au/irm/content/board-of-directors.aspx?RID=251
and
Alan Phillips: http://macarthurminerals.com/corporate/elt
Oh, and now we can search on that 'pair' of people... Oh, they are related, father & son:
http://www.couriermail.com.au/
Or if you get a premium content message, here's a local cached copy of the article. So, Joe has moved on to the connectplus company - undoubtedly requiring his mining industry expertise. Fortunately his commute is to the exact same address as when he worked at Macauthur Minerals - damn fortunate eh?
Local cached copy of article: mactank.pdf
Ok, so this father & son team are upstanding citizens and definitely worth investing in.
The whole Macauthur Minerals appears to be made up (nice choice of words there...) of 3 fellows and one secretary. Big company eh? Worth investing in eh?
So, how do we invest in Macauthur?? Oh, it's listed on TSX (that's Toronto Stock Exchange, that's CANADA mate). Why is this company listed in Toronto? Oh, and its stock history??
Hmm, worthless and now worth something more than nothing (must be the Lithium mate!). Wonder who made all the money... I guess that would be the company as it converted equity to stock on the TSX (that's TORONTO/CANADA mate!). The company is 3 'executives' + Secretary.... And they share an office/PO with an Internet Gaming company that is now trying to raise money too....
Yeah, they've re-awoken their BS engine to start searching for Lithium, which has bumped the stock up a few pennies:
https://ca.finance.yahoo.com/news/macarthur-minerals-further-expands-lithium-120000580.html
So, lets see how this BS works. You basically align yourself with what appears to be a consulting company with expertise in your field and that makes you look good. But the actual 'real' announcement on the CSA website states:
Macarthur Minerals completes desktop review and expands lithium projects in the Eastern Pilbara.
Macarthur Minerals Limited (TSX VENTURE:MMS) (the "Company" or "Macarthur Minerals") is pleased to announce that it has made applications for additional exploration licences in the Eastern Pilbara region of Western Australia for potential lithium projects. In addition, CSA Global Pty Ltd ("CSA Global") has completed a desktop review of the Company's Eastern Pilbara projects, which concludes that the applications are prospective for lithium-bearing pegmatites.
Read the part CLOSELY that says "...has completed a desktop review"... what does that mean other than they (both parties) looked at some paperwork while at their desk in their fancy offices and figured, yeah, that looks good... Right on, let me get my cheque book out immediately and buy some stock.

More details -> http://www.yourminingnews.com
Again, desktop review and nothing actually done on the ground. Hmm, just a little bit premature stating that "...expands lithium projects in the Eastern Pilbara" when there isn't even a single "project" in place YET. Not even clear that anyone has even drilled a single sample hole out there. Speculation at its best.
So, in summary, Mining and Internet Gaming, a great synergy...
---
Let's move on to Mt Forrest (north east of Lake Barlee). It has some fascinating spots woven through the range that nearly have a Pilbara feel to them, especially some of the rock creeks/runoffs.
Of course it has rocks, hence the Mining Monster must try to exploit them. This is where Mindax (another fancy sounding Mining 'company' name) put their bets.
2017 and absolutley no updates from the mindax crowd. Anyone that bought their stock, well, may be good if you run out of toilet paper...
This another new company that at least states on their home page that they are an emerging Mining House. The good news is that their latest "news update" is 2014 so hopefully their plan to destroy Mt Forrest has been laid to rest due to lack of demand and softening of the iron ore needs of China.
You do have to wonder about a mining comany that has their media contact as:
For media enquiries, please call David Utting www.davidutting.com
Must be a huge media company given the person and the website and the email contact are one and the same. From his home page:
Manage your relationships and cleverly craft
and sensitively disseminate your messages to the audiences that count - be they investors, government, media or other stakeholders.
Yeah, let's "cleverly craft" your message to investors and government and ....
Latest Mindax press release from their website (2014):
() is preparing to reveal details of the outcome of negotiations on the proposed joint venture at the company's Mt Forrest iron ore project.

Discussions have been continuing with the Hong Kong based Perpetual Mining Holding Limited.

The project comprises seven mining leases and is located 165 kilometres from the southbound railway at Menzies and around 648 kilometres from the port at Esperance.

Mindax has discovered and built a significant iron ore inventory in beneficiated magnetite and DSO materials.

The current primary magnetite JORC Resource stands at 1.71 billion tonnes at 31.8% iron (248.2 Mt at 32.6% iron Indicated and 1,462.4 Mt at 31.6% iron Inferred).

Recoveries from extensive Davis Tube Recovery (DTR) analysis are in the range 35-40% by weight and concentrate iron grades are of the order of 66-70% iron, 2.5-7% SiO2.

The halt will remain on place until the opening of trade on Tuesday 22nd July 2014, or earlier if an announcement is made to the market.
Looks like it all fell through and nothing is happening. Good news for the rest of us that don't want our ranges defaced/destroyed.
Let's get a snapshot of their stock since they are listed on the ASX. Sure to be a hoot... and... wait for it...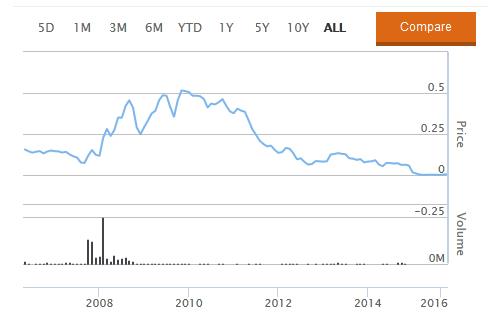 Hmm, near zero. Did peak at around 50c/share in 2010 and for a few years was worth some. From their listing on the ASX there looks to be near 4 million shares, so the company (owners) did manage to squeak a couple of million dollars out of the market. The Mt Forrest announcements back don't appear to have had any share impact, I guess no one believed in Mindax anymore.
The board is made up of about 4 Asian/Chinese descent individuals, I wonder if they have ever stepped into the bush or have any actual mining experience? Nope, click on their links on the Mindax website and they are all 'business men'.
How do you start and run a MINING HOUSE when not one of the people have ANY experience in Mining or Geology.
Hmm, silly me, I work as an Electronics Engineer and double silly me I actually have a degree in Electronics Engineering. Maybe I should have just got a degree in basket weaving...
---
Sep 2016. Ok, so I was just doing some new searching and noticed a 'potential new mine area' named Cyclone on the Western Australia side of the WA/SA border, north of Eucla. It peaked my interest to see what could be out there. Found that it is held by Diatreme Resourses Ltd (http://www.diatreme.com.au/). Minerals sands apparently, well, it's a desert so I'm sure there's a lot of sand out there.
Seemed interesting so a bit more reading of their website. Wow - turns out one of the board of directors members is :


Mr Andrew Tsang - Non-Executive Director
Appointed to Board 23 January 2009.
Mr Tsang is a naturalised Australian citizen who was born and educated in China and who has successfully established and run construction, engineering and property development businesses, both in China and Australia, as well as establishing successful import agencies for Australian manufactured goods into China. He is a non-executive director of Mindax Limited and has sound commercial connections with many leading Chinese heavy industry producers.
Ah, Mindax again, dear god, does it ever stop??? Diatreme is based in Brisbane/QLD. Basically all the board members are Chinese with I'm sure a massive background in the mining industry... At least they are 'extracting' some investment $ from Asia which is getting consumed as rapidly as possible to pay salary etc.

Diatreme stock is firing along at great guns of course. Here's a snapshot for giggles: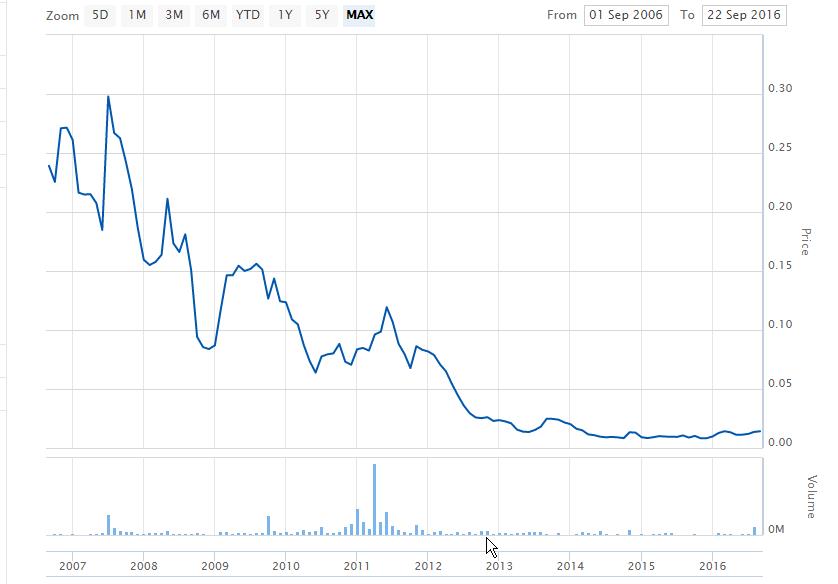 Yeah, worth a heck of a lot of money right now. I'll be sure to buy a whole load of stock asap...


At least a couple of the 'management' team have some mining background. Maybe worth revisiting their stock value in a year or two... ha ha ha...


---
WORK IN PROGRESS, MORE NUGGETS TO COME :)