2 week trip to the Kalgoorlie Goldfield area


Well, the trip has come and gone and it was very relaxing.
We spent 12 days (about 1700km) on our little adventure, never enough time...
Of the 1700km, we covered around 1200km of it on the first and last days, so we did about 500km in the remaining 10 days, i.e. we didn't spend entire days driving. Other than the first and last day of our trip, we didn't see a single vehicle or person!
This was a trip that definitely shouldn't be attempted by anyone that minds nearly constant rubbing of brush and trees against the sides and roof of their 4wd. The external barwork on my nissan, especially the sections that run up along the front windscreen pillars, broke more than a few largish branches on some of the very overgrown tracks that we travelled. What we really need is for some humvee owners to run up and down the tracks a few times ;-)
We headed from Perth to Northam, then up to Goomalling to Wyalkatchem to Mukinbudim (yeah, they're REAL places) and then a bunch of back roads and tracks up to Mt Jackson and then to Pigeon Rocks. The following picture shows some of the country south of Mt Jackson, we're on a rock outcrop looking towards the east. In the distance can be seen salt lakes that still have water in them from the cyclone.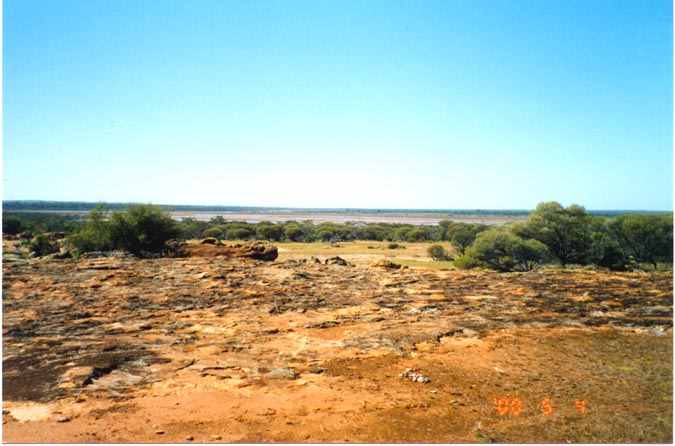 An idea of what the tracks and scrub in the area look like. We took a camcorder with us for the first time, just so friends and family could get an idea of what a typical trip to the bush is like - that's what I'm doing on top of the hood.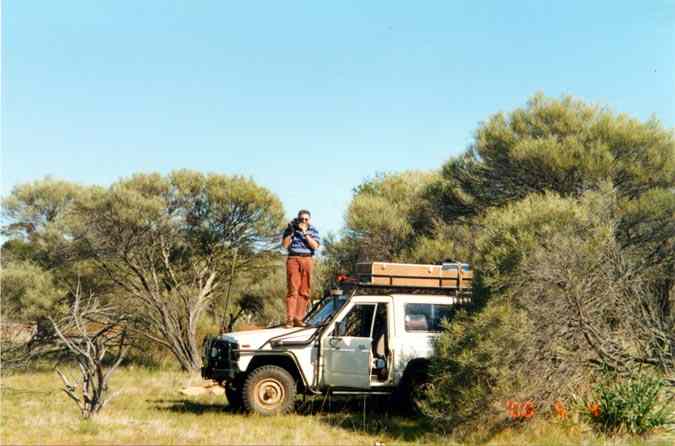 After miles and miles of old and overgrown tracks we got a flat just driving around the cleared area around Pigeon Rocks. It was quite amusing, we had stopped on a small rock area about 3 metres from a camp spot from 2 years back and while looking around we heard the familiar hiss of a flat tyre. Out with the Tyrepliers (very impressed with their ease of use), break the bead, clean out the tiny wooden stake in the tread then patch the tube and put it all back together again. Needless to say that our camp spot had been chosen for us. A couple of days later we headed east via some quite old and flakey tracks. The GPS and moving map software was very useful in determining where a track was likely to be. The usual problem occurs when a track 'hits' a rock outcrop, some detective work is then required to find where the track continuation is - not always in the same direction as the track in! We worked our way easterly and then connected to a pretty decent track heading north to Johnson Rocks - always a great spot to visit due to its large covered gnamma hole - a great supply of fresh drinking water. We then took the main road (good graded gravel road) past Hospital Rocks and then towards Menzies. About 14km past Hospital Rocks there is a track that heads north, this is the way we headed - some interesting country, including a reasonable number of salt lakes and crossings (fortunately no drama).
The only wet crossing was a total non-event, though some other 4wd that had headed south to the crossing a few days earlier had turned around at the crossing without even giving it a go - I guess they weren't willing to risk it - it didn't even look like they had tried walking the crossing... The picture below is from the south side, we haven't gone across yet.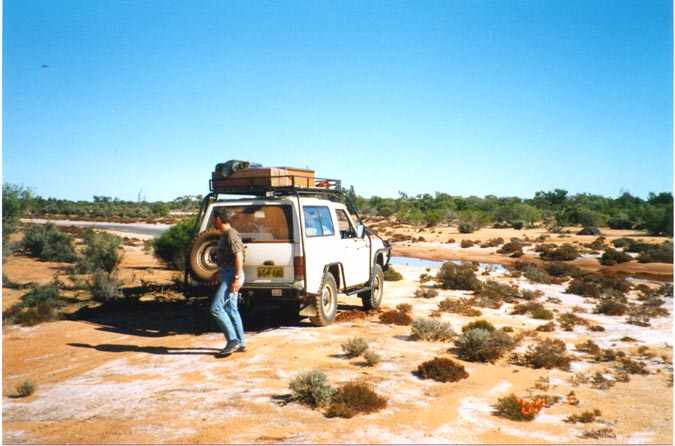 Our tentative plan was to head to Galah Rocks and then find our way towards Kurrajong (or Curragong) Gorge - never been there - a good enough reason on it's own ;-) We tried a few likely looking tracks that we found that weren't on the maps we had, and finally found one at about 29°40'00" S and 120°14' 16" E. This track heads westerly towards Tom Rock and then another km or so further goes over an unnamed rock outrcrop and just a bit further heads pretty due south and gets very close to the Gorge. The track is very difficult to pick up in many areas near the west to south direction change, but with perserverence we stuck to it. We stopped as near to the Gorge as we could get and drove the minibikes through the bush and then hiked a km or so to the mouth of the gorge. Not much of a sight compared to the Wittenoom area but interesting in comparison to most of the rest of the area we were in. Fortunately we had marked the position we left the minibikes (in virgin bush) and I had turned on the track log feature of my Garmin 12XL. It would have taken many hours to find the bikes otherwise - glad SA has been turned off, we literally back tracked to within a few metres of them!
The following picture is from the country just north of the Gorge. It's morning and we're getting ready to break camp - note that the sky is no longer blue...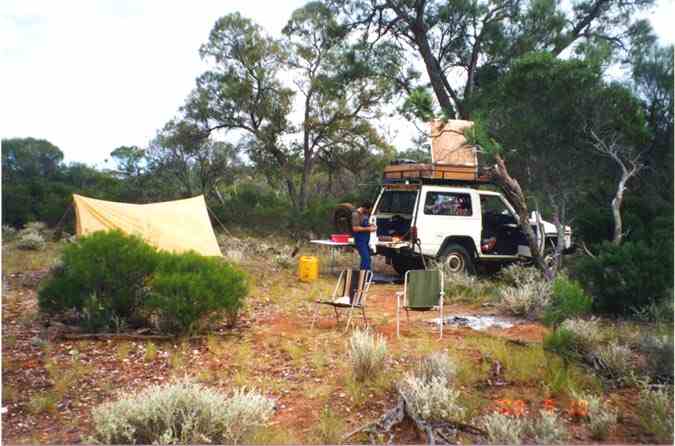 After breaking camp we headed back out to the main track heading north of Galah Rocks and entered some more salt lake country. A bunch of salt lake crossings, all were dry and mostly hard - just a bit of fun. We were now on tracks that no one else had been on since the cyclone.
We continued on, to Crow Rock and then westerly to Lemon Rock then northerly again. We lost the track for around 1km in the middle of a badly washed out area, but kept heading north until with the assistance of the GPS and maps cut across the track. At this point we started getting the first rain of the trip (about 9 days in). The rain started coming down harder, we started getting mentally prepared for a wet camp site and having to get the tent and tarp up in the rain. More northerly driving and then finally a westerly turn to head towards a spot on the map marked 'Abandoned' - actually Illaara (ruin). At this point it was coming down quite hard and puddles were forming on the track and it started getting 'squishy' - we started getting that feeling that another few hours of this was going to turn the place into a bog hole. Then we reached Illaara - what a beauty! We had come across a 4 room tin shed that still had most of the roof intact and all the walls - this was going to be home for the night and the next day and the next if it kept raining. We made a dash for the shed and waited for a break in the rain. I found some tin sheets and old nails and nailed all the windows shut. We then transferred sleeping bags, cooking gear and food etc into the shed and collected some wood (before it became totally soaked) for a nice warm fire. As the rain started again, we were quite pleased with our find and sat down to enjoy dinner and a raging warm fire. By midnight the sky outside was totally clear - not a cloud to be seen. The next morning we discovered to our panic that the previous builders of the fireplace had not taken precautions to sufficiently insulate the bottom of the fire place from the wood structure of the floor. Yep, our shed was on fire! A bit of quick work with the shovel, some dirt and some judicially placed 'yellow rain' (hey, drinking water is not to be wasted) and the fire was out. Fortunately we caught it when it had just got one or two of the floor beams alight. We then spent an hour or so cleaning out the burnt area and then ensuring the fire was REALLY out. Then we rebuilt it with a layer of tin, bricks, a layer of dirt and then another layer of tin. The fireplace served us well for the rest of our stay there. Home sweet home ;-)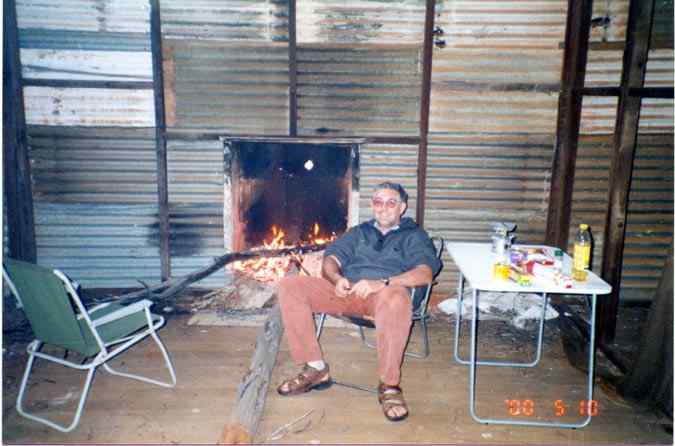 We headed on the minibikes to Day Rock from where we found a good track heading north (a shot line) and a really old track heading in a WSW direction, we followed it for a few km then headed back to the rock outcrop. None of these are shown on our maps - something to investigate on another trip. From all the shot lines in this general area it appears a fair bit of money was spent exploring for gold - and apparently not finding any ;-)
The next day had us heading up to Metzke Find (the mine area, not the hill in the topo map below) which turned out to be a relatively small prospect that must have been quite a let down for it's finder considering just how far off the main beaten path it is. The whole area there is covered in shot lines and drilling samples - again nothing found. We then took the Metzke track (quite overgrown) via Micks Gnamma Hole back to the main gravel road from Sandstone to Menzies. Then we headed towards Sandstone and camped just a few km before it. The next morning we hit Sandstone and put in some diesel (after the 'station' opened at 10am), then down to Payne's Find and back to Perth.
The following section of a topographic map (1:250,000) shows the area around Galah Rocks (bottom middle) up to Day Rock (top left). The blue grids are 10km apart.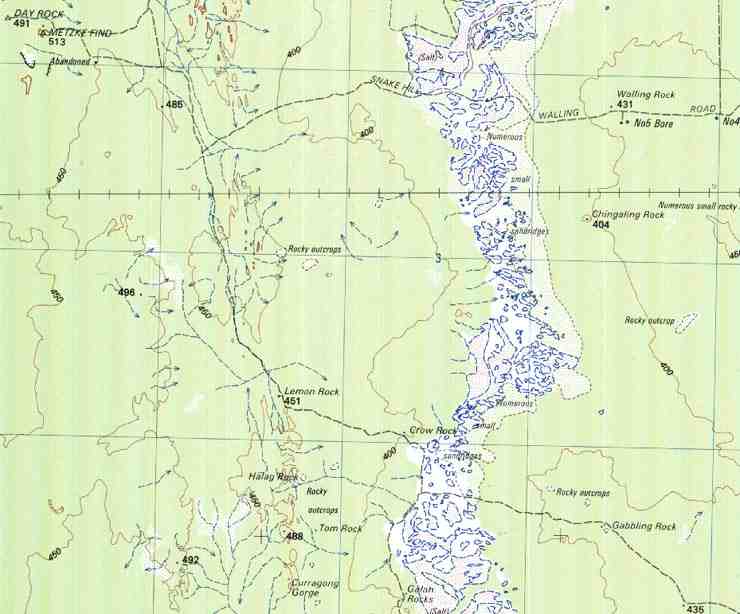 If you are interested in details of the path we took and any GPS co-ordinates etc, feel free to email me for more information.