2 Week trip to the Great Victoria Desert area
Yet another trip to the bush, all up a total distance of about 3000km. Trip was late October 2014 - getting warm out bush!
The basic trip was from Perth to Westonia on the pavement and then up to Mt Jackson and on to the Diemals-Menzies Road. To Menzies to fuel up. From there we went across to Pinjin and out to the new Tropicana Road (that initially starts on top of the old road) then north to the PNC baseline road and north west to Thelma's Tank. Then east along the southern edge of Lake Minigwal and then east (cutting across the Tropicana road) and east again to the south/west side of the Plumridge Lakes nature reserve. Then north and to the McKay Creek area and then north until we hit the south east side of the Rason Lakes. We then took a track (visible on Google Earth) to the Doctor Hicks range to do some exploring. Back down and south along the bottom of the Rason Lakes where we found a fantastic shed with plenty of full water drums including a large rainwater tank. Then west to the Coglia-Merolia where Rod and Kim headed to Laverton and then back to Perth. We headed south to to Lake Minigwal and east/south and then west to circle back to Thelma's Tank. Then to Elora and Moon Rock to get to Linden/Yundamindra/Mt Remarkable and through Kookynie and back to Menzies and refuel. Then west from Menzies to the Davyhurst/Coolgardie road and down to Ularring Rock, Callion and south to the junction to get across to Coonmine Rock, Turturdine Rock. Then via some new shot lines to Ive Rock and Ullumbay rock to the transline. Along the eastern edge of Lake Seabrook and down to Weowanie and then to Yellowdine and back to Perth on the blacktop.
It was a great trip and revisited some old places and many new spots and tracks..
Following are some of the pictures and writeup from our trip. The participants were:
Myself in the old nissan (Keeper of the holy path and in charge of finding water and other neat spots).
Lionel as entertainment and political commentator.
Rod in his white troopie V8 TDI (Tail gunner to ensure Kim didn't wander from the true path) .
Kim in his 105 (running an experiment to see how dehydrated he could get in 40+C weather with Jeans/Flannel Shirt and a beanie).
Thanks to Rod for his photos, some of which are in the trip report below.
First camp stop was at Johnson Rocks. Plenty of water in the covered gnamma hole but we had no need for it this early in the trip. The morning found lots of cloud cover and as we broke camp and got into the vehicles we had a hail storm go through and dump quite a bit of hail and water. It was perfect timing and prevented any dust on the gravel road as we headed east to Menzies. Just a few miles on the road and Kim calls that he has smoke coming from under the bonnet or a tyre. Turns out that his AC compressor had fully seized up and the AC belt was smoking. I disconnected the plug from the magnetic clutch to ensure it would not accidentally activate and Kim ran without AC for the rest of the trip.
At Menzies we filled up diesel prior to heading East. This was our last fuel up chance prior to heading east on our planned trip to the Plumridge Lakes area in the Great Victoria Desert. In our case we covered just over 1400km before refueling again at Menzies on our return.
With lots of rain falling all day we found larger and larger puddles across the tracks that required slowing down as the surface became more muddy/slippery. The vehicles collected plenty of nice sticky red mud over the next few days while the tracks dried out.
We reached a nice house with a full rain water tank and decided to make camp while we had a small break in the weather. The back verandah protected us from the southerly wind and provided space for our tent and all the tables for cooking. Rod & Kim slept in their vehicles, so had a quicker setup. Kim seated and toasting to our campsite for the night and for once NOT wearing a beanie (which he reserved for when it was really hot).
With camp set up the sky started to turn more ominous. That evening we had quite an electrical show in the night skies along with a little rain, it was a great luxury to be under the back verandah. Clouds and rain to the north, the weather was moving down to us, though ground winds were coming from the south. All this rain and previous rain meant that we found plenty of water on outcrops, in the lakes and on some of the tracks. Unfortunately it did little to moderate some of the temperatures we would see in a few days.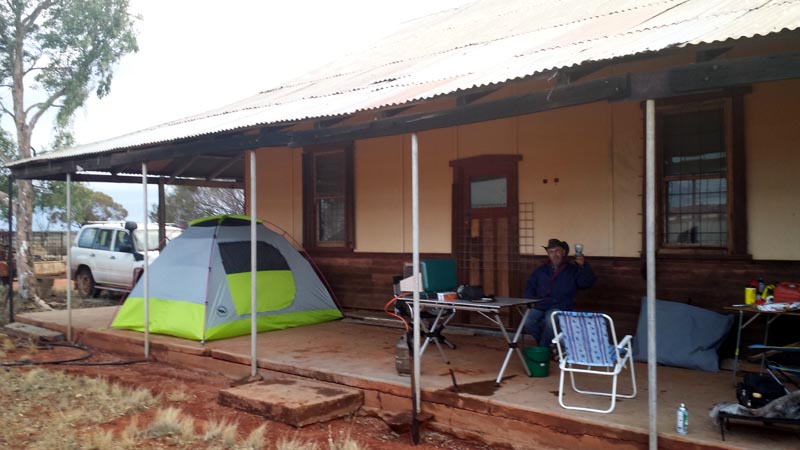 View from our verandah looking north. Rain on the horizon and most of that weather pattern was heading southerly towards us. Beats watching TV at home...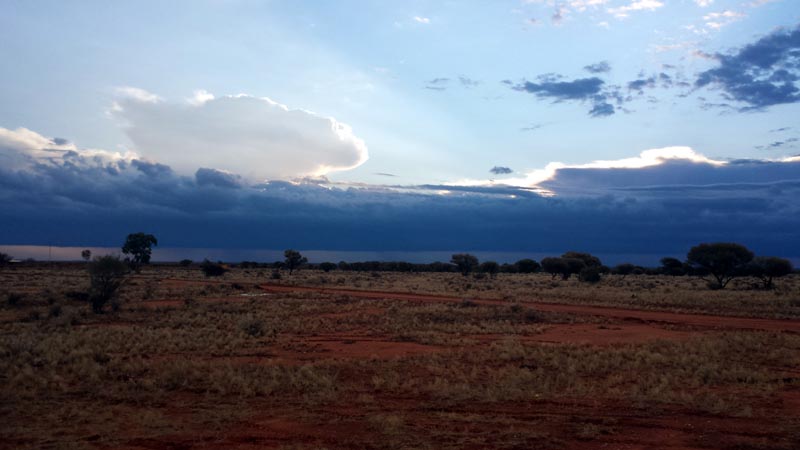 The next morning and the front view of our 'house'. Water tank was full due to a functional roof and gutter system, lot's of rainwater. We used some of the water to wash all the mud off the minibikes - the tracks were quite muddy and the bikes were covered in mud.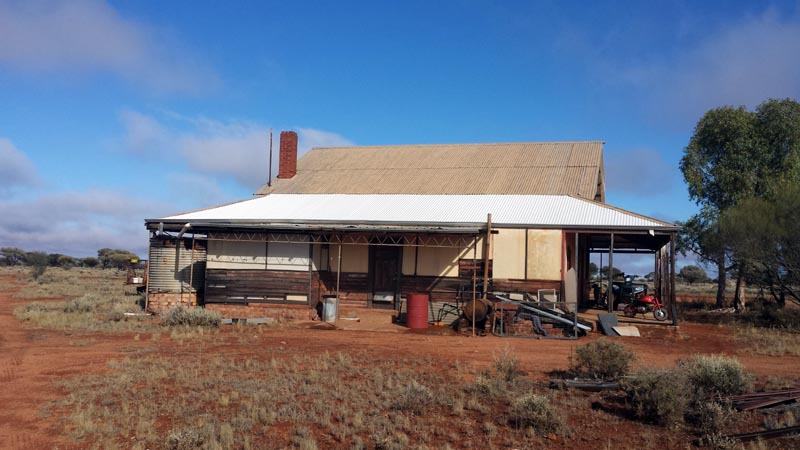 We headed off the next day and found another abandoned homestead in disrepair. A working mill and tanks were nearby. We had several water soaked/covered parts of the road to cross but other than being slippery there wasn't any problems. The clouds have mostly cleared and everything is starting to dry up again. On one particularly muddly/slippery spot the nissan ended up nearly right angles to the road, fortunately I was going pretty slow through that crossing so no drama.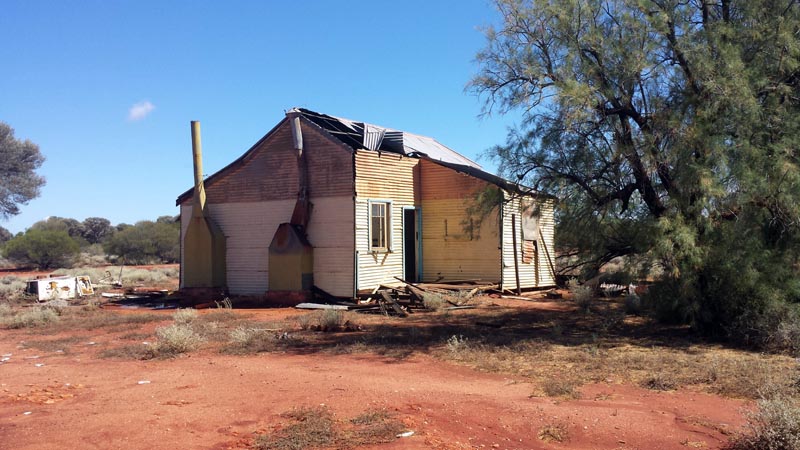 Heading east of the Pinjin mine area we had to cross several boggy patches (small water courses) and Rod's troopie and his heavy trailer needed a bit of help from the nissan's winch to get unstuck, didn't help he was 3rd vehicle in line and Kim and I had already chopped the track up.. The dug up area to the left was due to the nissan pulling him out. Lionel backed up the vehicle as I stood outside and kept a hand on the winch controller. Once we had extracted Rod, Lionel had 'recentered' the nissan on the track. You can tell that areas of the track were solid and areas just off it were quite soft - that's the nature of this kind of soil.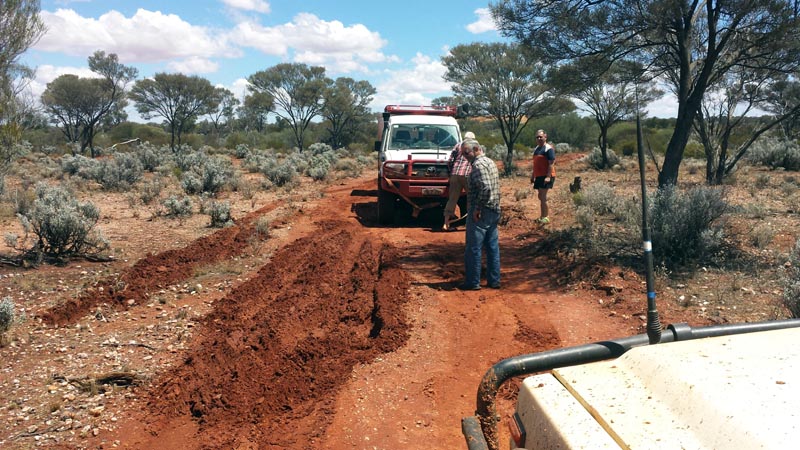 As track leader on this part of the trip, the nissan was next to get stuck as I tried to cross a small watercourse that cut the track. A quick tug backwards by Kim's 105 got me back out versus having to play with the winch. We then navigated ourselves around the bog patch via 'higher/dry' ground and continued on without further issues. Picture after extraction.
Yep, stuck. Didn't help that someone had previously stuck some timbers in the bog patch which worked to hang up the rear of the nissan even more. I had nearly got all the way through until the rear end started to dig deeper. Tried to back up a bit, but just got more stuck. F/R diff locks were not enough in this kind of mud soup. Though, I seem to have a happy smile on my face - I volunteered Lionel to go out the back and attach the strap :)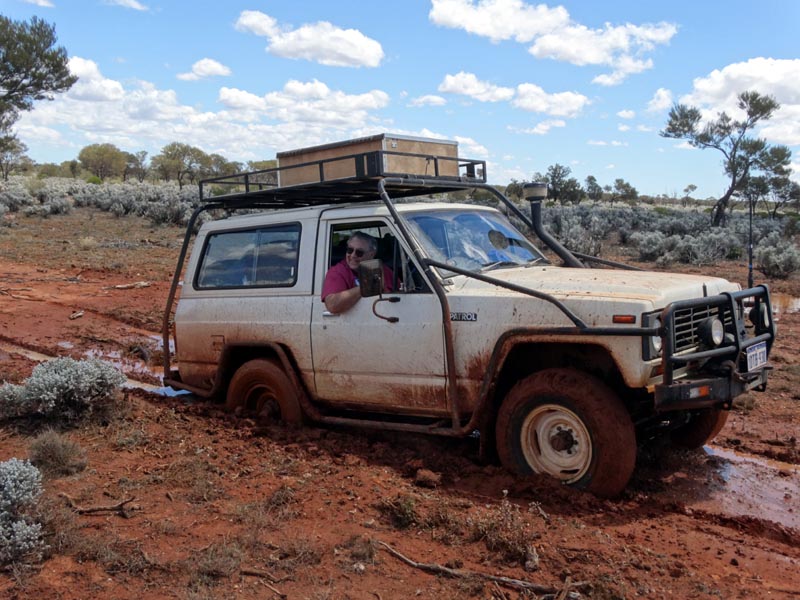 Tracklog from oziexplorer running on my android tablet. The bottom part of the tracklog near BM438 is the new Tropicana road. The north-west part heading to Lake Minigwal is the PNC track which we took to Thelma's Tank and where we camped for the night. Then we headed east and north east to get around Lake Minigwal and then head towards the Plumridge Lakes area.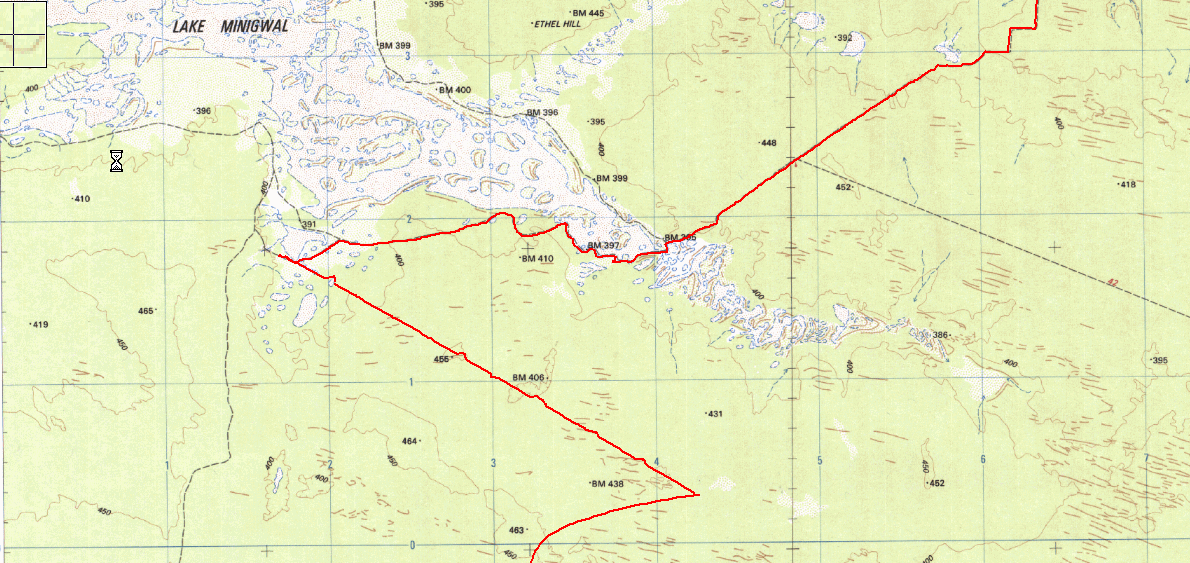 Rod's view of the Tropicana Road and yes, it's a superhighway. A bunch of money spent to make it and maintain it. Presumably it is the main access to get equipment to the mine from Kalgoorlie. The road is drying out and some dust can be seen from Kim's vehicle and trailer.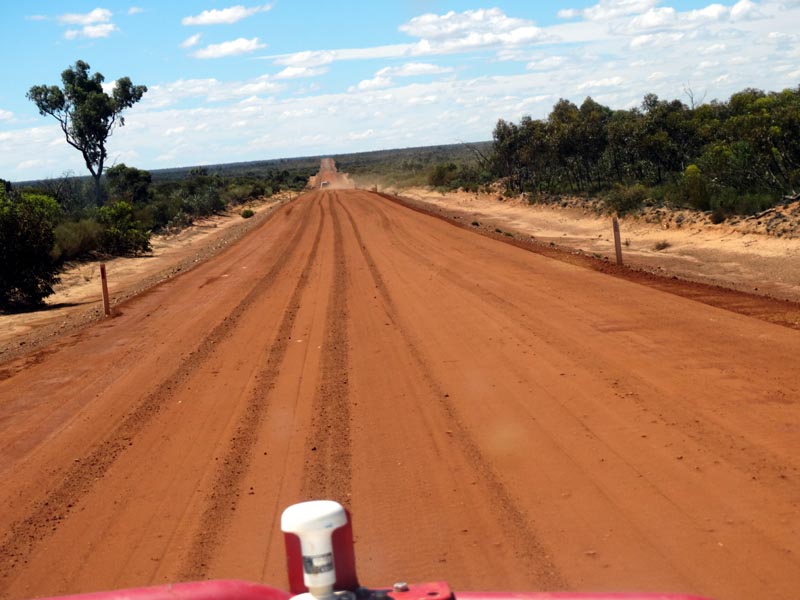 On heading east from Pinjin and the boggy track area, we hit the new Tropicana road (wide/graded gravel road), the first part sits on top of the original track. We came across a grader crew that was doing some road maintenance and we were flagged over. The fellow in the lead grader tried explaining to me that it was a private road and we needed a permit. I explained that the section of road we were on was built on an existing road and then inquired about his AC as a distraction. He complained it wasn't working and we continued on... It's a common technique I use when dealing with folk that think they own the bush (they typically aren't mental giants) - inquire about their own situation, make some small talk and they are easily distracted and forget their initial train of thought :) These were the last people we saw for the next 10 or so days.
When we reached the PNC road we headed north-west as my plan was to camp at Thelma's tank (nice rainwater tank). Picture below is heading north-west on the PNC road which is now just an unmaintained track, though still in good condition. Temperatures are in the low 30's so still relatively nice.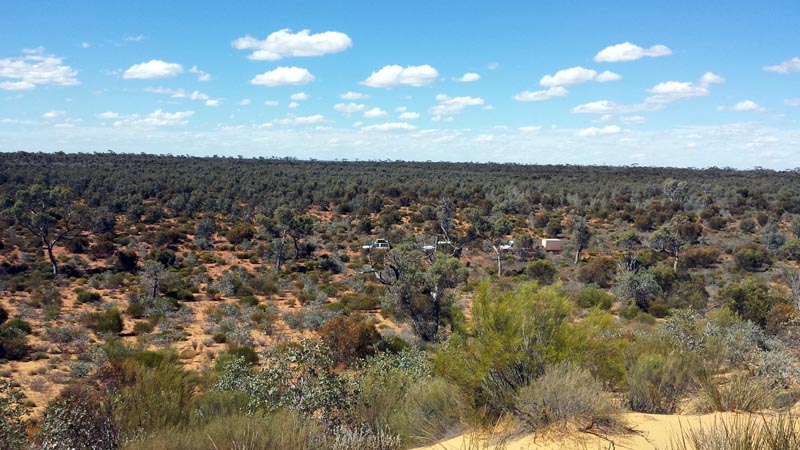 One of the small lakes just south of the main Lake Minigwal system. On this trip we found lots of water from the recent rains - though in this case it's salty. The water is only a few centimetres deep and Lionel & I walked out to take a picture, just a bit muddy on the bottom and walking barefoot was necessary to not have sandals sucked off our feet. The mud felt nice on our feet - the small pleasures of life :)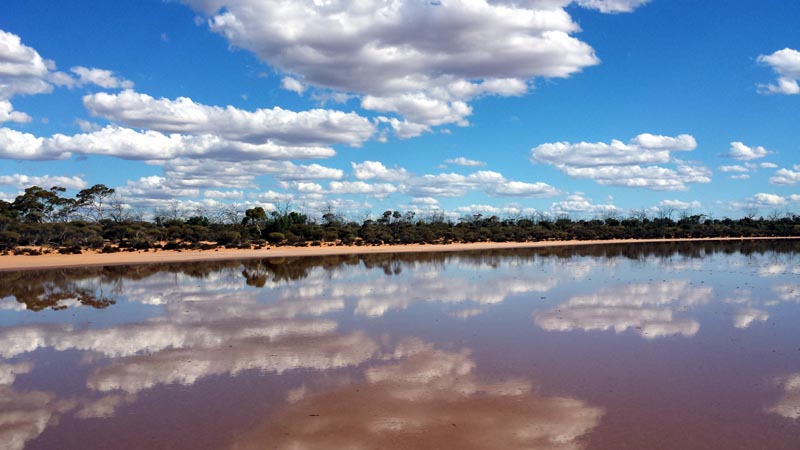 Lionel on the left appears to be trying to use some kind of ice skating/speed skating technique with his hands behind him. Don't think it worked...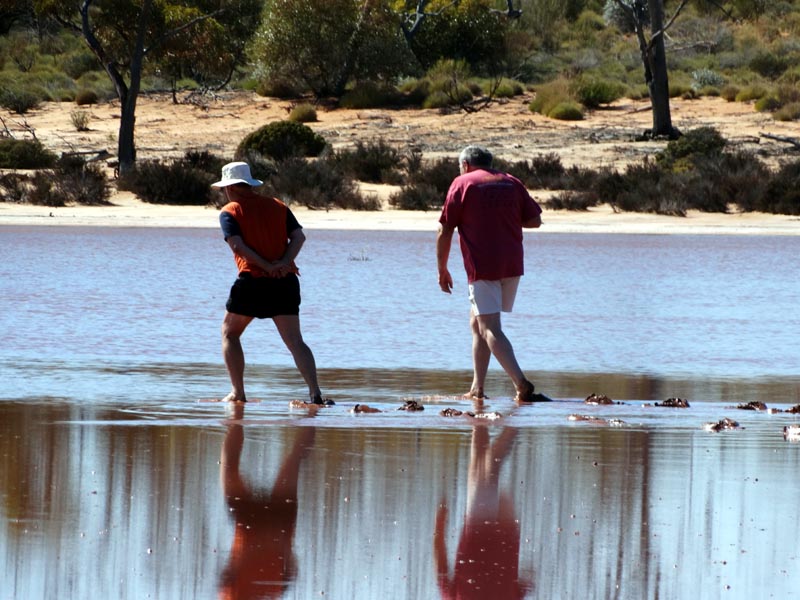 Thelma's Tank, full to the brim due to recent rains. Having a shower so early in the trip was great though the rest of the gang decided to wait for theirs at a later time - crazy folk! It's a pity that more of these kinds of tanks aren't installed in the bush, doesn't seem like a large expense for the government and certainly could be a life saver.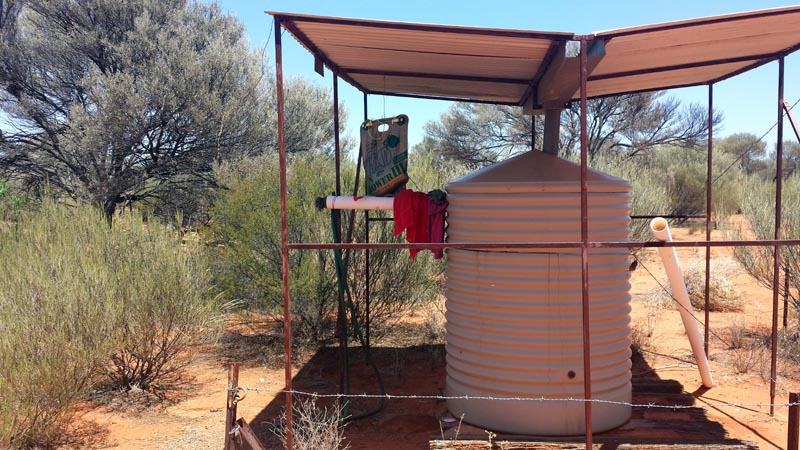 We did some exploring of the local area with the minibikes and Rod's quad. Crossing a claypan covered in salt bush. There's also a small outcrop near Thelma's Tank that has a few small gnamma holes with water.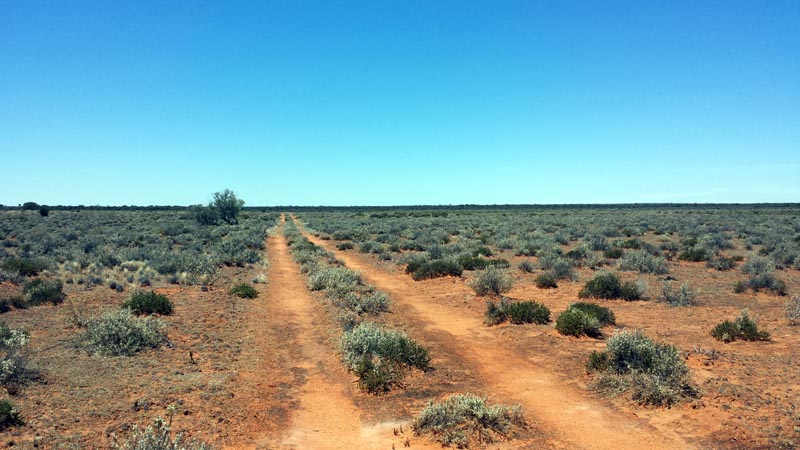 Can't pass up a snack while in the bush. Unfortunately the camel leg bone was already licked pretty clean by other scavengers... We found quite a lot of camel bones on this trip, presumably quite a few are being shot.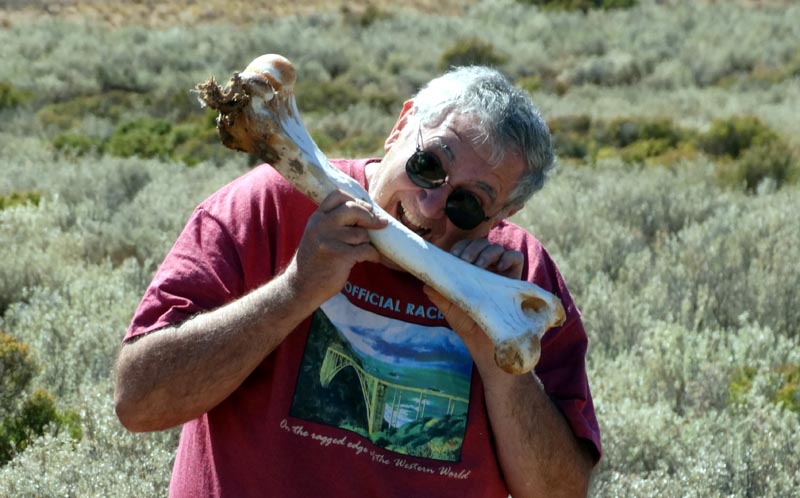 The next day we headed east and further into the desert to get to the Plumridge Lakes area. The tracks out there are in great condition and make for very easy driving. Many you could easily drive a car down. Benefit of little traffic is that there's no corrugations to deal with.

I knew from Google Earth imagery that a huge fire had gone through the area a couple or so years ago and we discovered the likely source. Burnt out Pajero which likely went up in a spinifex fire. Petrol Pajero and everything was thoroughly burnt including an Engel fridge in the rear. Lots of exploded beer cans (ruptured by the heat). Incredibly the alloy roo bar was still intact.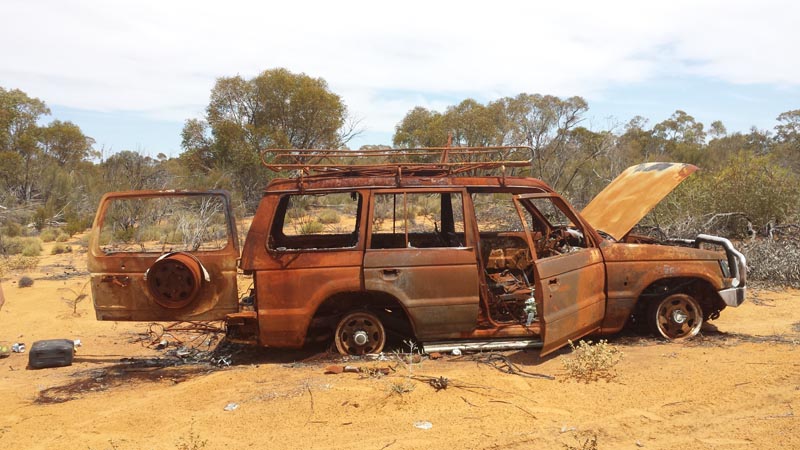 Engel fridge, like new, just needs a bit of tlc :)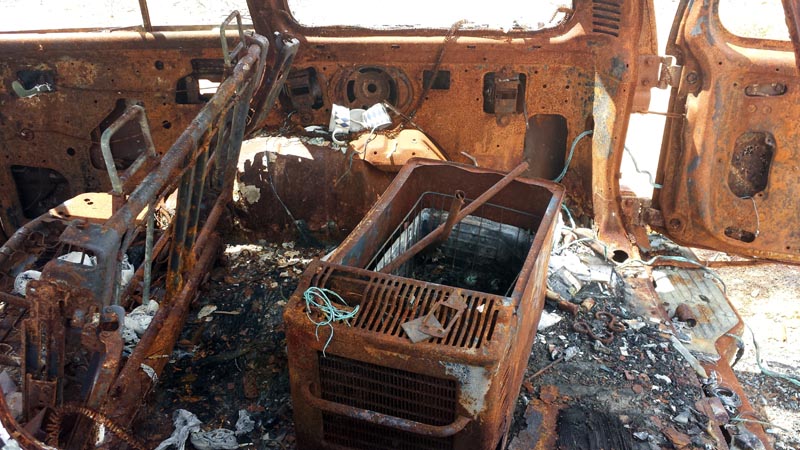 Heading east on the road to Plumridge Lakes. Spinifex abounds where the fire hasn't cleared it. We again cut across the road to Tropicana but no one to chastise us for touching their 'private' road. Got to love the mining monster that thinks they own everything out there. From my research on Tropicana (gold) the 'owners' foresee a 6km x 2km pit that will be up to 450 metres deep when complete (that's below sea level). About 500 people onsite all fly in/fly out of course and a 10 to 15 year projected life. Currently google earth imagery predates any work so nothing to 'see' yet other than some shot lines and core samples.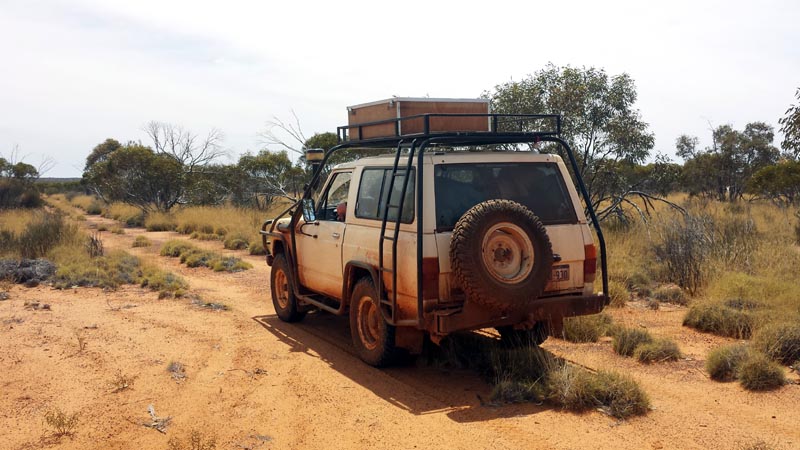 When we stopped to check on a track junction, Rod following behind Kim's 105 noticed that Kim's rickety trailer had a tyre that was going flat. Fortunately Rod had a full tubeless tyre repair kit (I run tubed tyres, so only have patches). Quick work by Rod had the flat plugged before the tyre was fully flat, though he did have to jack it up to rotate it around to find the cause of the flat (a stake in the tread section). Kim didn't have a tyre repair kit - bit crazy... though he did have a full size pick in the back (not sure what use that was going to be, maybe to bury him).
We also pointed out to Kim several times that the tank of his petrol converted bike was flipping upside down and leaking - yeah, just what we needed, to have the trailer burst into flames. Eventually he removed the tank before we ended up with a fireball...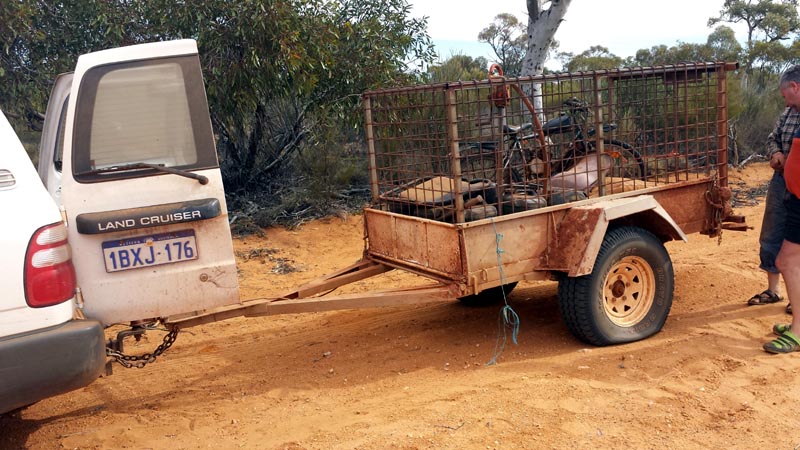 Still heading east and we come across the western boundary of the Plumridge Lakes nature reserve. Mostly sandy with some small dunes that the track skirts around. The tracks are all wide open and very easy going. The terrain looks interesting with reasonable trees in some areas and fairly open terrain that allows one to take in the expanses of bushland.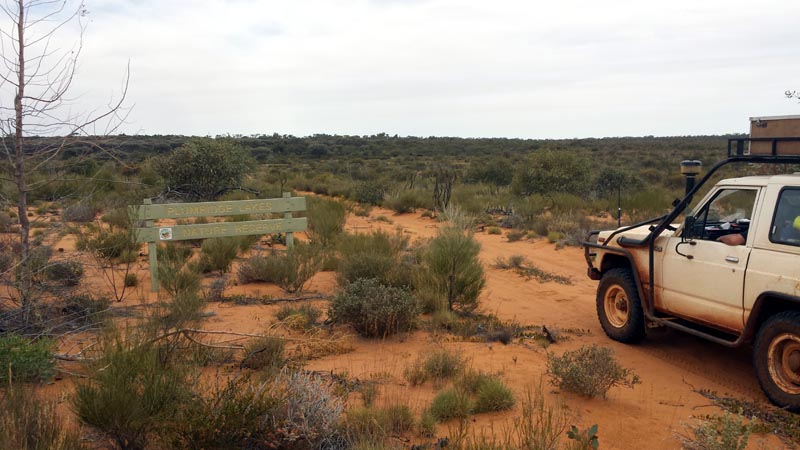 We camped a little north of the abandoned airstrip on the map below. Below, the track that we followed heading north. We stayed on the Rason Lake Road until we reached the unmarked track heading to McKay's Creek (next map).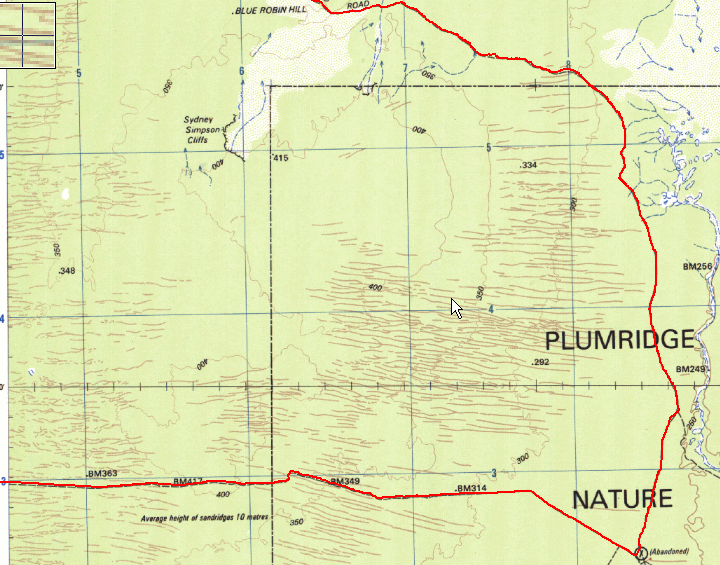 After breaking camp, we headed north and below is a picture of the northern boundary of the reserve (looking south in this picture). We'll have to revisit this area in the future and spend more time exploring the Plumridge Lakes area. We were in a bit of a rush since Rod only had 1 week available to him and I wanted to visit McKays creek and the Doctor Hicks range prior to leading him to an exit road to get him to Laverton for his return trip to Perth. Visiting during cooler weather would be a good idea. Even though we had quite a bit of cloud, day time temperatures were on the rise.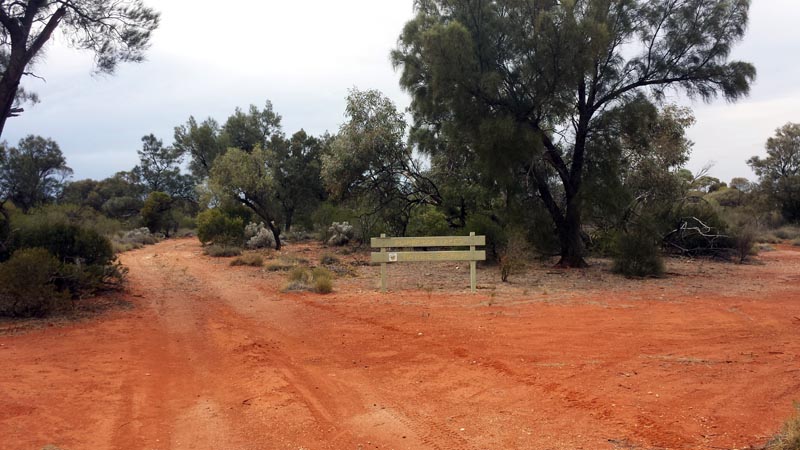 I had noticed a track leading directly to the McKay creek area (not on the topo maps) while 'planning' the trip with the help of Google Earth and so we followed that track which saved us a bunch of distance. The picture below is crossing the creek, it's quite a watercourse that would be impressive to see in flood. There are a LOT of newer tracks (due to mining exploration) so using google earth to find them provides many options for exploring this area. To prepare for visiting McKay Creek and the Doctor Hicks Range I used Google Earth on my laptop to follow the new tracks while creating a KML log file. I then imported the KML file into oziexplorer and converted it to a tracklog which I then used on my android phone and tablet. By having these tracklogs loaded I essentially had the new tracks visible as we navigated through the bush. Auslig (oz mapping authority) REALLY needs to update their topo maps since they are very out of date with many tracks and water holes missing or in the wrong places. They've been very remiss in producing decent maps.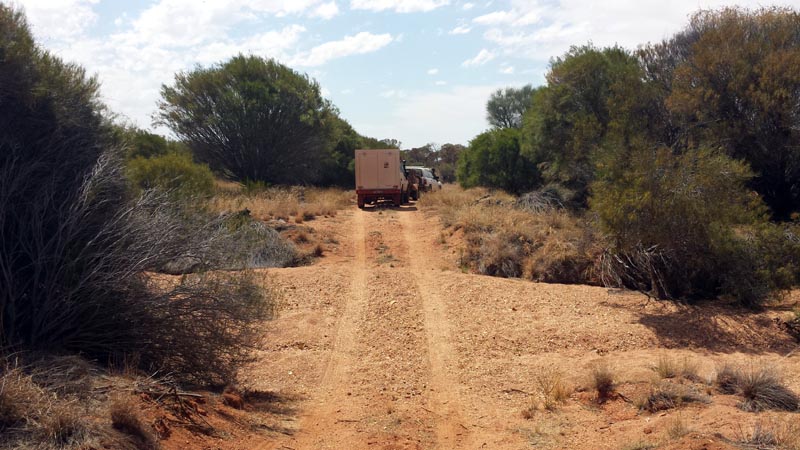 We camped at the edge of McKay Creek for the night and did a little exploring. Would be interesting to run a metal detector down the creek bed. This area is criss crossed with water courses due to some elevation changes and relatively hard packed/stony ground that allows water to flow rather than immediately soak in.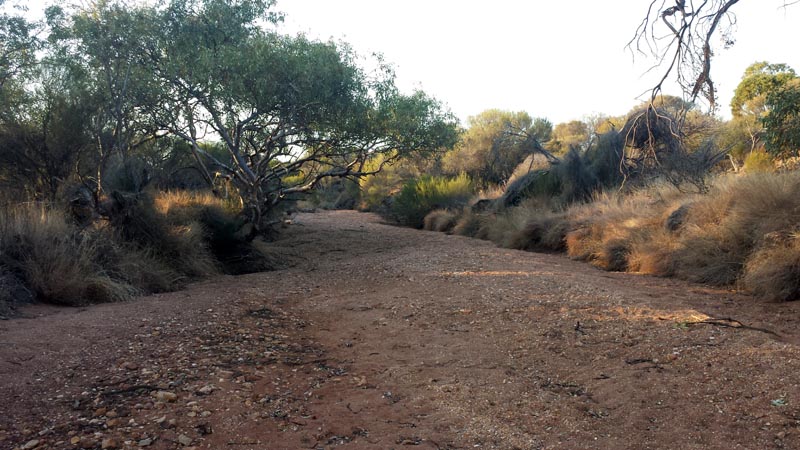 More of our tracklog. You can see how inaccurate parts of the topo maps are. The most eastern part shows the crossing on McKay's Creek and where we camped. The next day we headed mostly west-north-west until locating the track (as per google earth) at the south east edge of Lake Rason leading to the Doctor Hicks Range.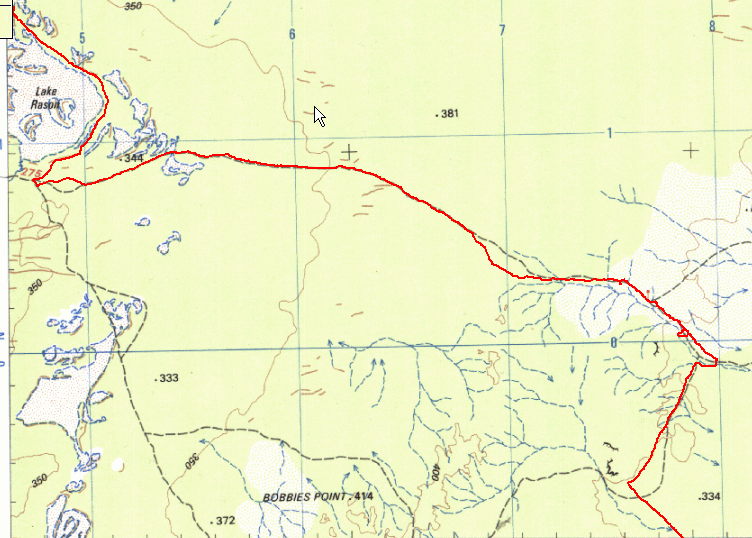 As we headed westerly, a small outcrop of rocks caught our attention and we stopped to climb it. Amazing that such a small thing can stand out in an otherwise flat area. On referring to Auslig's placenames it is called Hanns Knob.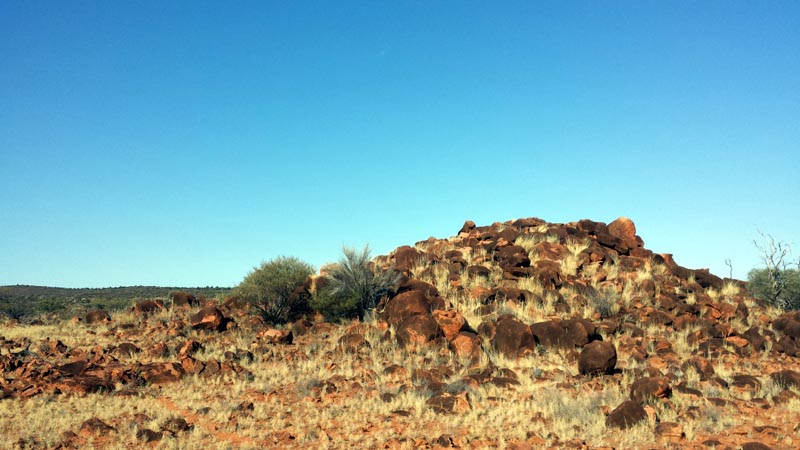 Seemed easier to drive to it versus walking to it as the others did :) On walking to the top, Rod mentioned that some places have blaze marks and I pointed out he was standing right on such a marked rock.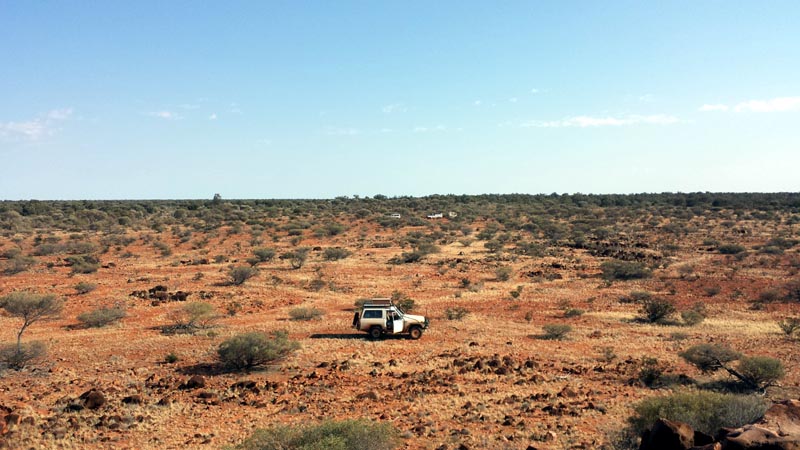 Frank Hann marked this rock 100+ years ago. And that's why it's called Hanns Knob... Quite an amazing feeling to consider what he must have thought when marking the rock. I bet we had an easier time reaching this spot than he did...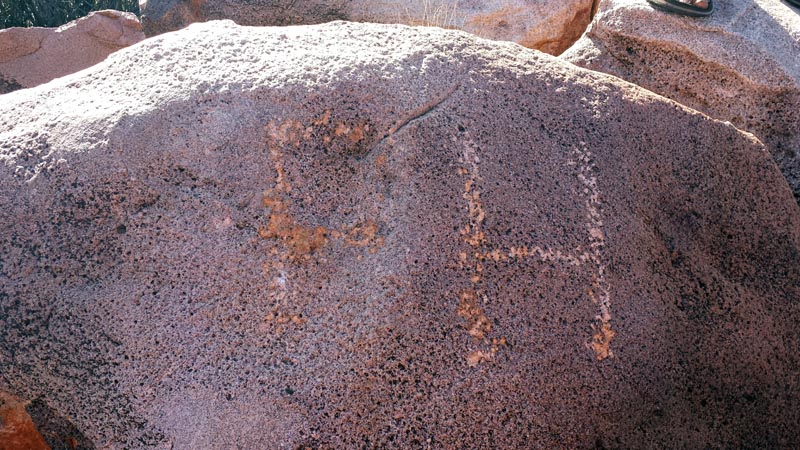 We saw quite a few camels just off the tracks we were on and also some very young ones. Here's a picture of just a couple of them.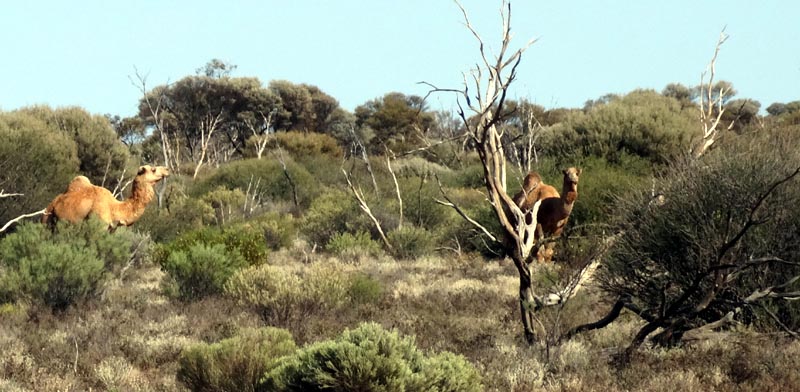 Few miles further and this big red was resting on the edge of the track in the shade. I'm sure he was thinking "piss off you bastards, I'm resting"... I drove within about 30' of him before he could be bothered to move off a little.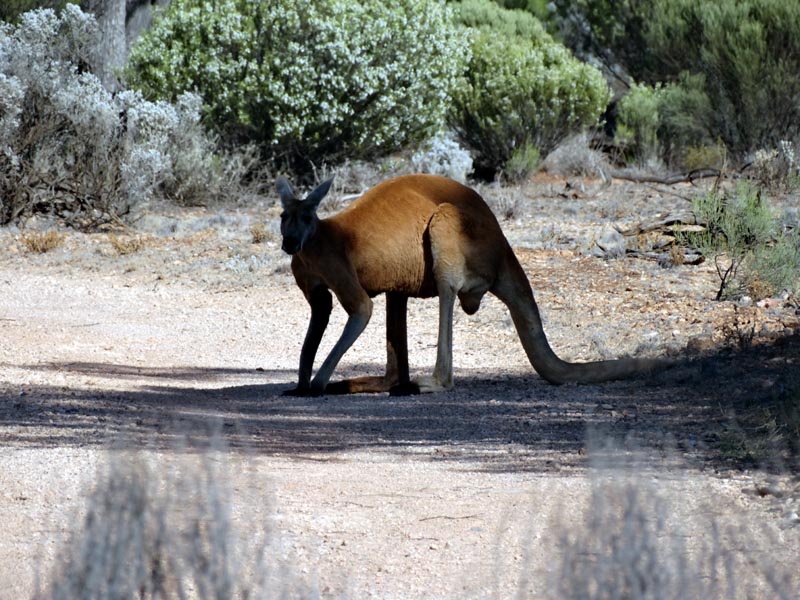 Finally we reached the south eastern edge of Lake Rason and located the track heading to the Doctor Hicks Range. The track is in great condition, though not marked on any of my topo maps. Fortunately Google Earth has this area at aerial photography resolution so I had marked the track and then imported it into oziexplorer running on my android tablet. Made getting to the range very easy. Our clouds are leaving and temperatures are rising.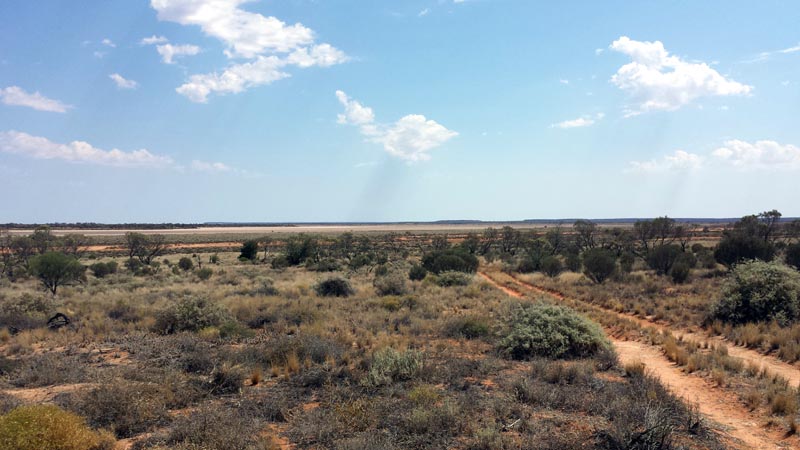 On the track, again easy going. One benefit of being in a desert area is that the bush is quite open making it easy to to see the surrounding landscape.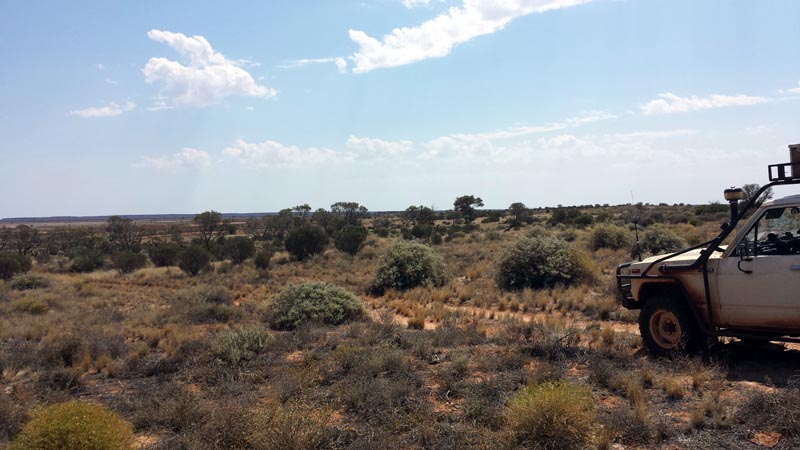 Right up against the Doctor Hicks Range. This is 'Cape Marten' as marked on the map. It would certainly be interesting to spend a few days exploring the area on minibikes, something for another trip. This is a fairly remote area being off the main track, there's no recent tyre marks on any of the tracks.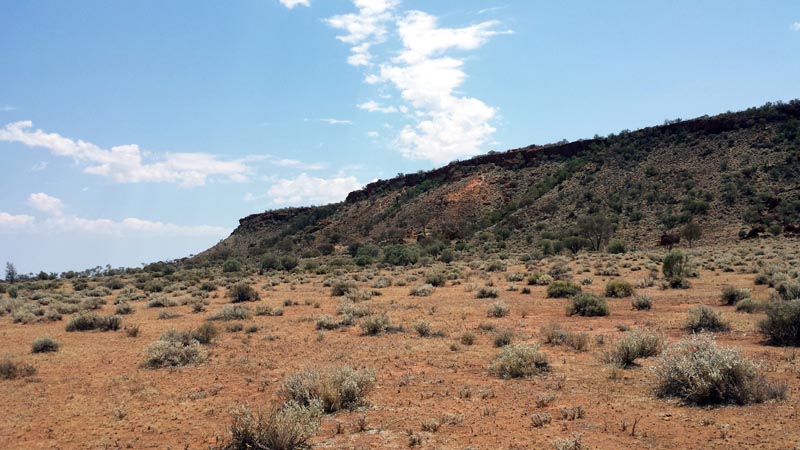 Tracklog showing the area of the Doctor Hicks Range that we explored. It was during the drive in that 1) our radio (mechanical free digital media only) burst into smoke and 2) the fusible link from the alternator blew out.
We were driving along and smoke started pouring out of the radio, we stopped and waited for the smoke to clear (or burst into flames...) while wondering whether to deploy the fire extinguisher. Once it stopped we headed off again and a second time smoke started pouring out so we removed the head unit which fortunately is very easy on the old nissan since it sits in a pod on the dash. I opened up the head unit and 2 electrolytic capacitors showed signs of bulging - stupid caps had a 16V rating which seems a very bad choice for a vehicle that can easily push 14.4V (or a bit higher). I'll not be buying a blaupunkt unit again (was only about $90 new). That was the end of our music for this trip.
With the head unit removed we all headed on again. Kim tends to be slower that the rest of us since his trailer is a piece of junk and he refused to let some air out of his tyres to reduce the bumpy ride (his springs/shocks are also way due for replacement). So, we stopped to wait for him and heard an 'interesting' sound come from the front of the nissan (a pssst sound). On trying to restart the glow and starter were 100% dead - hmmm interesting... So, a quick strap and we were pull started and continued on to the end of the track where we camped. Later when everything cooled down I went to inspect the cause of our starter failure. First step was to determine if it was an electrical or mechanical failure. I always take the work shop manuals and I also have a very intimate knowledge of the electrical system from having converted the nissan from 24V to 12V several years ago. Anyhow, I tested various electrical systems and found the headlights/flashers etc were non-functional too. That meant something more basic and I checked the fusible links and found the link feeding the alternator was blown out and this link also feeds many other circuits including the lights and glow/starter circuit. A quick jumper across the blown part of the link and everything was functional again and the starter fired right up. Whew, easy repair that just involved wiring a few strands from some spare wire as a new fusible link while verifying that there wasn't some major short.
The fusible link was under rated since it was from the original 24V system and after converting to 12V the load on the fusible link was likely close to doubled. The link was also 30+ years old... Since we were also running the new 47L ARB fridge, the load on the charging system was higher too. Add in temperatures well over 40C in the shade and the fusible links in the engine bay would have already been stinking hot. The new 'link' solved the problem for the entire trip and on returning to Perth all fusible wire links (4 separate links) were replaced with MIDI fuses to bring the nissan into the 21st century :)
Later I also replaced a 10A fuse with a 15A fuse that feeds part of the same control circuitry. Seems that the extremely hot conditions we were experiencing put some extra strain on the electrical system wiring/fuses. With these repairs no further problems were experienced in the remaining 8 days we were out there.
Day break at our camp in the Doctor Hicks Range. We were getting up around 5AM most days of the trip to beat the heat and get packed and on the road. Today was our 'hot' day where temperatures in the vehicle reached 44C so an early start was a GOOD idea :). During the evening we had lots of electrical activity in the night sky, but the majority of the clouds had left us and the sun was out with a vengeance.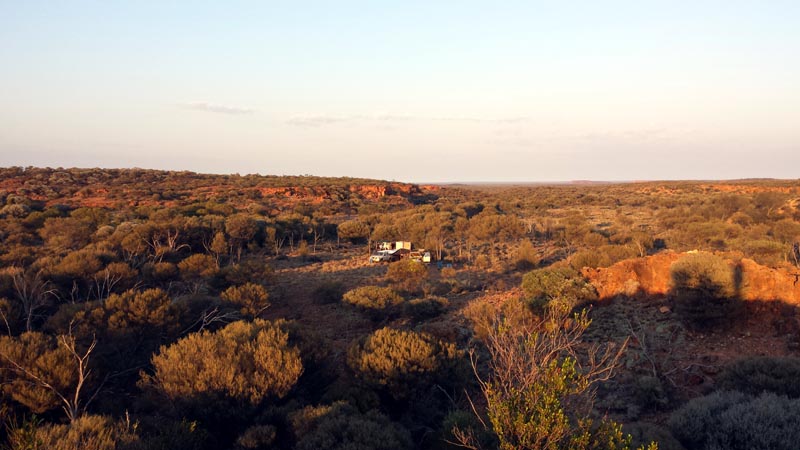 While taking a short hike I stumbled on a rocky uphill section of the range. Lots of flies of course wanted to snack on the fresh scraped/bleeding area so for several days it became necessary to use some marking tape and toilet paper to create a shield from their persistent irritation. The toilet paper also helped to blot up the blood :)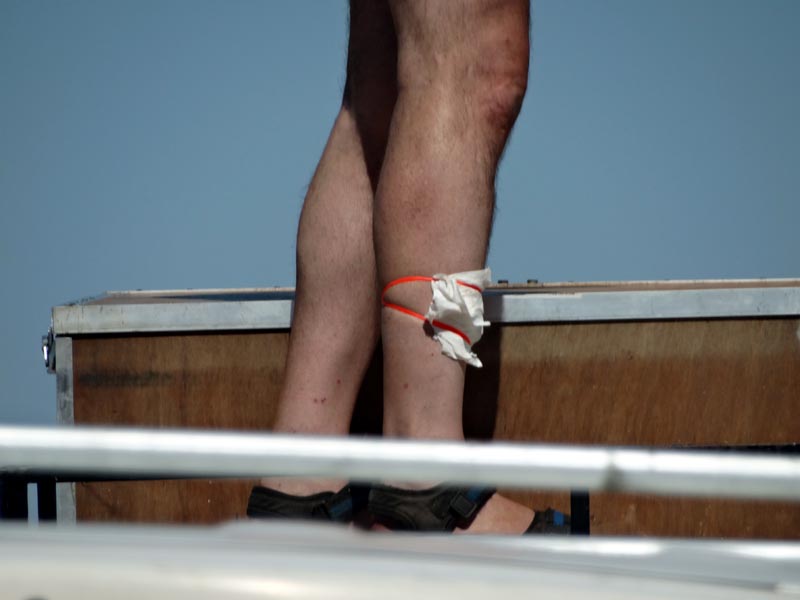 While waiting for Kim to catch up (Rod was tail gunner on this trip to keep an eye on Kim - who has been known to take the wrong turn on occasion) we decided to nip up to the shot line marked on our map (the east/west track at the top of the map above). It's a good looking though older track (geophysical track) that to the east is shown to just 'end' while on the west leads all the way to tracks that can lead to Laverton. The evening before Kim was claiming he could walk back to Laverton from our campsite - I think Kim was just a little delusional given the temperature, distance and his water carrying capability... Kim's Jeans/Flannel Shirt and Beanie were likely cooking his brain at this point as well.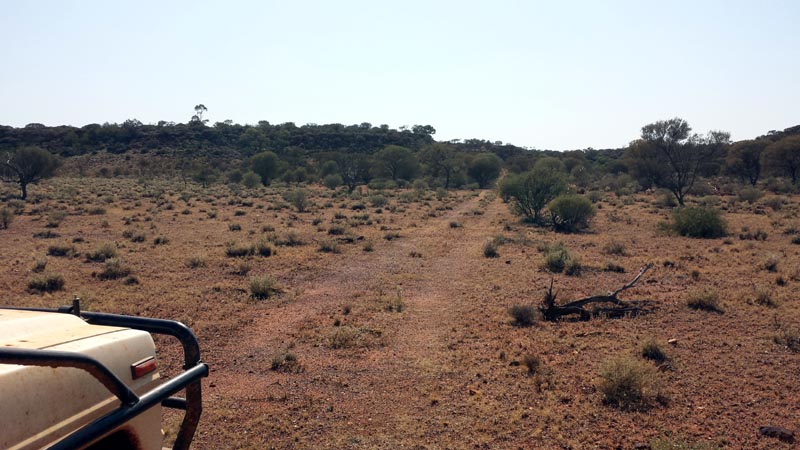 Once getting back onto the main track/road heading south below Lake Rason we made good time. Easy to sit of 60kph or faster and we headed towards the western side of the lake. Stopping for lunch I verified from my smartphone that it's 44C in the cab of the nissan and not much cooler outside under the shade of a tree. We were using a spray water bottle to keep us cool - it's wonderful what a short spray/mist of water can do! We first used this last trip back to oz when Rod donated one for Richard and I to use - a most wonderful discovery!!
After lunch we continued on with my goal to find a track leading to the edge of Lake Rason (as seen below on the far left). On planning the trip I had seen on google earth a small shiny rectangle next to the lake edge which demanded investigation. I had thought it may have been some old abandoned building/structure - little did I know what was really there...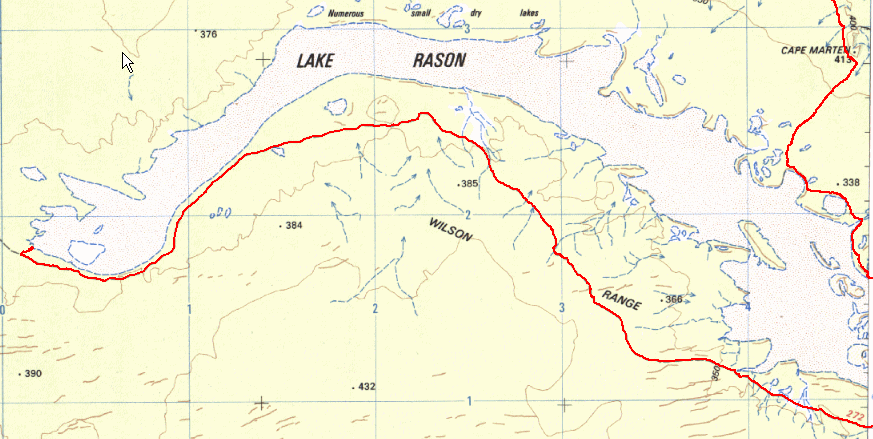 I found the track in and there was a 40kph sign and warning of a school zone, yeah, right. With such an incredulous pair of signs out in the desert we now really had to drive in to see what was going on. As we approached the lake we could see a mast and an aussie flag waving in the wind. Our first thought was a mining camp or something, but it turned out to be much more useful and incredible. A brilliant shack built by the '7 millers' with water, shade, shower, tables, chairs etc etc etc. What an amazing place to find in the bush. We stayed just the night, but it's certainly a place to re-visit in the future.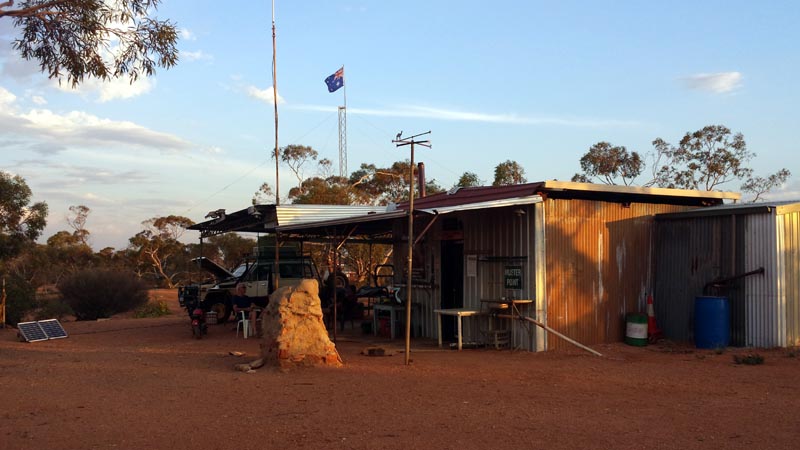 The fantastic view of the lake from the front porch of the shack. I went on a quick exploration of the edge with one of the honda z50 minibikes (the edge is hard enough to support the weight of the bike and myself on the 2 little tyres). Lots of evidence around that the 7 millers enjoy their 7mm toys :)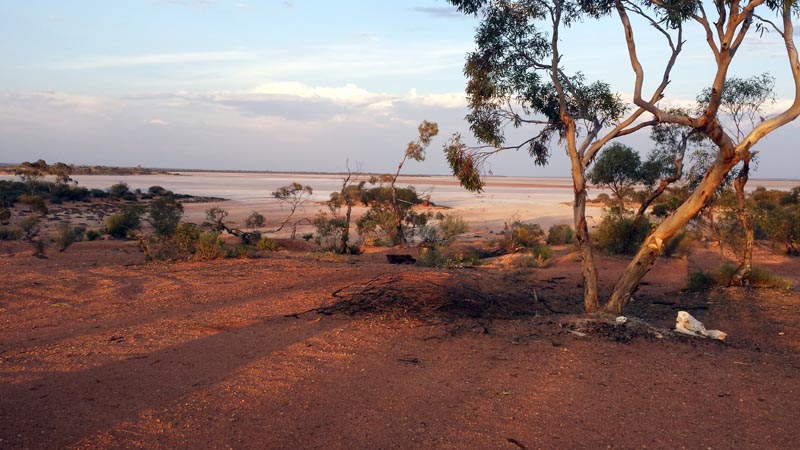 Just a small sampling of what is inside the shack, lots of stuff to make camp life comfortable. The location of the shack ensures that the low life doesn't visit and damage things for everyone else. It's quite amazing to consider the work that the 7millers have done over the years to rebuild the shack (after various storms) and just how much gear has been taken out there over the years. It's the kind of place that would make 'the authorities' cringe but the rest of us real bush travelers/explorers appreciate.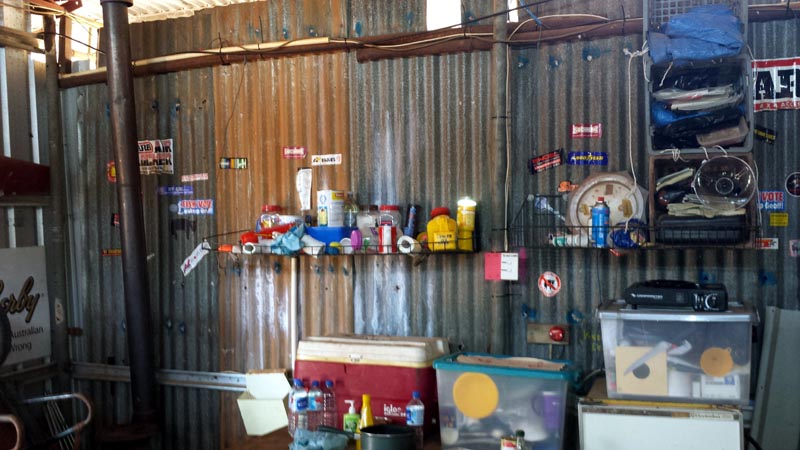 The shed has a battery bank (the batteries are old and weak) that can power the LED lighting and the two red eyes of the dino-camel (these guys have a great sense of humour). The shed has hookup for a generator and fridge/freezer, fans, lights etc. We don't take generators with us so just used the LED lighting on the porch/verandah when things cooled enough to cook our evening meal. Given the extremely hot day we had, it was wonderful to make use of the full rainwater tank to have showers and dump water on ourselves to cool off. It's a very pleasurable thing to dump a 1/2 bucket of water over oneself on such a hot day :)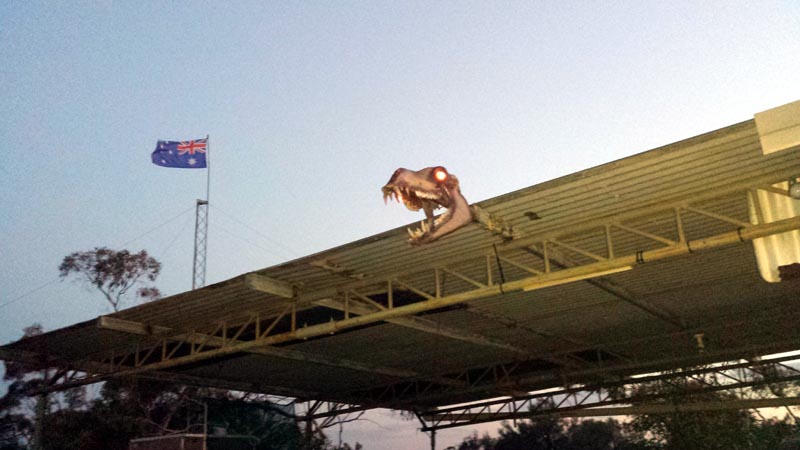 The tank was full to the brim from the recent rains. There's also several 200L drums at the rear of the shack that were also full. Presumably as the tank fills up, water is stored in the drums for times when rain is scarce. We all appreciated the work that these fine folk have put into the shack and plan to visit it again and hopefully donate/add some useful camp gear to the existing collection. It's a use/don't abuse type place and brings memories of some of the old fishing shacks that existed on the coast years ago. We signed the guest book and had a read of other travelers' comments.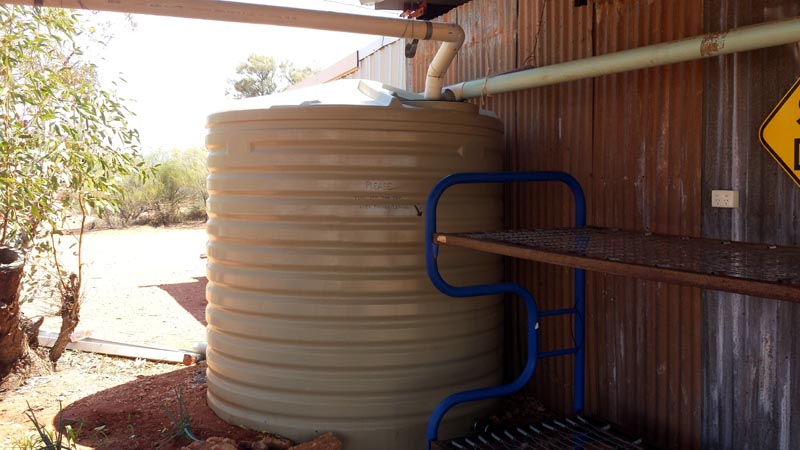 Humidity was around 12% as indicated on my smartphone - VERY dry conditions and we were all (except Kim who was on a wine regimen) drinking lots of water to stay hydrated. After another electrical showcase that evening we had a good sleep as temperatures dropped.The next morning we packed up and headed west so that Rod and Kim could depart and head up to Laverton to get to pavement for the run back to Perth. Rod had to return for personal reasons and Kim was running out of food. For some reason that makes absolutely no sense, Kim was turning off his fridge each night (even though he had a dual battery system) and so his food was off and he was living on salami and some cheese. We finally convinced Kim to run his fridge continuously and worst case we would jump start him - unfortunately this was too late to save the food that was reaching up to 17C by each morning!!! Eeek!!
You really want to run the fridge continuously, since by letting it (and all the contents) warm up each night, it takes many hours before things can cool down again once connected to power. By the time it all cools down again, it will likely be evening again and with power turned off this cycle continues. With the hot weather we were typically having the fridges were already working hard enough to keep contents cold without having to deal with any extra load.
In our case I was using an 80W solar panel to top up the aux battery when we would camp. With a MPPT controller, I was seeing from 4.5A to 5.5A feeding into the battery and by later in the day the current would be down to just a couple of amps since the battery was fully charged and the MPPT controller would be limiting current to a 'float' condition. The ARB 47L fridge combined with an aux battery and a solar panel/controller was doing an excellent job of keeping up with the ambient temperature conditions and providing us with cold beverages and ensuring our perishables were safely cold. Often our water would start to freeze and adding a bit of cordial provided us with a slushy to drink - marvelous. The nice cold beer was also excellent :)
Rod has an ARB 60L fridge and more batteries than you can shake a stick at, so he never had any issues and didn't require a solar panel to keep things running. He would only have had an issue if we had stopped at one campsite for several days which never occurred on this trip.
In the morning we headed west again so Rod & Kim could get to Laverton to then head back to Perth. My map showed a rock hole a couple of k off the road so we went to check it out. It's a small gnamma hole on a tiny rock outcrop that is name "No Name Gnamma Hole" by Auslig :)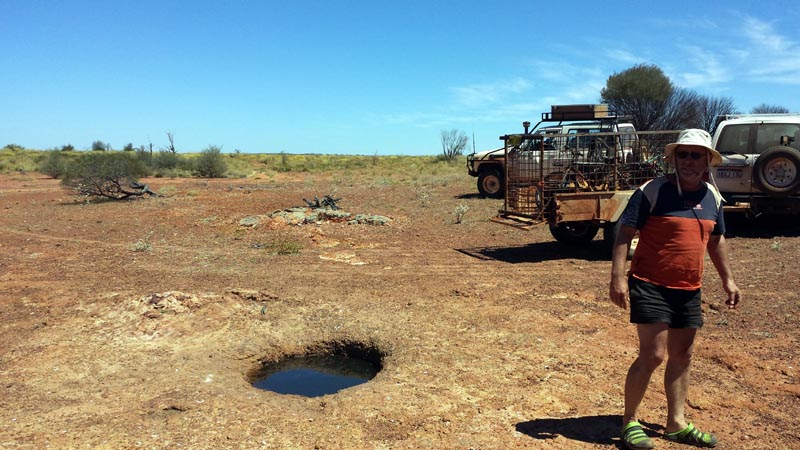 Tracklog as we headed west-south-west. You can see the small divergence we took to the above rock hole below just east of BM456. The outcrop runs down to a lower contour and has a watercourse that feeds from it.

Just west of BM428 above. This area has quite a few breakaways and would be another place to spend a day or two exploring. Just not enough time on this trip and definitely too hot.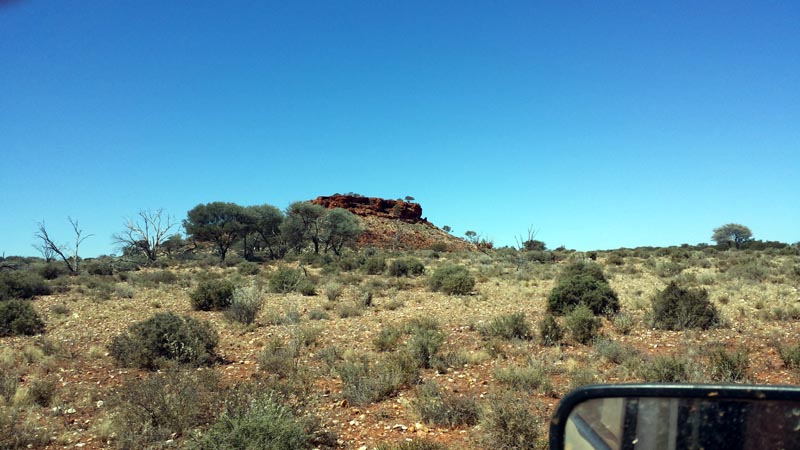 Quite a big Perentie, this fellow was also on the road and took a bit of convincing to get him to move off. Seems like a lot of the fauna isn't use to seeing humans or don't see them as a threat.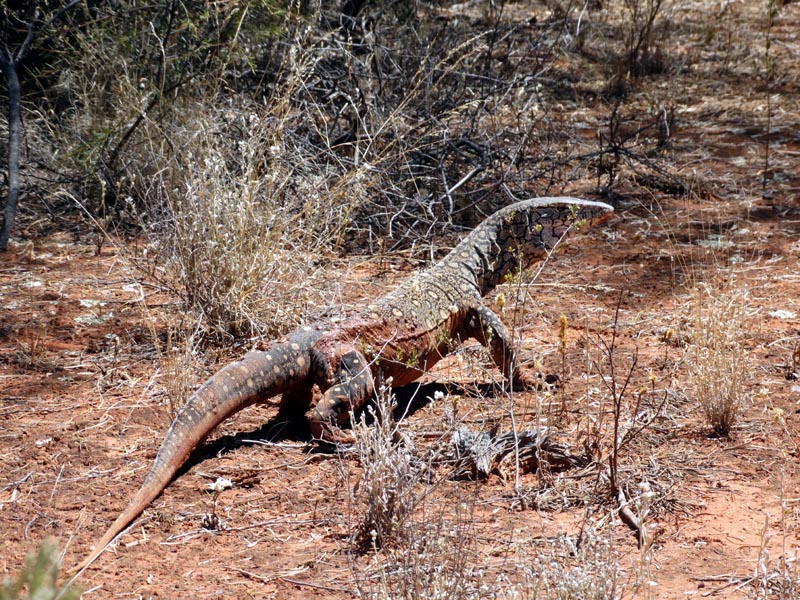 We finally arrived at the junction of the Coglia-Merolia Road and bid Rod and Kim goodbye and a safe journey back to Perth (via Laverton). Lionel and I decided to head south to revisit Thelma's Tank for a cool down and rest. This road is now wide and of great quality - an obvious upgrade by some mining company, though few signs existed of any real traffic.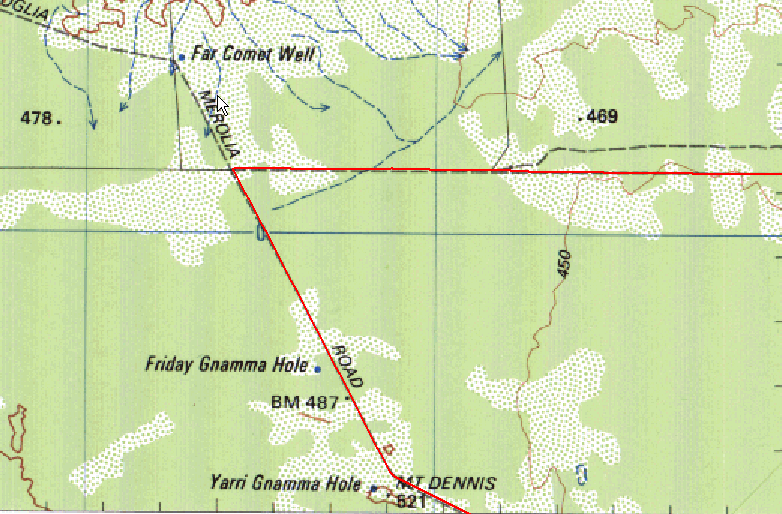 Heading south we stopped to inspect an abandoned hole in the ground (actually a few holes). That is the area in the Irwin Hills below where the tracklog shows us driving around a bit.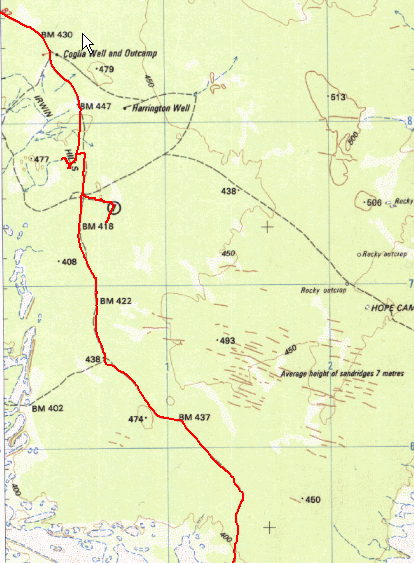 Picture of one of the holes. In this case the company had not blocked the access road to the bottom, so we drove down to check it out. This is the end of the good/wide road and obviously why it had been upgraded. Now that the mine is finished and been abandoned the road will be left to fend for itself. The road south from here reverts back to a reasonably decent track.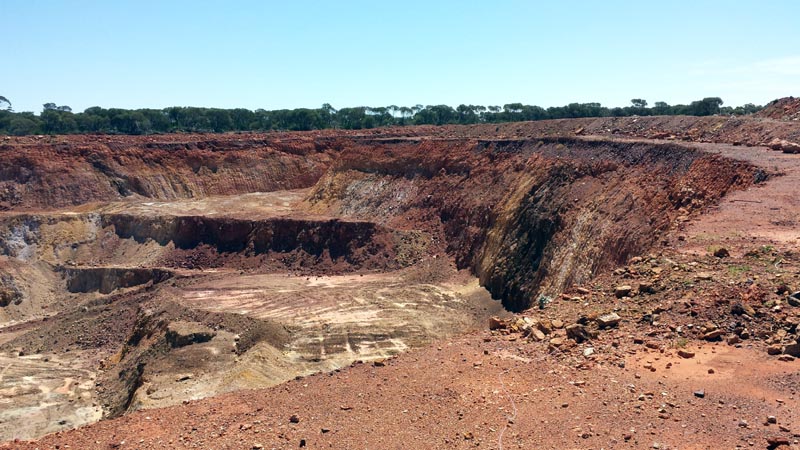 At the bottom of the larger hole. Another completed project with all the equipment removed and the hole left for the future and typical of all such projects, no attempt to perform any restoration of the area. Looks like our oz government gives these companies a free hand to do what they wish with no requirements to deal with the environment in any way.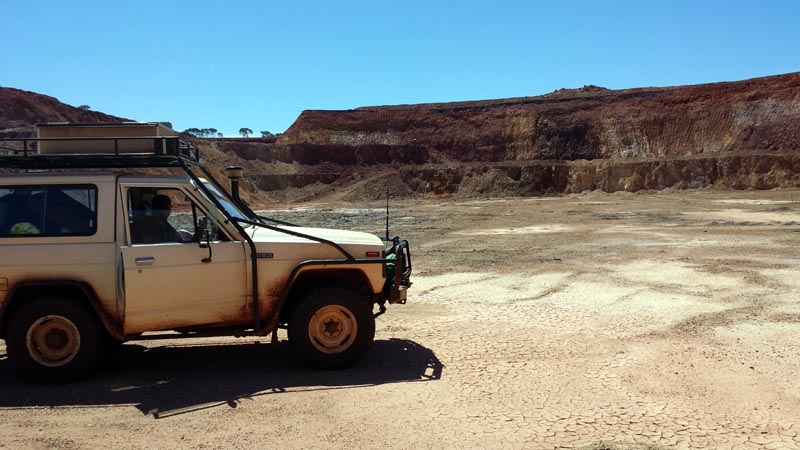 After touring around a bit to examine their handiwork we found the original track a bit to the east of the mining area (which took a bit of searching since the 'highway' only went as far as the mine site). With the GPS running it was easy enough to locate the track and then we headed south again. Seemed worthwhile to visit the airstrip marked on the map, but it was completely overgrown. On heading there we found a few old diggings. The airstrip is down on the plain and we're on a ridge name Jasper Hill (not to be mistaken for Hanns Jasper Hill further south) in the picture below.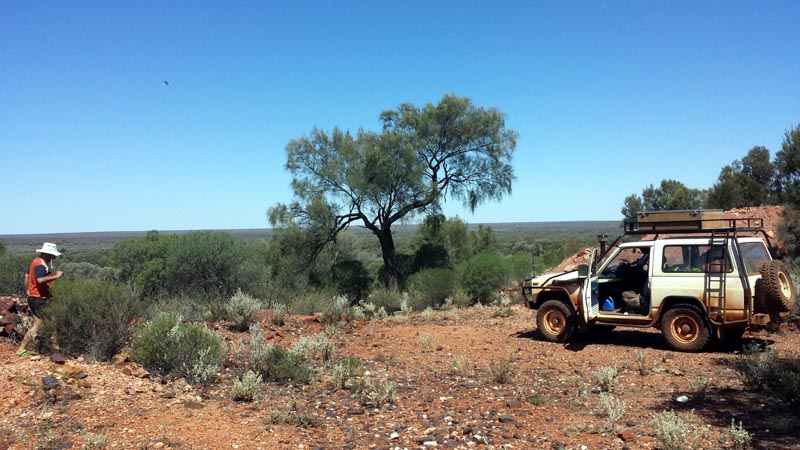 The track leads onto the airstrip which is overgrown and obviously hasn't been used for decades. Hopefully it isn't still marked as an emergency runway on any pilot's map :)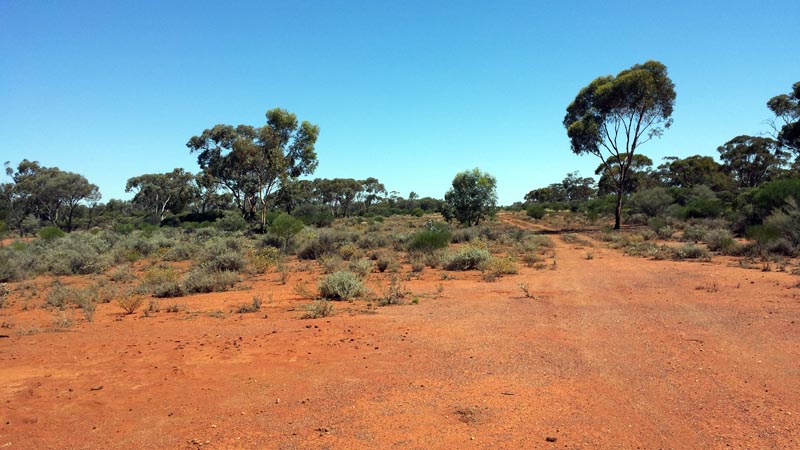 We then head back to the main track and continue south again to get to the Surprise Granites for a quick visit and some pictures.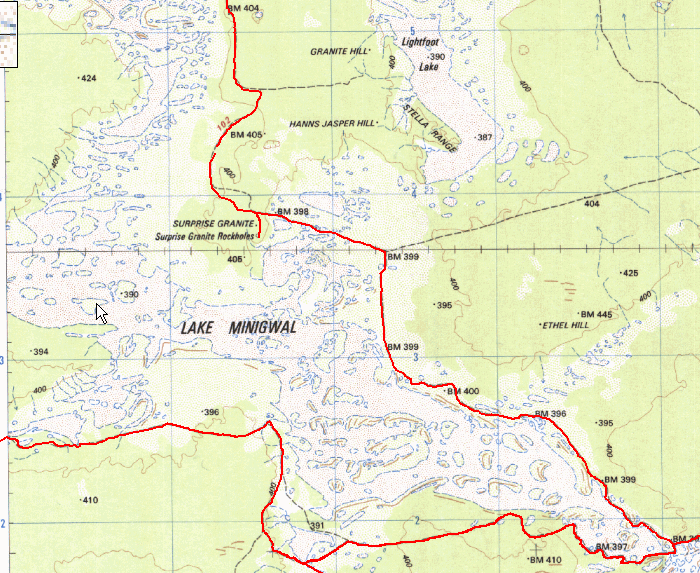 A quick stop at the Surprise Granites (we were last here in 2003 where we camped and had a bit of rain). Nothing of course has changed other than NO rain! A few gnamma holes and a rather flat outcrop with little attraction, though likely an oasis miracle for the early explorers.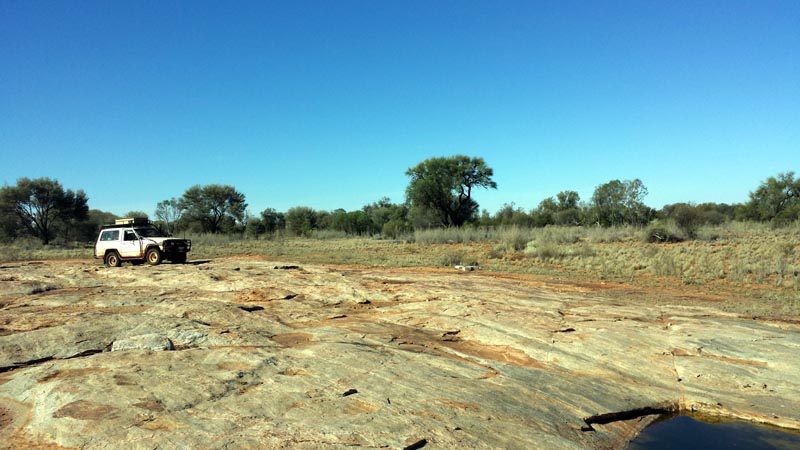 We then headed back to the main track and east to reach the eastern most extent of Lake Minigwal so we could then follow the southern edge westerly to reach Thelma's Tank to make camp. About 70k from Surprise Granites back to Thelma's Tank. We spent the next day at the tank, enjoying showers and some rest versus breaking camp every day. We had quite a cool night that got down to around 12C, but the following day was warm so having the tarp up for shade was a good idea. Here's our camp and I think Lionel is in the tent having an afternoon siesta and escaping from the flies. The tank was only about 50' from our camp, so easy access to considerable water. We also used this opportunity to top up our own water supply.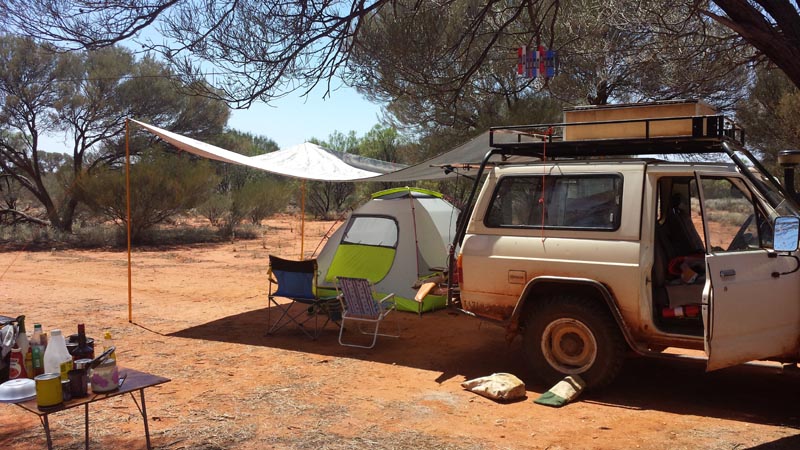 After day break at Thelma's Tank and some breakfast we headed west again along the south edge of Lake Minigwal with the plan to visit Elora and Moon Rock. The picture below is one of the smaller salt lakes that are along the southern edge of Lake Minigwal. Quite sandy near a lot of these small lakes, though nothing that requires more than 2wd.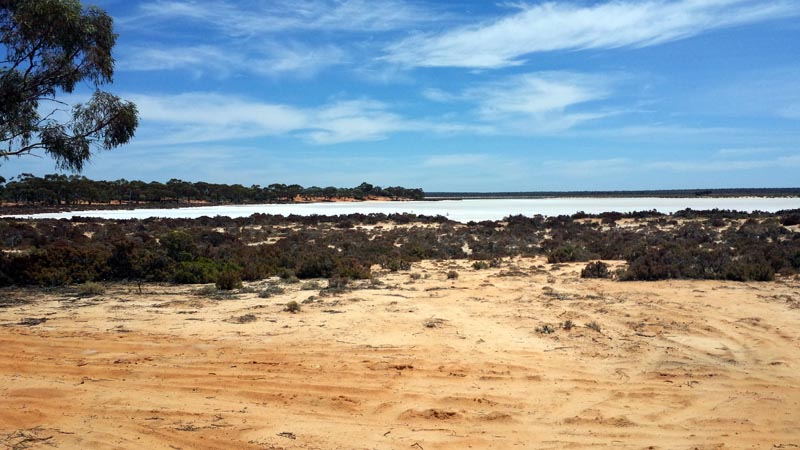 The tracklog below shows us stopping at Elora Homestead (what's left of it) and then exploring the rock outcrop near BM418 for the north west track. We drove around quite a bit trying to locate that track, but there's absolutely no evidence it ever existed. We eventually had to take the north-north-west track up to Moon Rock.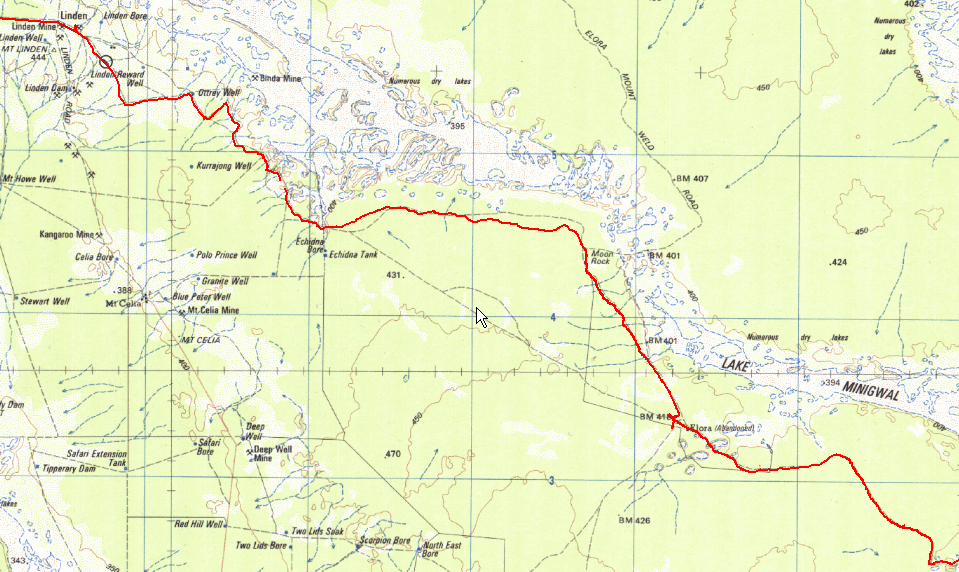 As we've now exited the desert, the outcrops start up again. This one had quite a bit of water around it, though none that I'd be tempted to drink from without a good filter. This outcrop about 15km east of Elora. Un-named and not mapped. Another mystery outcrop.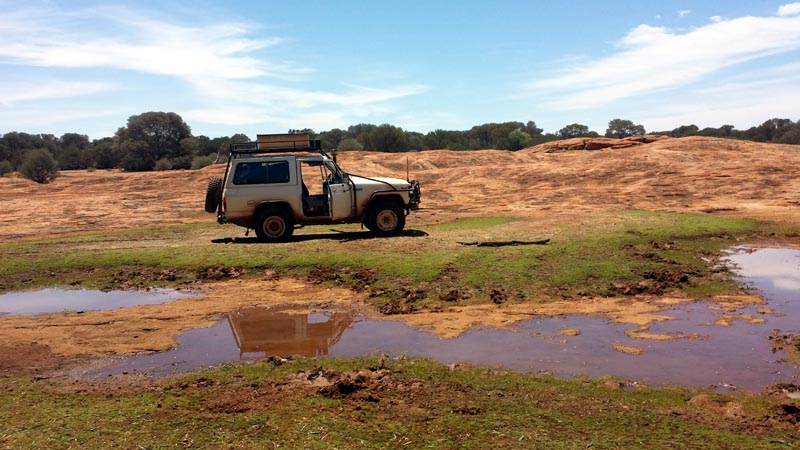 Continuing on we arrived at old and long abandoned Elora Homestead. Lionel and I last visited Elora some 15+ years ago. It has hardly changed and the track to it is in pretty good condition. Parked in some shade, temperatures are still in the low 30's.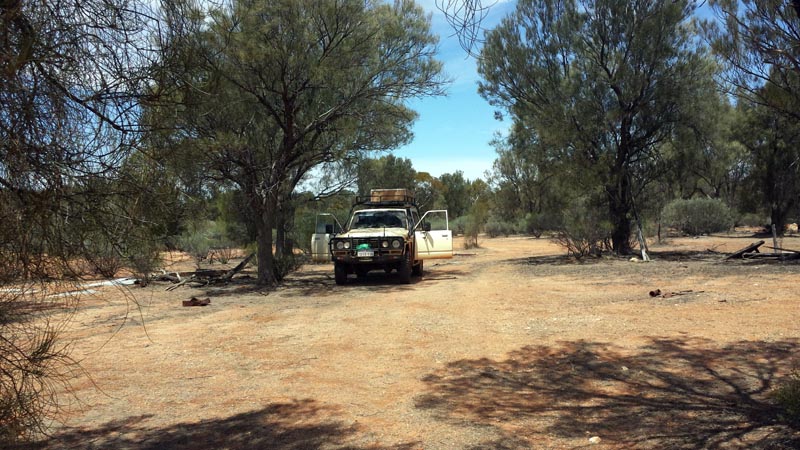 All that remains of the homestead and in similar disrepair as on our last visit. It has been abandoned a LONG time! There are some old fence lines indicating that at some point an effort was made to contain live stock and run some kind of a station. Given the location on the edge of the desert, one can only assume that it was quite marginal and any change in the average climate for the worse doomed it.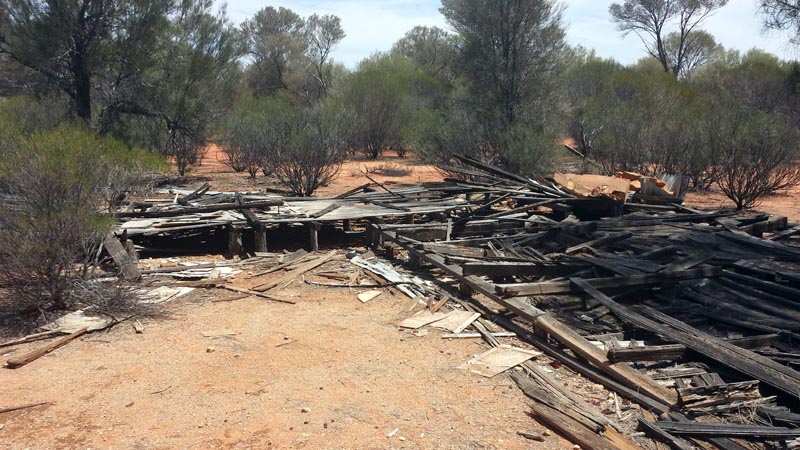 Some of the old junk surrounding the homestead. That's a very old diff design on the home made trailer. If nothing else they were inventive with otherwise broken equipment.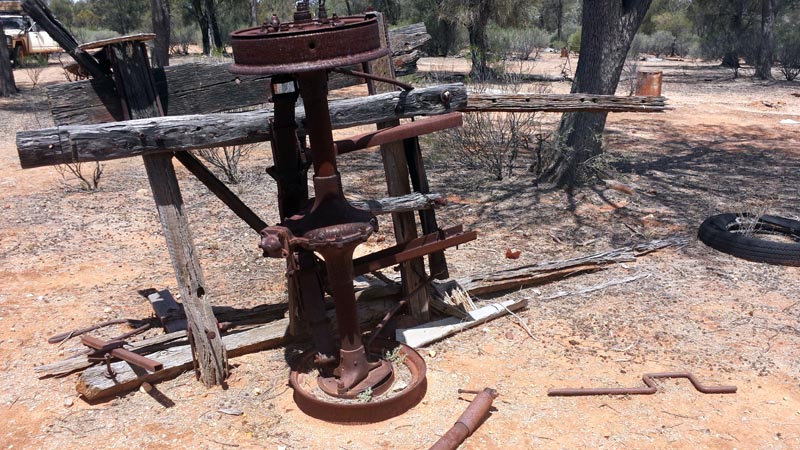 Another trailer, with a more 'modern' diff.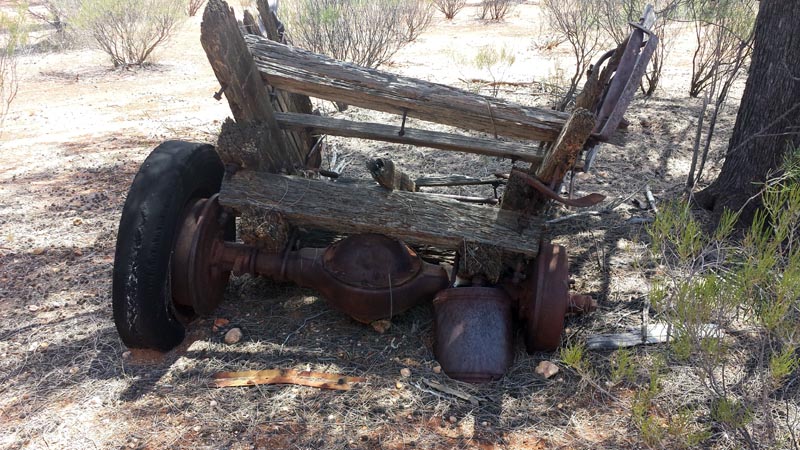 Update: Thanks to David for emailing me that in his father-in-law's opinion, these old carts would have been pulled by camels and used to transport Sandalwood.
Another update: Thanks to Rebecca for doing some research and this is what she found: "So far, I have found out that; the Station was owned by a family named the Cables, there was a father and 3 sons - one son is alive (Martin Cable) and resides in Kalgoorlie and is apparently around his late 60's - to early 70's (not clear). The father and sons harvested sandalwood. For what ever reason, they then left Elora and bought a station named Merolia"
I haven't been able to find any history of Elora in my google searches so if someone that reads this has more information I'd love to hear from you.
The following picture shows a forked mulga stump that would have been used to support sandalwood as the bark was stripped off. The remains of that work can be seen all around the stump. That confirms that sandalwood was harvested at Elora.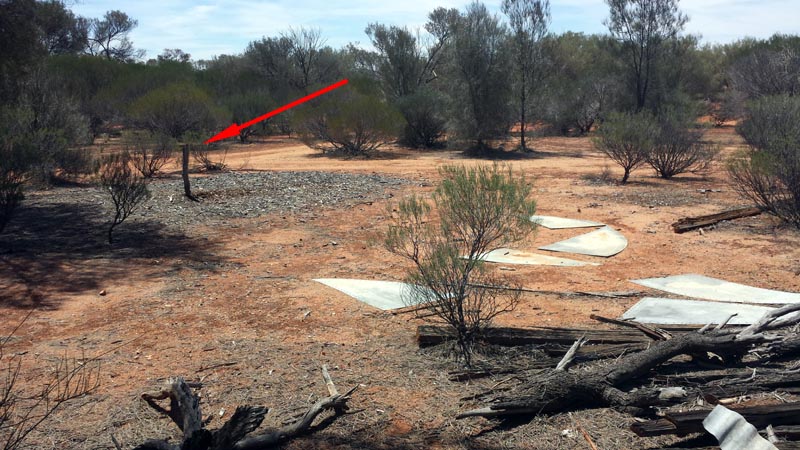 Just a little north-west of Elora Homestead is another unnamed rock outcrop. There are several gnamma holes on it and one that has a very unusual dark rock that appears to have been inlayed into the surrounding rock. Lot's of water again due to the recent rain. We then looked for the track heading north-west but couldn't find it so took the more north track up to Moon Rock.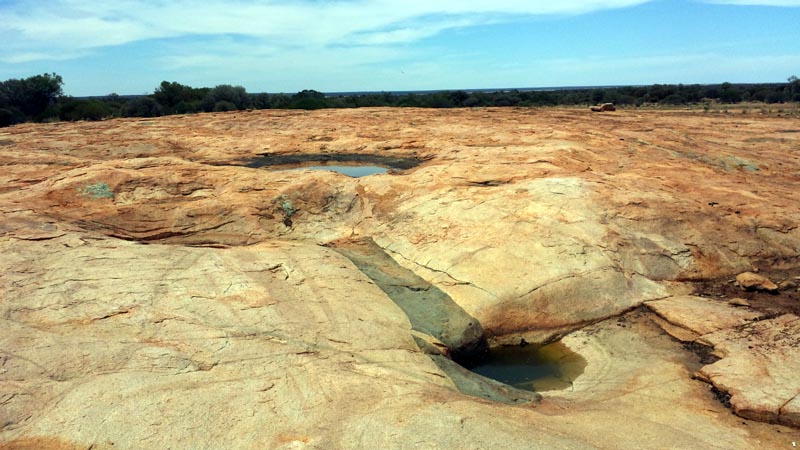 A closeup of the inlayed rock.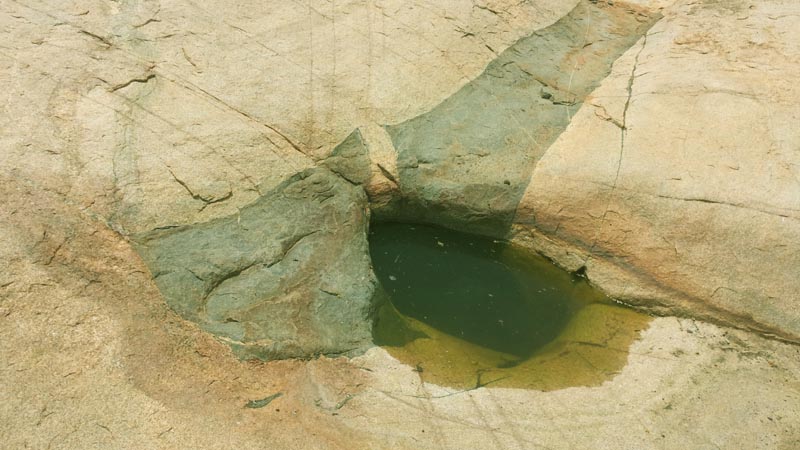 It's been 11 years since we last visited moon rock (it isn't anything to write home about) and the tree in the tank has grown even larger. This long abandoned tank may have been part of the Elora Station when it was active a long time ago. The maps I have are unclear regarding boundary lines around Elora.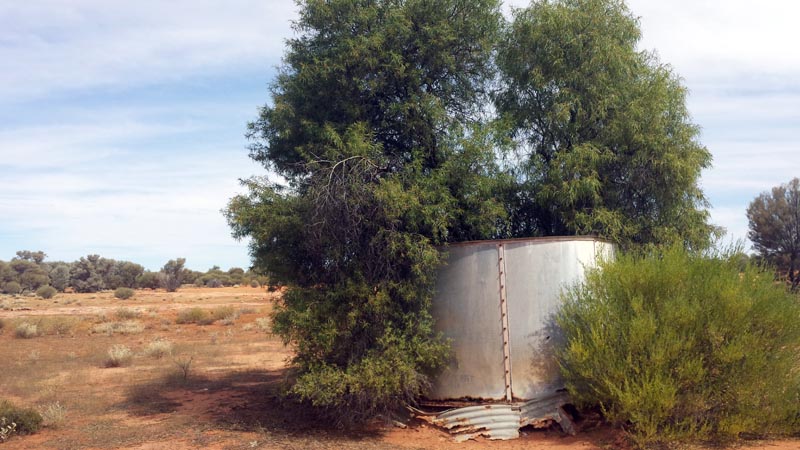 We then headed back to 'civilisation' and camped for the night at the back of Linden. We are in the heart of the Linden Gold Field which has a few active works still going on, but most have been reworked and are now 'done' (until gold prices climb again). We have a small fire going to create coals for our BBQ plate. With the higher temperatures of this time of the year, we don't need or want a raging fire for heat :). At least we have cloud cover to provide some shade and keep temperatures from becoming extreme.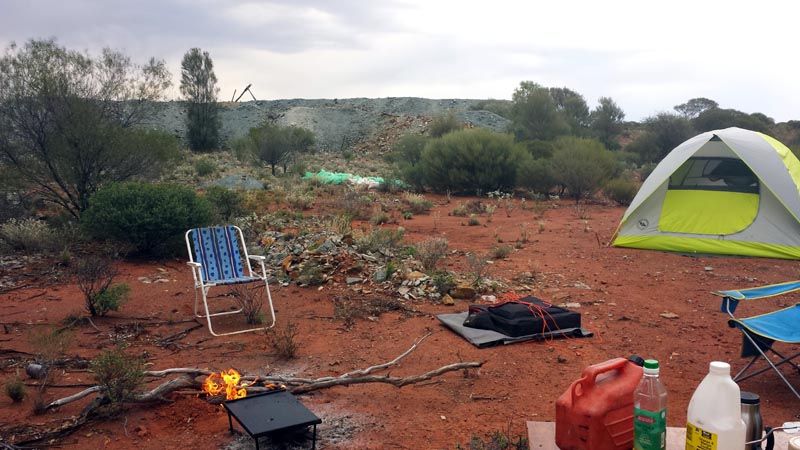 We headed to Murphy Well as a direct path to Yundamindra. Of course now that we are in 'civilisation' we crossed a sign warning of active mining activity, pity that we a) can't read and b) don't give a stuff. Murphy well is non-functional and empty. No mining activity of any form or flavour was found. Wonderful how mining companies erect signs and when they leave they don't bother to clean up after themselves - we've learned to just ignore their BS.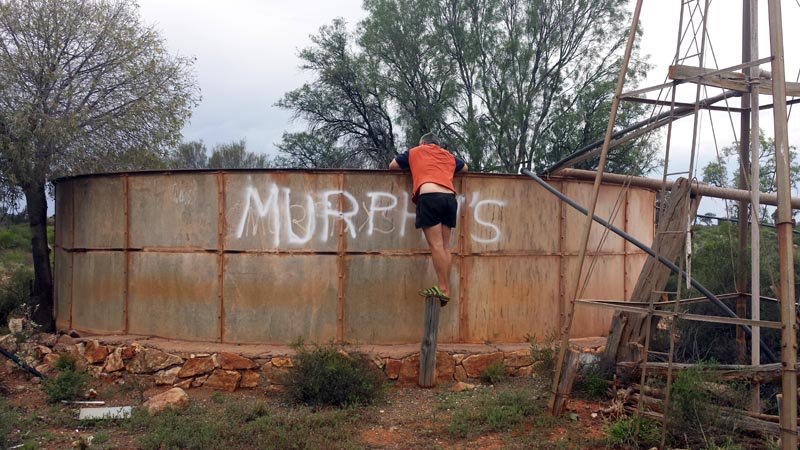 We drove through Yundamindra which is an active homestead, though possibly just as a mining headquarters versus an actual pastoral station. Certainly a lot of money has been invested since it has several active buildings an a large solar system with a large 'power module'. We didn't see a single sheep or cow on our drive through the area, hence the thought that it may not actually be a pastoral station.
The tracklog below shows our path from Linden to Yundaminda and then through Mt Remarkable and on through Yerilla. Yerilla has an active homestead and lots of cattle on the property. The pastoral stations (the few that remain) that are still active appear to have moved to cattle versus sheep.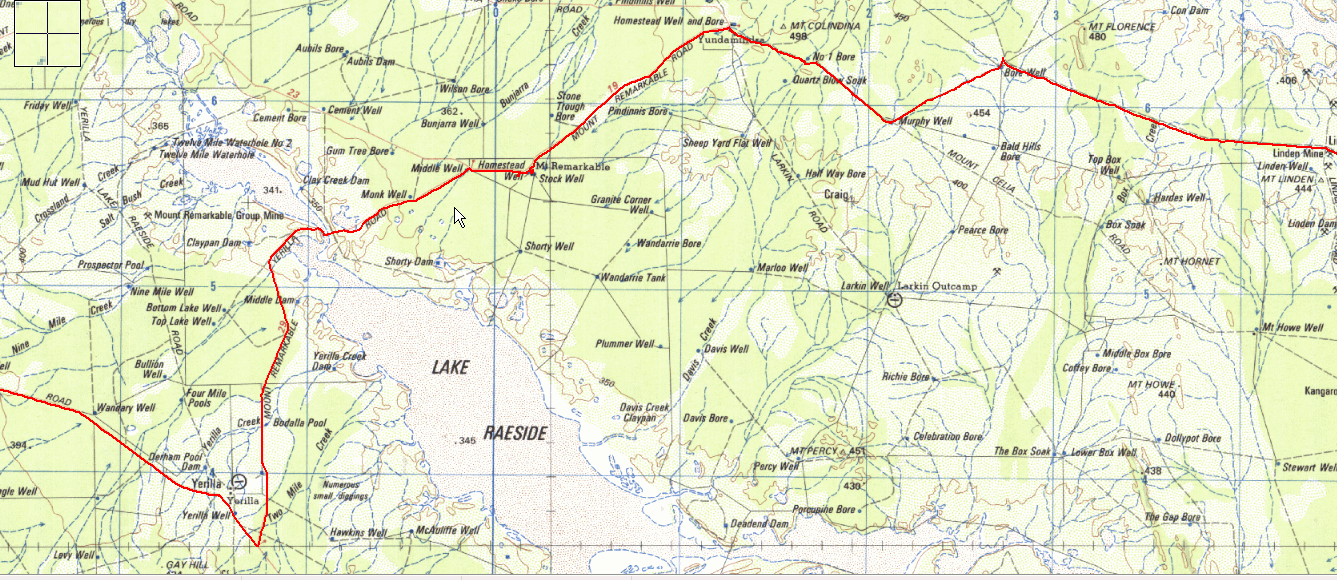 We then continued on to the Mt Remarkable Homestead which is totally abandoned and in disrepair. The Telstra tower in front (for the phone) is not active and all the electronics/solar etc has been long removed. The homestead must have been quite nice when in its active glory - tile roof no less. Now it is home to various kangaroos.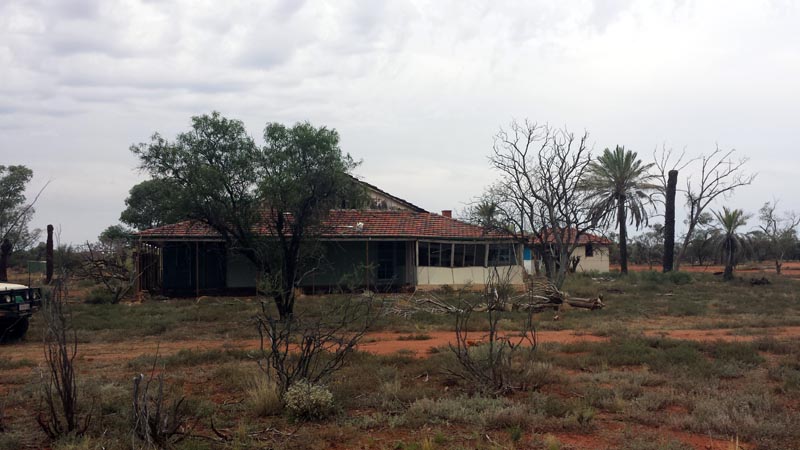 Another view of the main homestead. The weight of the tile roof will no doubt accelerate the collapse of the house as some of the internal timbers have already cracked..
Inside the shearing shed. You can still smell the odors of years gone by. Hard to imagine there's many shearers left and I doubt it's a career choice for the newer generations. Another 10 - 20 years and this kind of life will be nothing more than a dim memory.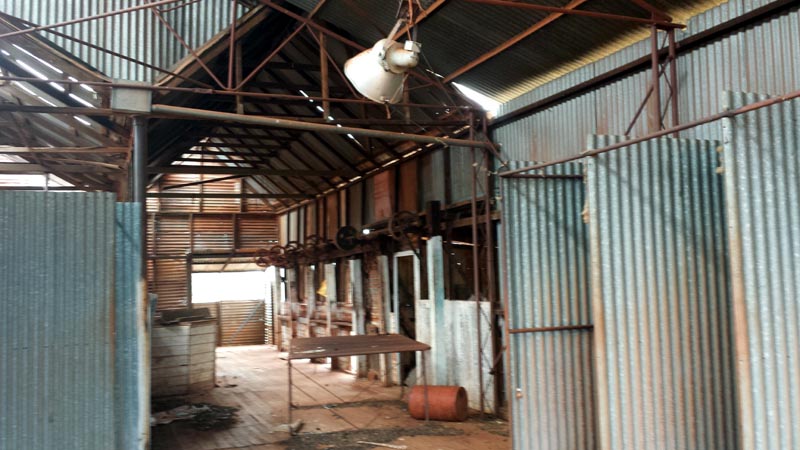 We headed on, stopped at Menzies to top off the fuel tank that would then take us through to Perth. We also got some lunch at Menzies and of course an icecream! After that we got back on the road that heads to Diemals. On the south side of the road is a salt lake/clay pan that has had trenches cut in it (been that way for MANY years). Since it was quite hot, Lionel figured he'd take a dip. Obviously the salt content is very high, given by how high he is floating without any effort - seems it would be hard even for a non-swimmer to drown here :) Later as he dried off he was covered in salt crystals - just needed a horse to come along and lick him clean...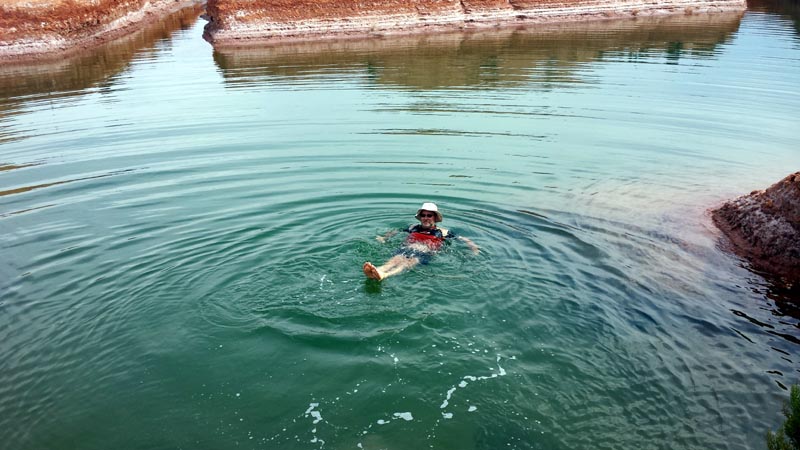 Here's the tracklog showing our drive down to Ularring.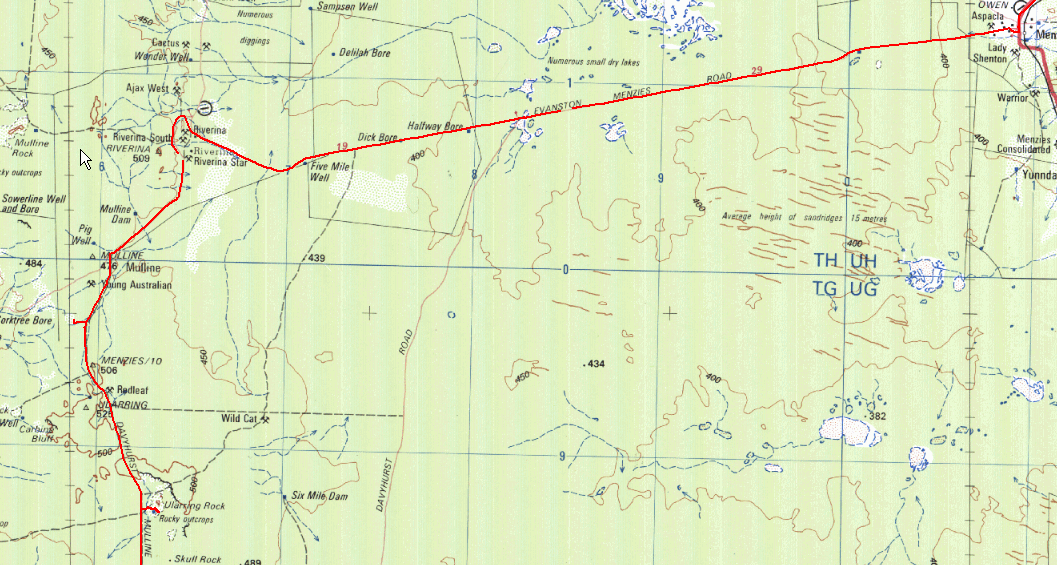 We continued west until reaching the Davyhurst-Coolgardie road and took that down to Ularring Rock where we made camp for the night. View from the top of the outcrop (quite a few patches of water on top). There's also a soak/well next to the rock. The local 'tourist bureau' has installed a table/seat with a totally useless shade cover (high curved tin roof). Boggles my mind that they could go to all that trouble without at the very least having a roof that could actually catch and direct rainwater into a tank. Oh well, they did also install a waterless composting toilet...
Ularring is the site of a near deadly attack when Giles first crossed from SA to Perth. He assigned the name to this outcrop, given to him by the local aborigines (which later staged an attack on his party). I had been reading the Giles (Australia twice traversed) journal which provided excellent background to many of the places we had visited on this trip. I highly recommend downloading his journal (can be downloaded from Project Gutenberg, http://www.gutenberg.org/ebooks/4974) and reading it. Gives a very different view of many of the aboriginal tribes that his party interacted with which is quite enlightening versus much of the modern 'information/propaganda'. How many of us are aware that many of the tribes DID practice cannibalism?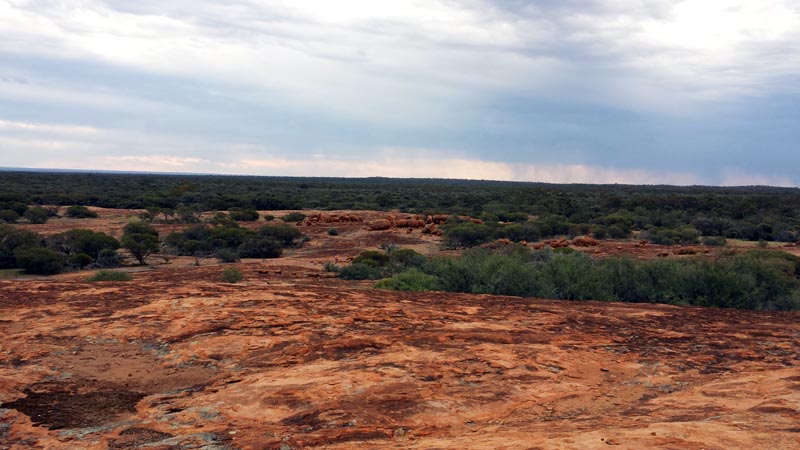 As the sun set, more and more clouds rolled in and the electrical activity in the sky increased. Heading towards the tent we had a few drops of water landing on us so rather than having to get up later at night, we packed things that we didn't want to get wet into the 4wd and closed up the windows etc. There was quite a few short showers during the night, but nothing heavy enough to cause runoff or affect road conditions the next day.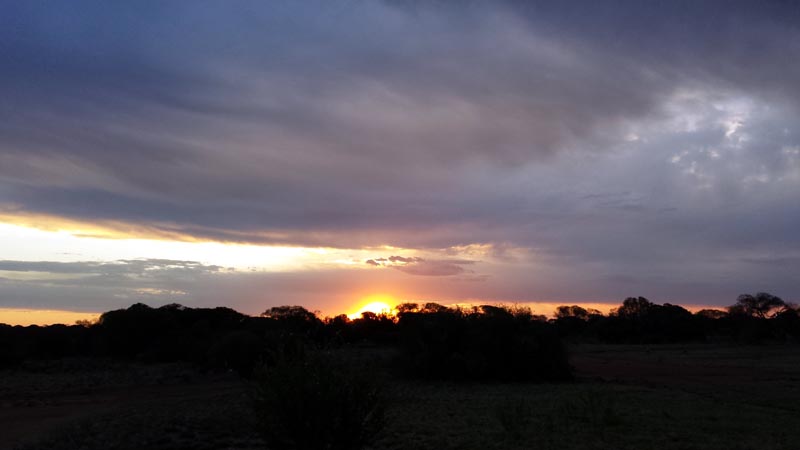 Ah - breakfast. I had purchased a new ARB 47L fridge for this trip to replace a very old and small Engel fridge. It was remarkable to be having such a breakfast 12 days into our trip with food that was bought back in Perth. At this stage we were both extremely impressed with the performance of the fridge. Lionel wearing his bush rated crocs - what a dork! :)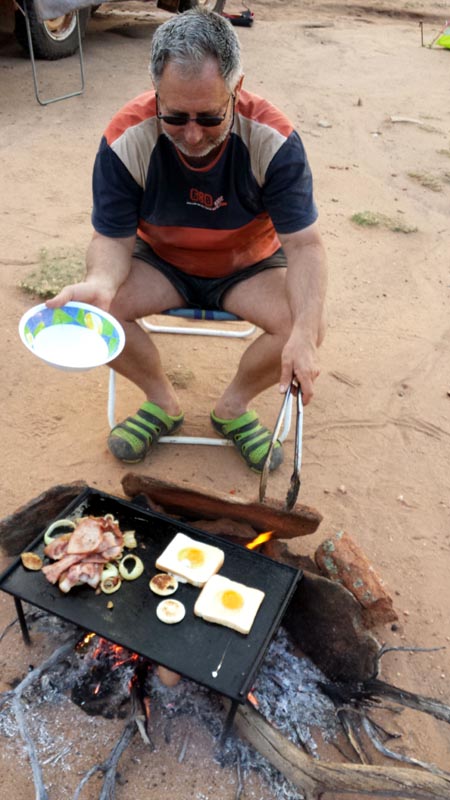 After breakfast we packed up and hit the Davyhurst/Coolgardie road again and dropped in to check out Callion (where my father had worked some 56 or so years ago). Did some more searching for his old brick hut, but confirmed that it is truly gone and likely absorbed by the big hole and tailing dump :(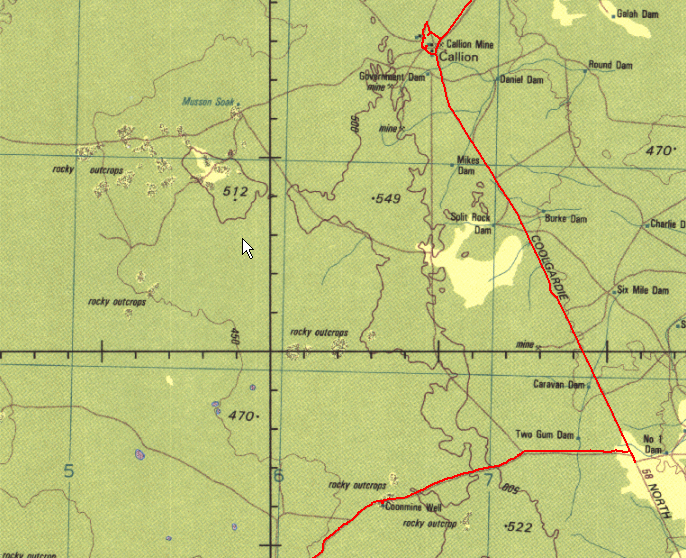 We then continued southerly until hitting the track that heads west to Coonmine Rock. A picture of Coonmine Well, plenty of water in it.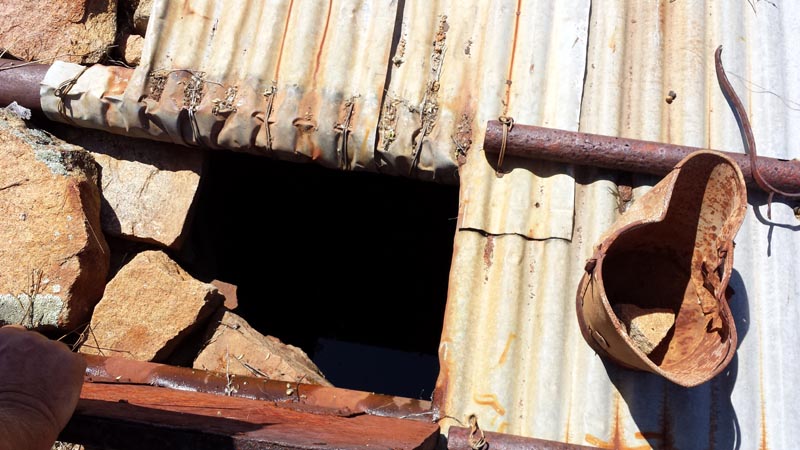 We climbed the rock since when I was last there 3 years ago with David we had found large pools of water on top due to then recent rains. Since we had recent rain again it seemed worth checking out. Sure enough, heaps of water and Lionel and I took a chance to lay down and get totally soaked and to cool off. Temperatures were in the low 30's so warm enough to enjoy the water which was somewhat warm from the sun. It's one of the largest pools I've seen on any rock outcrop I've visited and we found a spot that was about 1' deep to lay in - then we had a water fight to completely soak each other.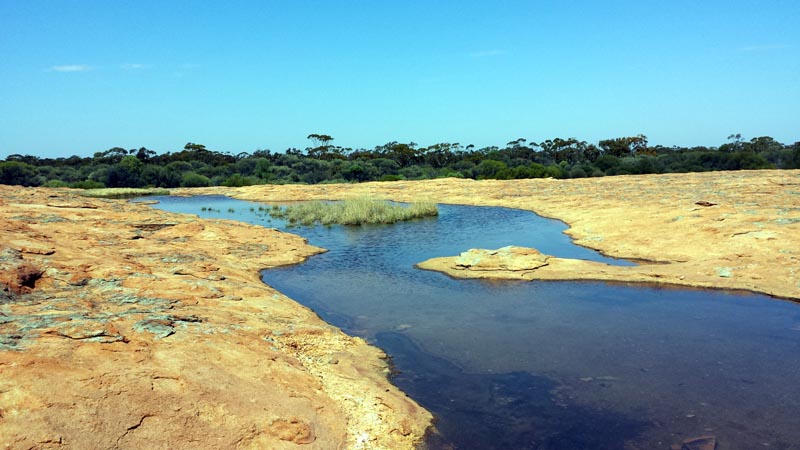 After our soak and cool off we headed further down the track with a quick stop at Turturdine Rock. The track closes in south of Coonmine, so not a place for someone with a new 4wd and scared of thick scrub scraping the paintwork.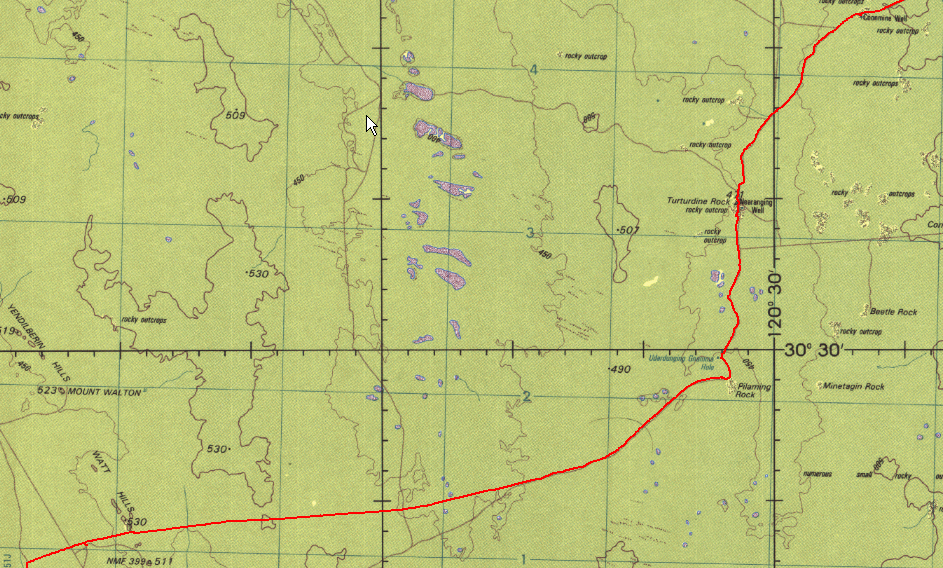 Turturdine Rock, not nearly as nice as Coonmine Rock, but we climbed to the top for the view anyway. There's a dam just visible center/left in the picture below.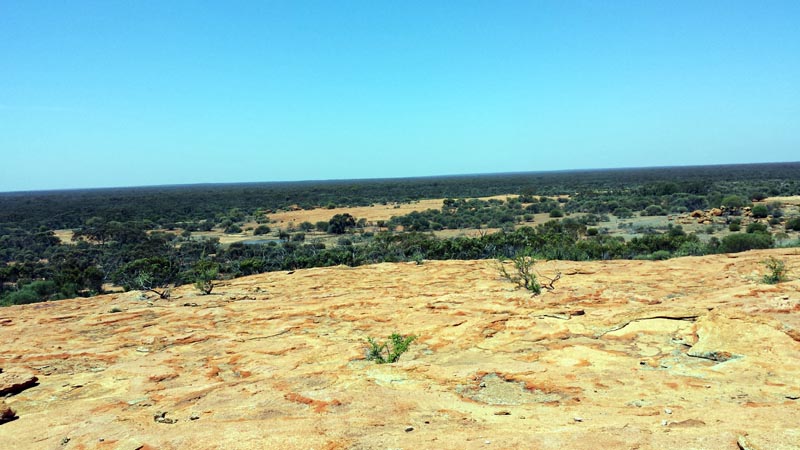 Back onto the track and we continued southerly until the track took a more westerly direction. The original track merges into a newer exploration road that bears directly west and we continued on with the aim of reaching Ive rock and exploring the new road.
A quick stop at Udardunging Gnamma hole since I know from the past that there's a lot of water in this tank. We topped up our solar shower which we used for both shower duty and as a source of washing water. In this case we're stocking up on washing water. I've hooked up our Whale submersible pump to get quick access to the water and after that we used the pump to squirt water at each other (COLD) since the temperatures were still in the low 30's. It also appears that Lionel is enjoying a cold beer from the fridge (in the stubby holder) - tough life we're leading on this trip...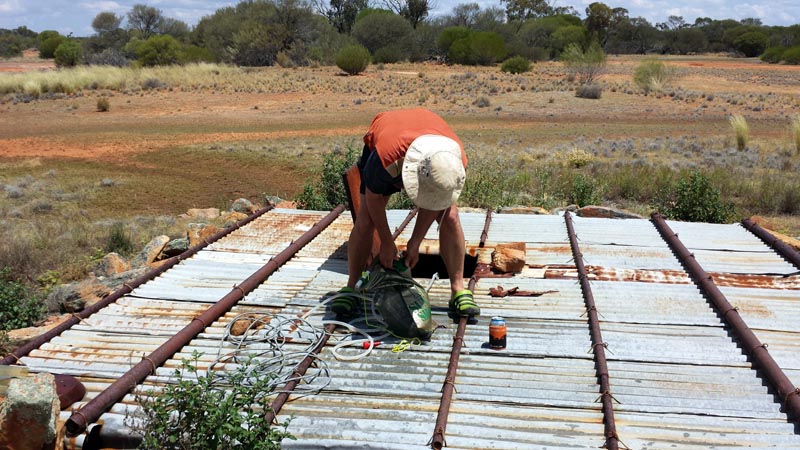 Having finished our cool down, we get back onto the track and continued heading west. We crossed one dirt haul road (no sign of recent use) and then a few miles further west crossed a PAVED haul road. I have since been informed (thanks Shane) that these roads are for Polaris to access existing and new mines in the Mt Walton Area and is part of more on going work such as on the edge Helena Aurora range. The EPA is showing that they are a neutered organisation and a puppet of the mining companies and other government bodies. Until the 'common' folk stand up and scream about the mostly hidden and quiet devastation that is going on in the Yilgarn these mining companies (banded iron ore) will continue to remove the few ranges we have and export the raw ore. Western Australia continues with the madness of primary industry, nothing has ever been invested to create the secondary or tertiary industries and so with increasing population due to revenue created from mining the only option for the government (to prevent economic collapse) is to continue opening up more and more mining areas. Organisations such as the EPA have huge pressures applied to ease regulations to fast track mining operations to not just continue the revenue stream but to increase it.
The EPA declares that Windarling is an enviromental disaster in one of their own documents - yet absolutely nothing is being done to prevent even more of the same kind of open pit iron ore mines from being opened. The banded iron is typically found in the ranges of this area and those are places that have biodiversity that is threatened. Unfortunately these areas are below the radar of the media and the 'common' folk and so it all goes unnoticed. Imagine if a mining company was going to dig up the Bungles or Ayer's Rock or ....
Our track down to Ive Rock. The east/west part of the tracklog at the top of the map below is all the new exploration road (up to the point where it hits the hills). The dirt and paved haul roads are of course not marked on the map either.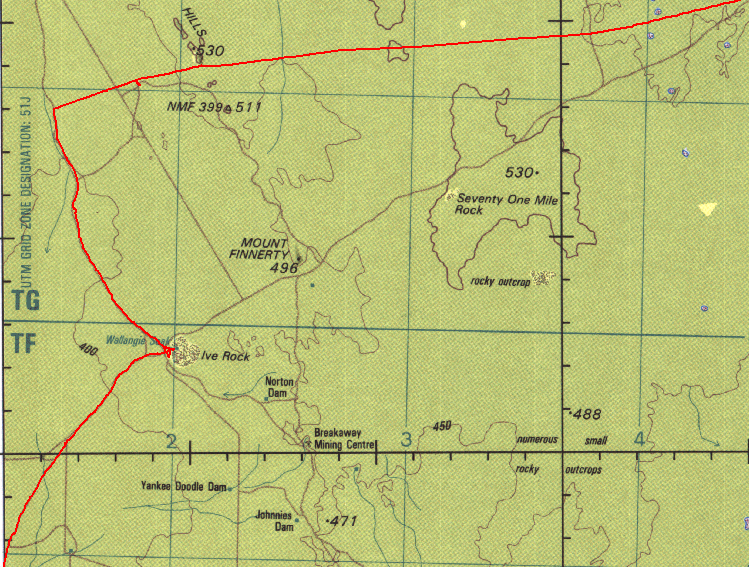 We finally reached Ive rock and made camp for the night. Found a decent spot to set up camp with shade for the vehicle and tent. Solar panel is out catching some last rays to keep the aux battery topped up to run the fridge. It became somewhat overcast, but still a couple of amps were being pushed into the battery.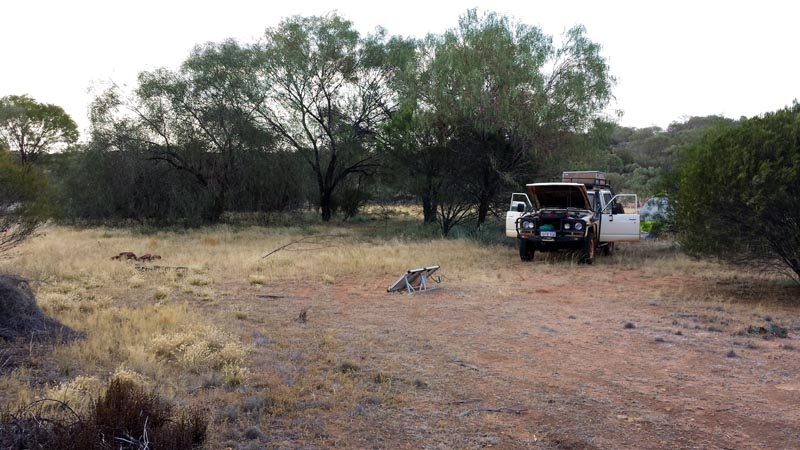 A view from up the top of Ive rock looking to the east. The whitish looking area is the edge of the dam that did contain water, but the bottom is way too muddy to walk in and enjoy the water.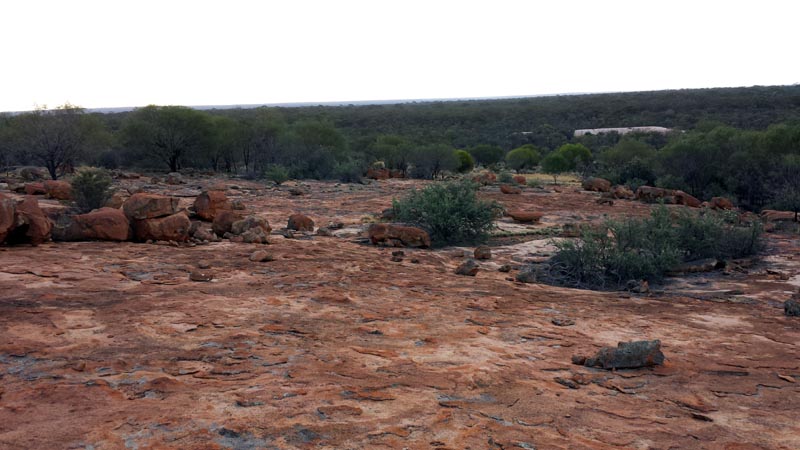 A grave just south of Ive Rock with an unknown person. Someone has upgraded the grave in more recent times since the white quartz/rock is a relatively new addition.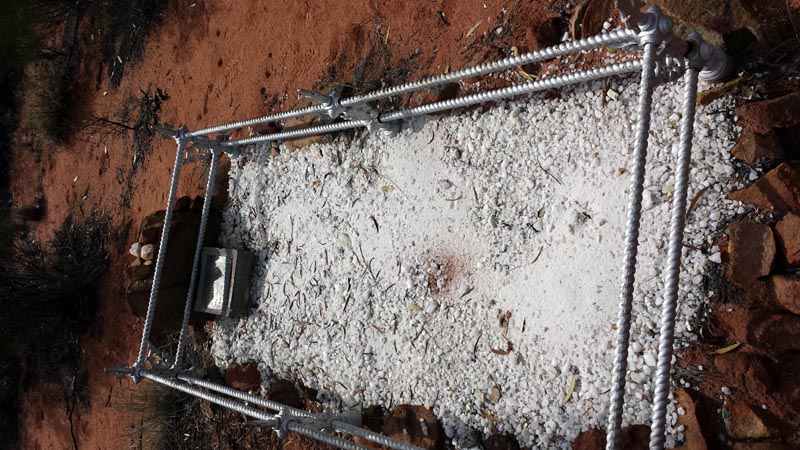 The plaque on the headstone. Another unfortunate person that lost his life in the oz bush in the early days of the gold rush. Presumably Albert Ives is from the family that Ive Rock is named after.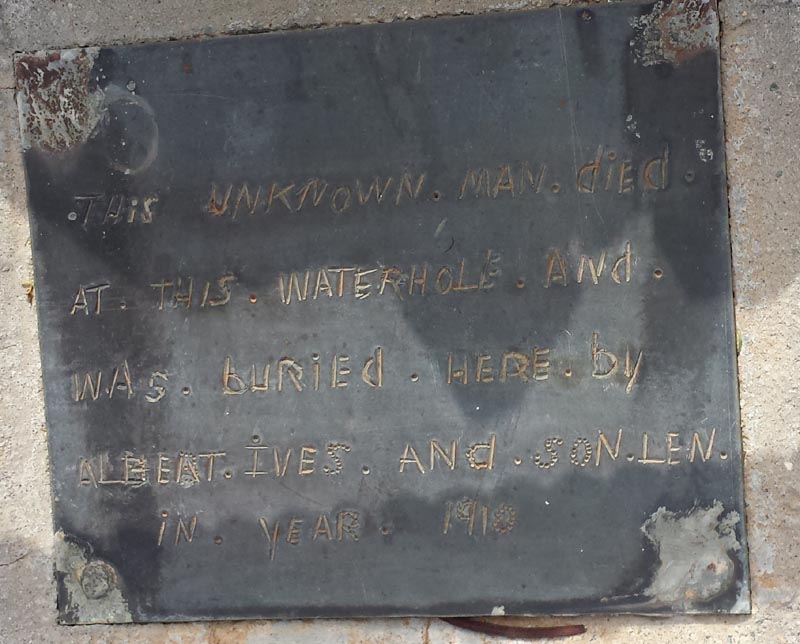 After taking the pictures at the grave we continued down the track past Ullumbay soak (at a rock outcrop). We have camped at this outcrop several times many years ago and it was surprising to see how much it has changed. It is now very overgrown with thick scrub and we couldn't easily drive to the back of the rock as we use to be able to - it is essentially impassable. The soak is also overgrown with dense scrub. Needs a good fire to clear the whole area out again.
Heading south west we hit the transline and then followed the service road to Lake Seabrook to follow the track down to Weowanie Rock. There was a service vehicle at Darrine Siding. Heading west we passed another service vehicle with a quick wave. We then reached our track and headed down to Lake Seabrook. There were a few damp patches around the lake edge from recent rains, but nothing that required 4wd or bypasses. As we headed south of Lake Seabrook the track becomes very overgrown and would not be recommended for anyone that is scared of scrub/branches scraping the sides of their 4wd for miles and miles.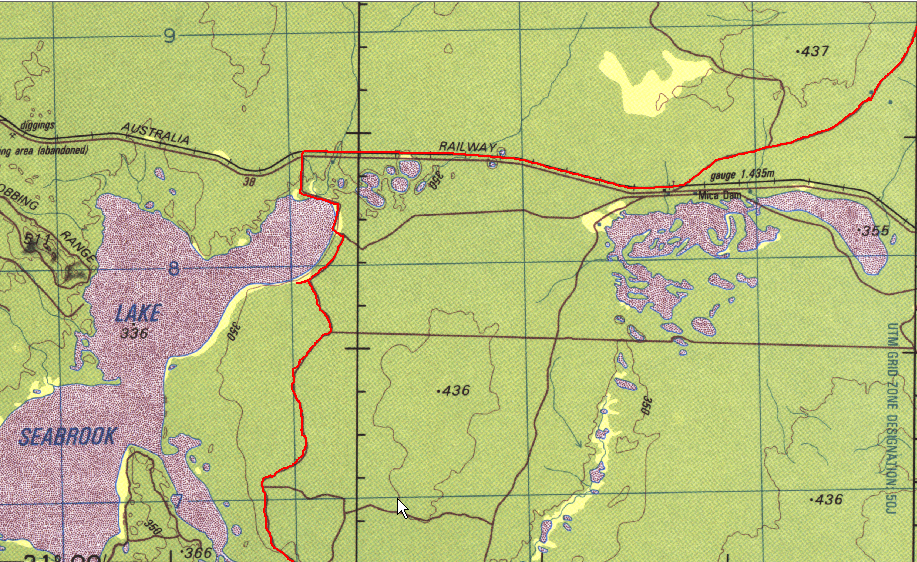 As we head further south the track crosses a salt lake and the old timers had layed timbers across the lake to prevent getting bogged. This spot is quite sandy and hard packed so negligible risk of actually getting bogged in a 4wd.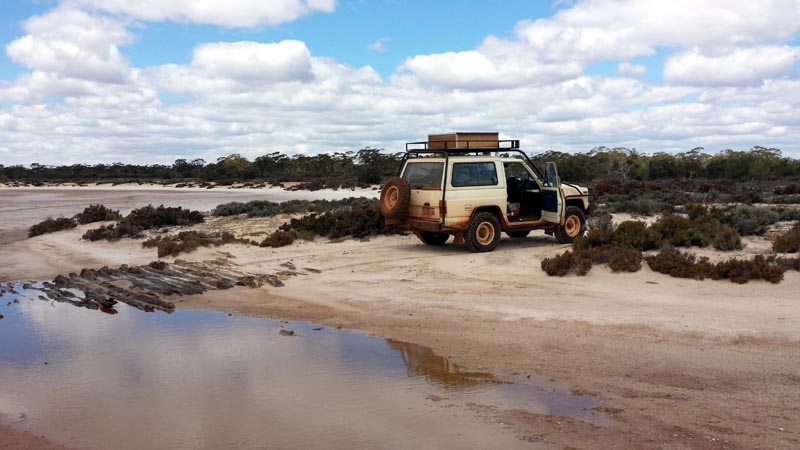 The tracklog shows us heading down to Weowanie Rock and a little bit of the driving around it to find the 'perfect' camp spot.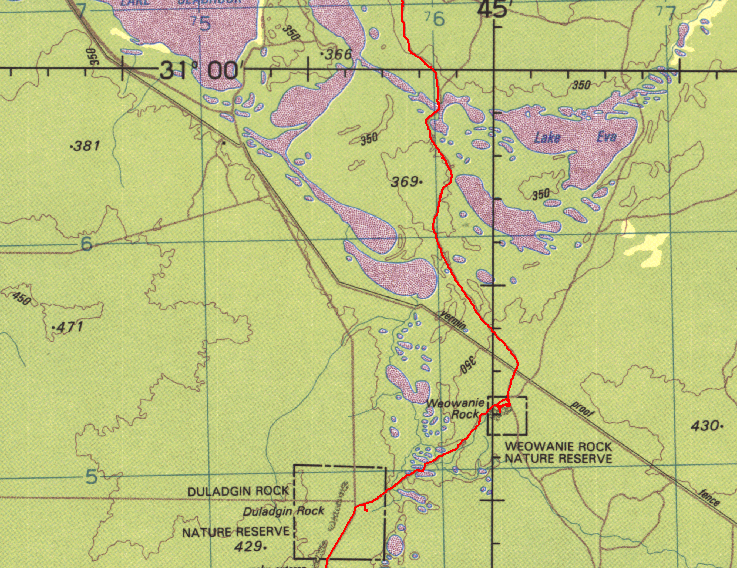 Right at the top of Weowanie rock and just north of the cairn on top you can find this amazing gnamma hole (not visible from the cairn - you have to walk a very short distance). It is deep and full of clean water and quite remarkable for being at the top of the outcrop. Lots of tadpoles swimming around in it.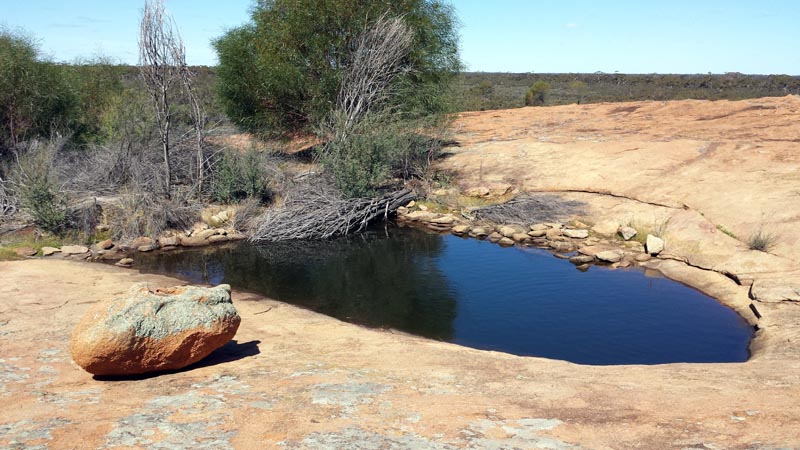 Picture of the secondary gnamma hole. This one has had a small stone wall concreted at the bottom to capture more water. Also full to the brim with clean water and I collected some in our shower bag and also into a bucket. I used some of the water to wet down a small fire break around an area that I burnt off so we could make our fire for the BBQ. Quite dry conditions, so having water handy to control any sparks etc seemed prudent.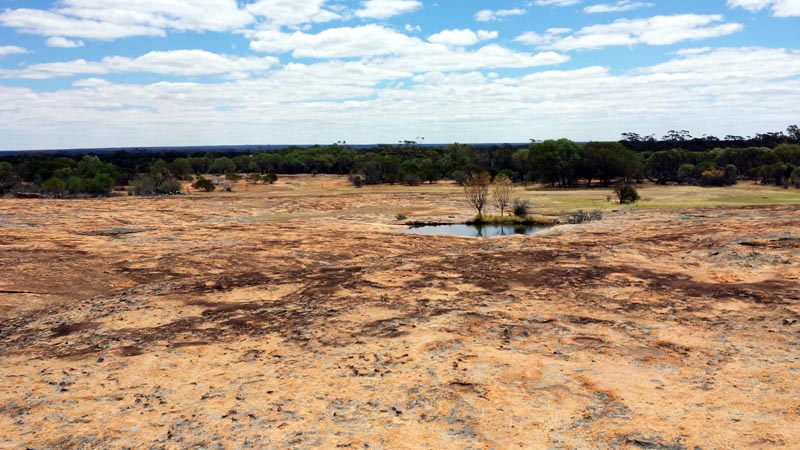 Morning at Weowanie and our last bush breakfast. The ARB 47L fridge did an amazing job on this trip and having fresh meat and vegetables (as well as COLD beers) was fantastic for the 14 days we spent on this trip.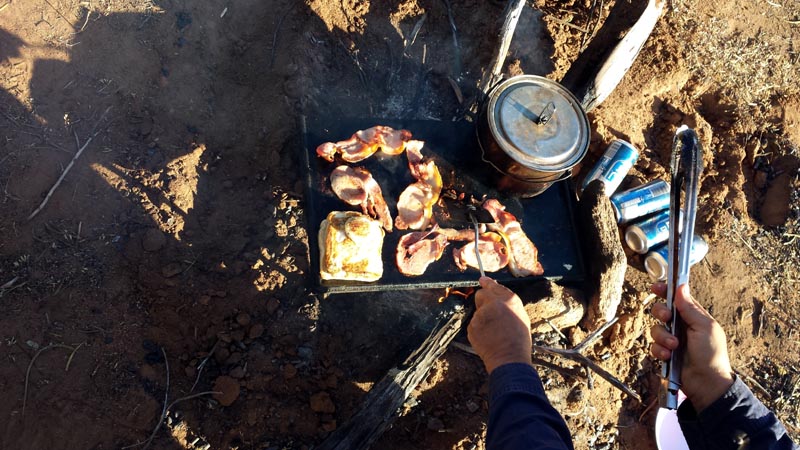 Just past Duladgin Rock there's an old grave from a fellow that died near the rock/soak many years ago. The bottle of scotch is still there from 3 years ago when David felt it was a fitting thing to leave for a Scotsman. Someone has also left a wine bottle there. Another lonely grave in the oz bush.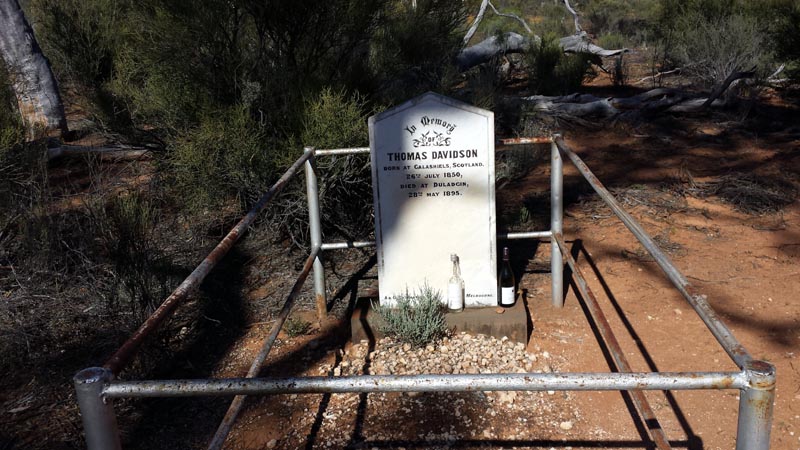 At this point we headed down to Yellowdine and took the boring pavement back to Perth. A fantastic trip that was just a hair over 3000km in length, 14 days in duration, required 2 fuel ups (both at Menzies) and about 410L of diesel. We had a capacity of 160L in the tank and took a further 80L to cover the trip into the Great Victoria Desert. 70L of water in a custom bladder under a box/floor that Rod had made for me that then had the fridge and tool boxes strapped down to it. A further 5L in an easy to dispense 'gallon' and a few litres of water in the fridge. All our food and cooking equipment was in the large plywood box on the roofrack. We still had quite a supply of food left on our return, which is good since it makes sense to have at least 1 week of extra food along on any such remote trip. Rod had a satellite phone and I used a Spot unit to report our 'ok' status back to friends/family.
The Great Victoria desert, especially the Plumridge Lakes area, McKays Creek and around the Doctor Hicks Range are worthy of a longer visit with much more exploration. Returning during the cooler time of the year would be well worth it, early September would be perfect.