Trinity Wilderness Area 2010
February trip to the snow. My 10 and 12 yr olds had a week long school break, so we decided to head to the same area as last year. This was after a big set of storms had hit a month or so earlier. We headed north to Eureka and then took HWY 36 east.
Here we are on HWY 36 at a few thousand feet. That's quite a lot of snow given that we'll be up above the 5000' line.. My plan was to head south of hwy 36 on a forestry road called Red Mountain Motorway - fancy name for a dirt road. Given the amount of snow here versus last year I think we're going to be limited in how far we can head off the main road...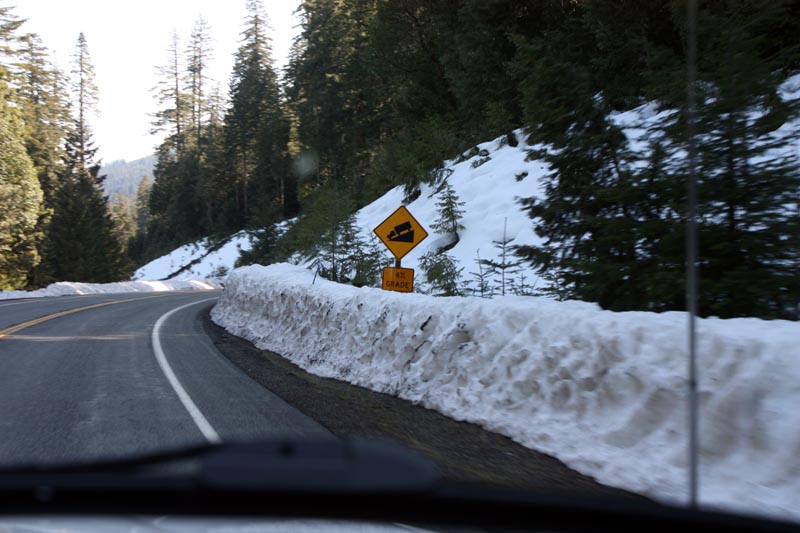 Onto forestry roads. We drove up this stretch (heading uphill), then came back down when the snow was just too thick to push through anymore and I couldn't be bothered winching. A lot easier to drive back over your own tracks.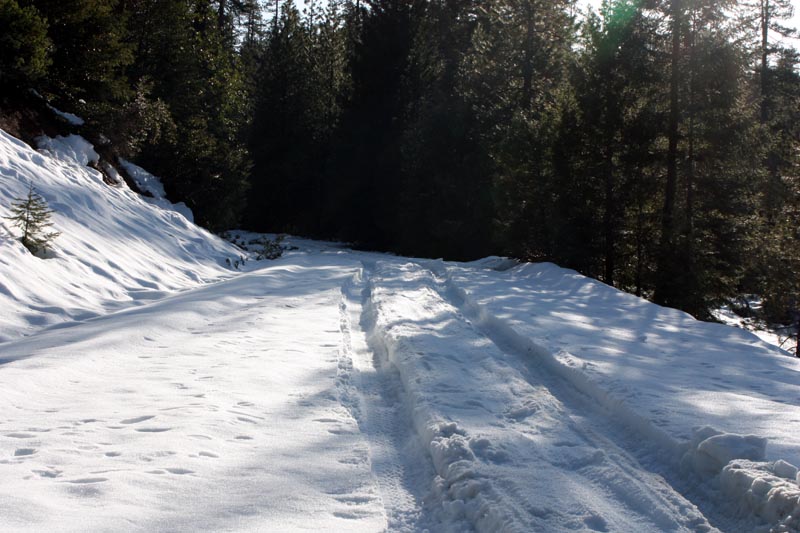 Drove until we found a cleared area on the road and that was to be our 'camp' for a couple of days. The 12yr old and I slept in the back of the 80 and the 10yr old across the front seats (sheet of plywood to made a flat bed). A few thermarests and sleeping bags and we had a nice warm/dry place to sleep. Looks like we're heating some water on the stove on the tailgate - early morning and time for breakfast! Part of the fun of preparing for going camping is to let the kids go through our collection of dehydrated foods and desserts - which I then add some of my choices to. With 10yr shelf life freeze dried foods it makes it so easy to plan a camping trip - just toss a few packets (and some extras just in case) in a box, a stove, some water and you have the basics to survive for a week or so.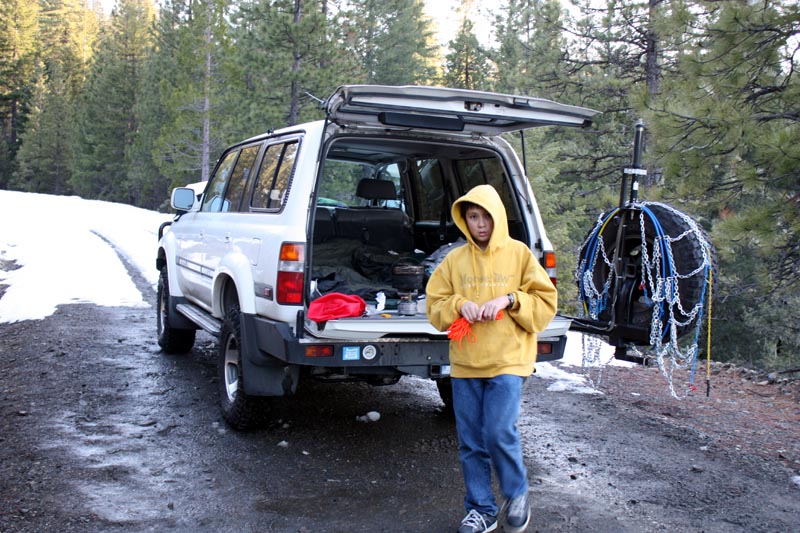 Wider view of our 'camp' Younger one is tending a small fire in the ditch on the side of the road. Boxes etc are from the back of the 80 - removed so we can sleep in the back. We put the boxes on rocks in the dry area. I think my younger one is deciding whether to throw a snowball at me... It's not bad when you can camp smack in the middle of a road :)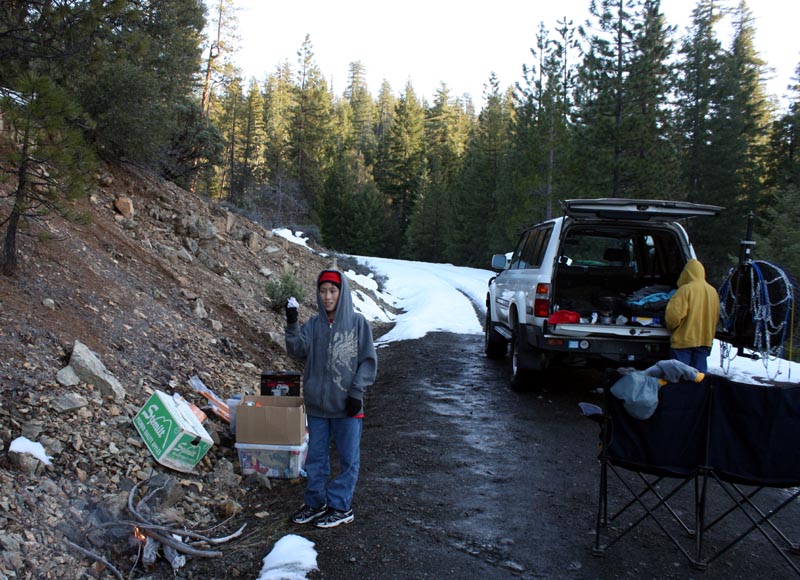 Later in the morning after breakfast and the sun had warmed things up a bit more, it was time to play. Hooked up 100' of synthetic tow rope so we could head down to the creek alongside the road we were on.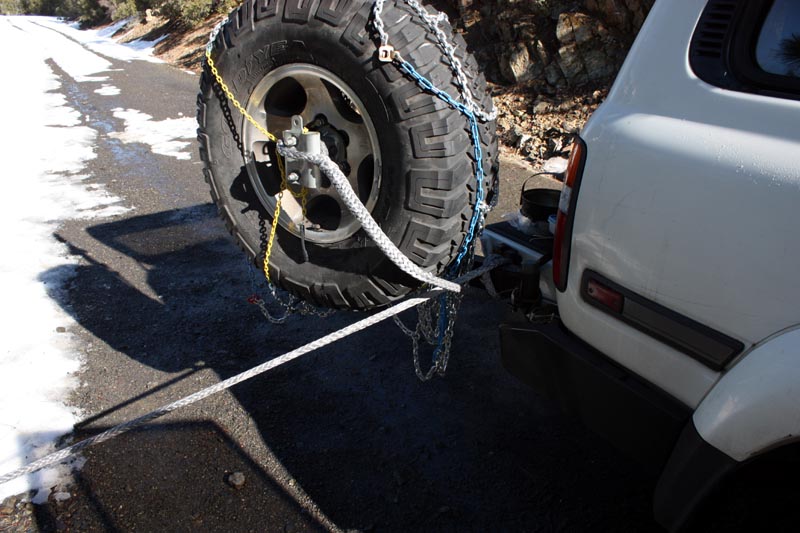 The older one heading down first. It's reasonably steep and as typical of photos you never get the right perspective.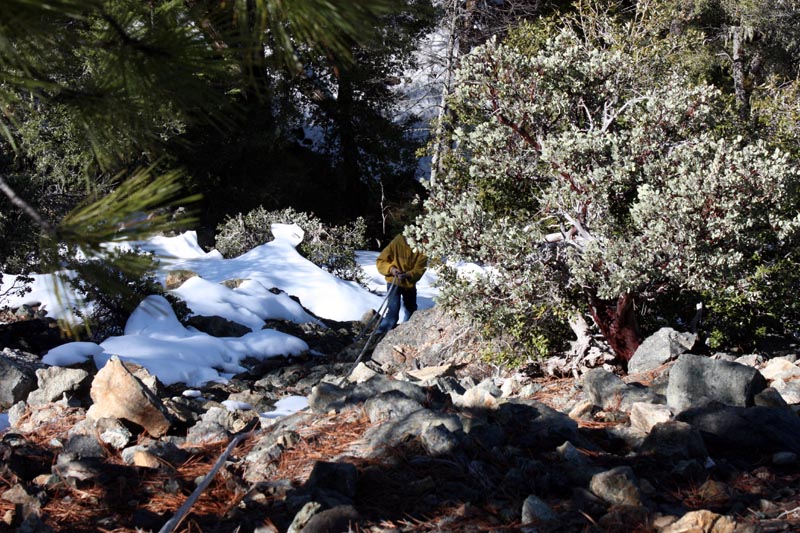 At the bottom where the creek is. Opportunity for some nice longer exposure pictures of a small water fall. It's neat to see the trajectory water takes as it hits small obstacles in a stream.
Everyday we were in the area, once the temperature warmed up a bit, we would have butterflies come and visit. They seemed to like the black areas of the 80 - not sure if it was the colour or just the fact that those objects were warmer in the sun. Anyhow, it was a neat feeling to have them visit us.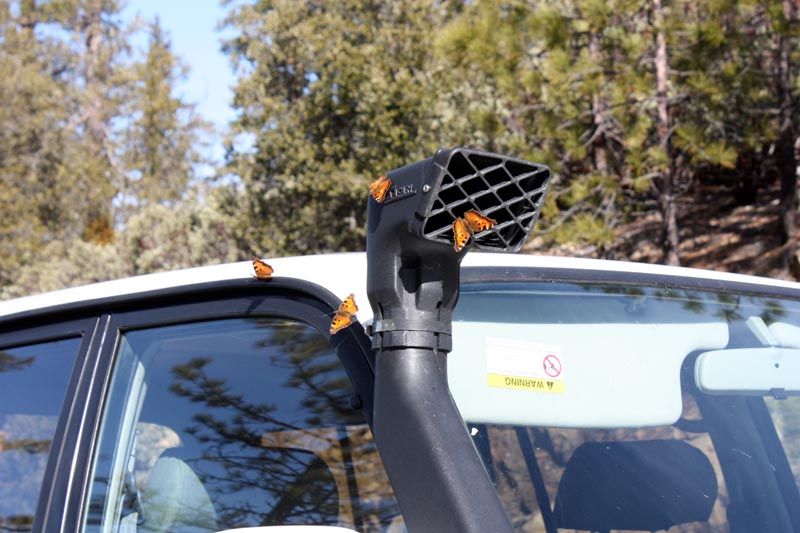 We moved camp to another area, no vehicle tracks of course - other than the ones we made getting in.
Kids having fun digging and making stuff in the snow.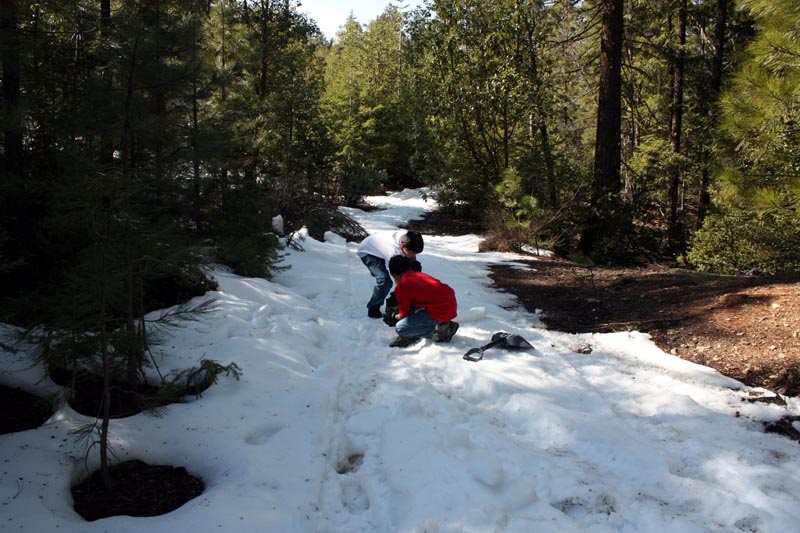 Making dinner - the kids seem to be enjoying themselves. Life is good!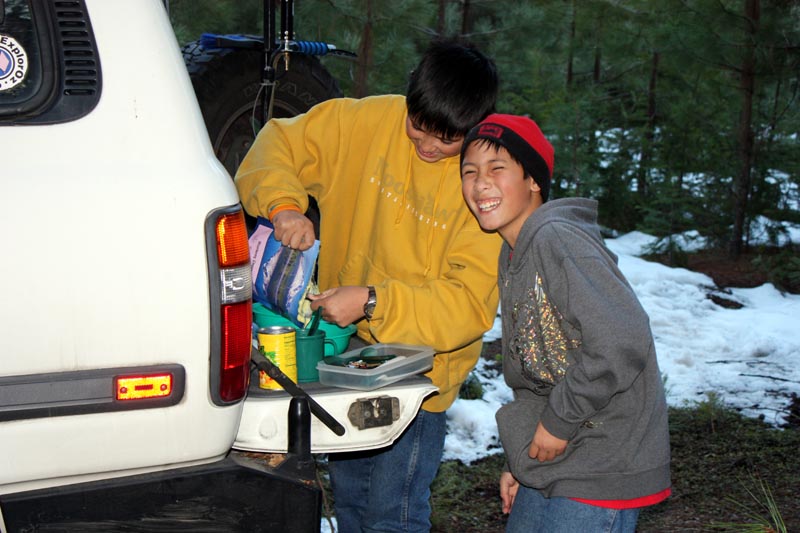 Was a little hard finding decent wood for the fire until we tried the snapped branch ends in the trunks of some of the rotten pines on the ground. Basically the branch ends or "tooths" as we called them would come out easily from the rotten pine tree trunk and the "tooths" were a) dense and b) full of sap. They made AMAZING logs for our fire and with the sap it didn't matter if they were a little damp.....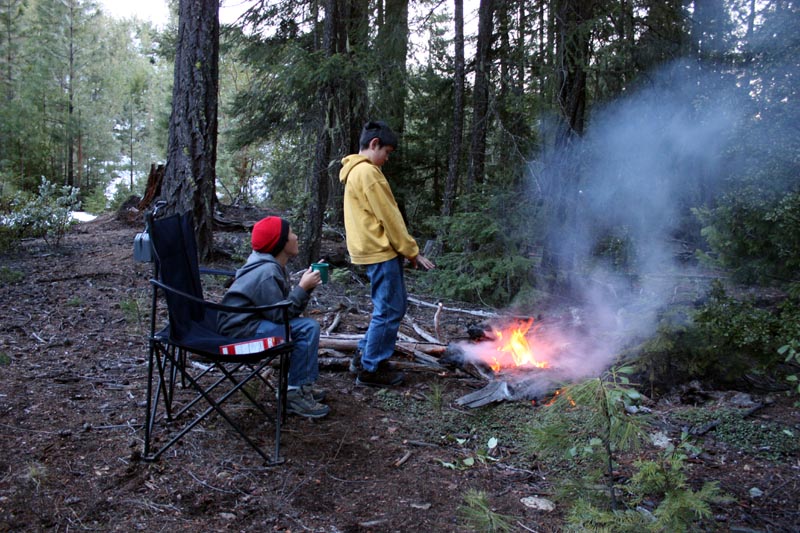 .... flame on! No lack of heat from this camp fire.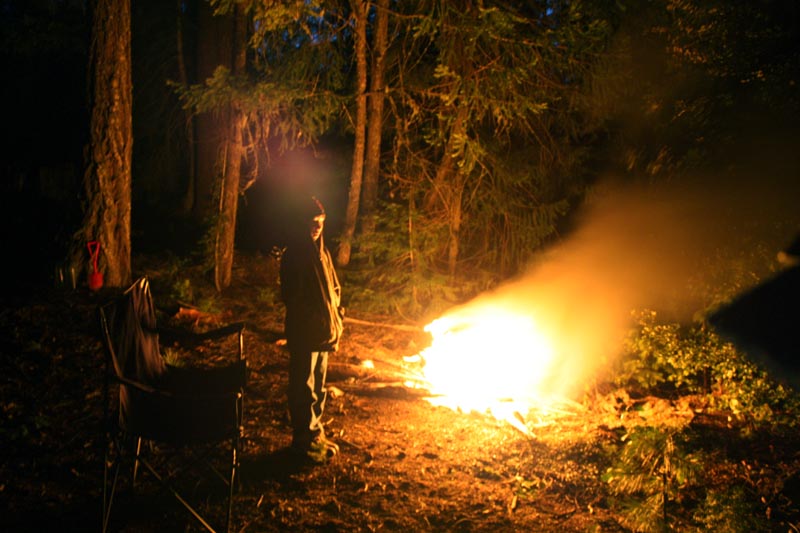 I told our younger boy that if he used one of our LED lights as a 'pen' and I set a long exposure on the camera that he would be able to "draw" with light. This shot came out particularly well - he created a stick figure with a light saber and he's on the right flashing his saber up and down - quite an impressive shot.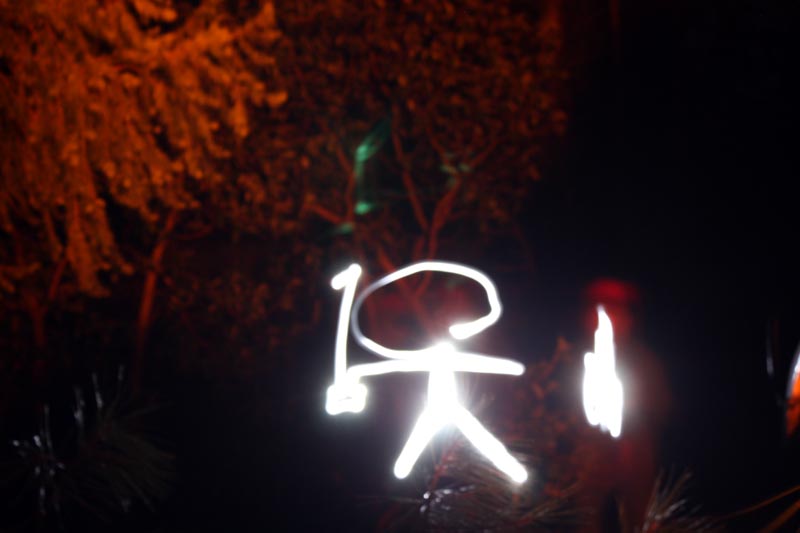 Ice on the side of the track - interesting striations that were formed as the water froze. I'd hate to think what is mixed in with the water...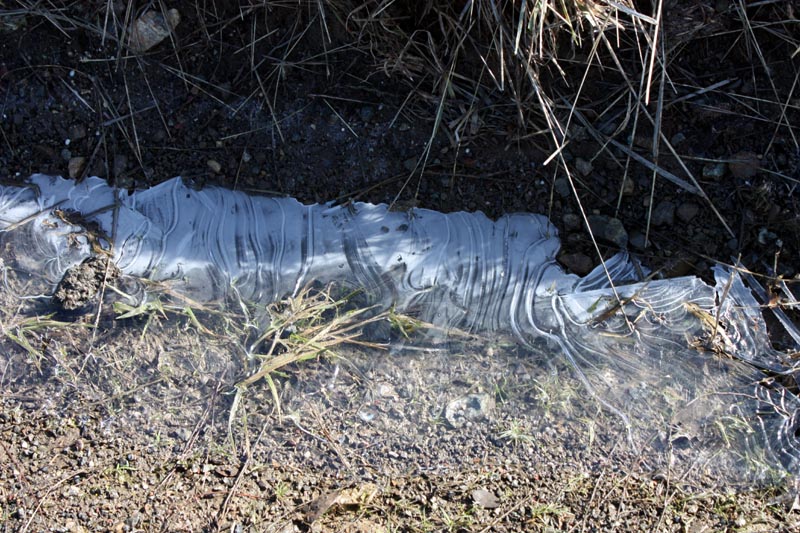 Another great trip, beautiful sunny weather, cool/cold nights and beautiful days.
We went back around the 4th of July, you can see the change of weather just a few months brings to the area.
Here we're camped at Red Mountain near 6000'. Beautiful weather and perfect temperatures.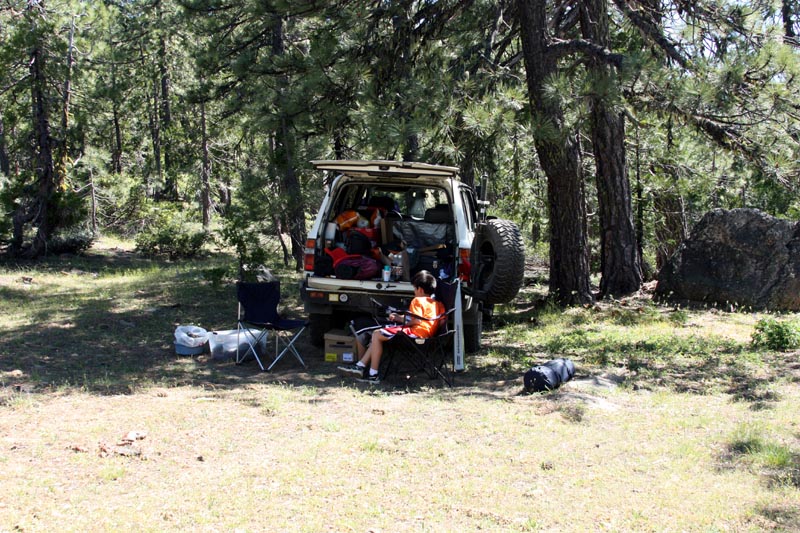 Another camp area maybe 10 miles from Red Mountain.
Oldest, now 13 and an official teenager gets to do some driving. First, one needs to turn the ignition key and start the engine.