Trinity Wilderness Area 2009
January trip to the snow. My 11 yr old had a couple of days break from school, so we made a long weekend out of it and the two of us headed to north to Eureka and then took HWY 36 east.
Here we are on HWY 36 at a few thousand feet, snow and my son having fun. My plan was to head south of hwy 36 on a forestry road called Red Mountain Motorway - fancy name for a dirt road. My wife and I had driven that area (in a jeep) before the kids were born, so seemed like a good destination to revisit but this time in the comfort of the cruiser.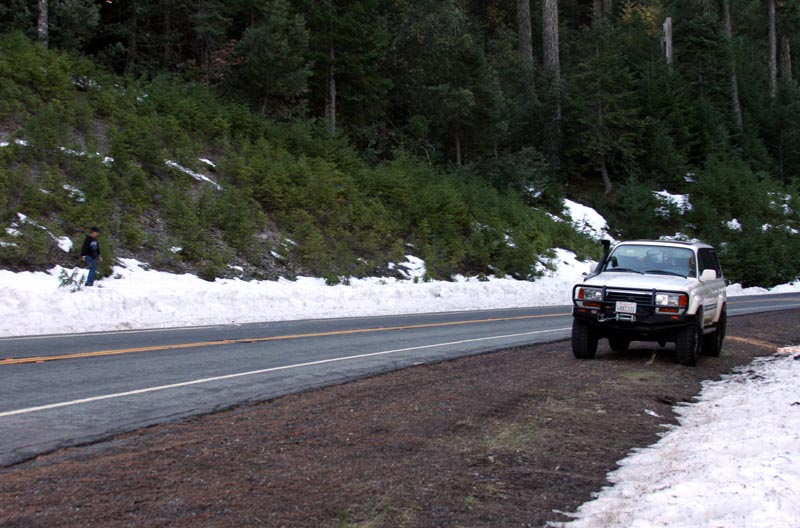 Onto forestry roads. Doing a bit of investigating to find our way. Time to stop and check out the white stuff.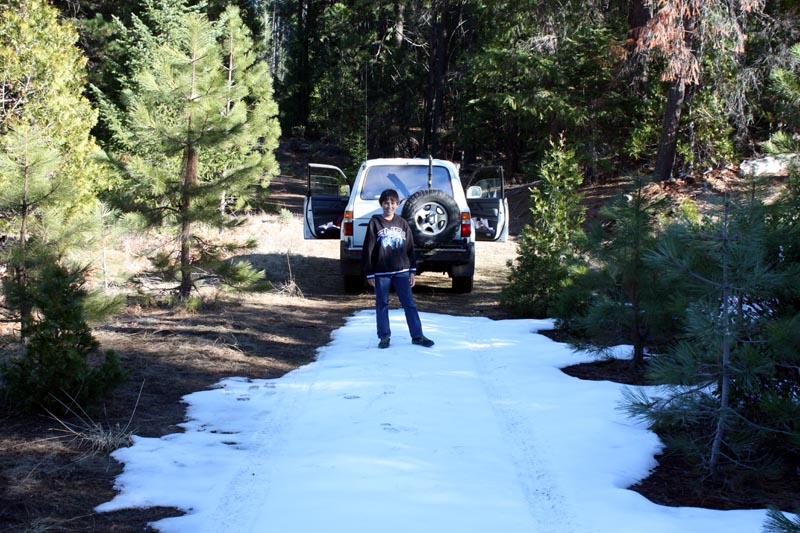 11 yr old looks pretty happy at the wheel. Had to do a little 'instructing' regarding thumbs in the wheel - not the place to put them unless he wants to potentially lose them :)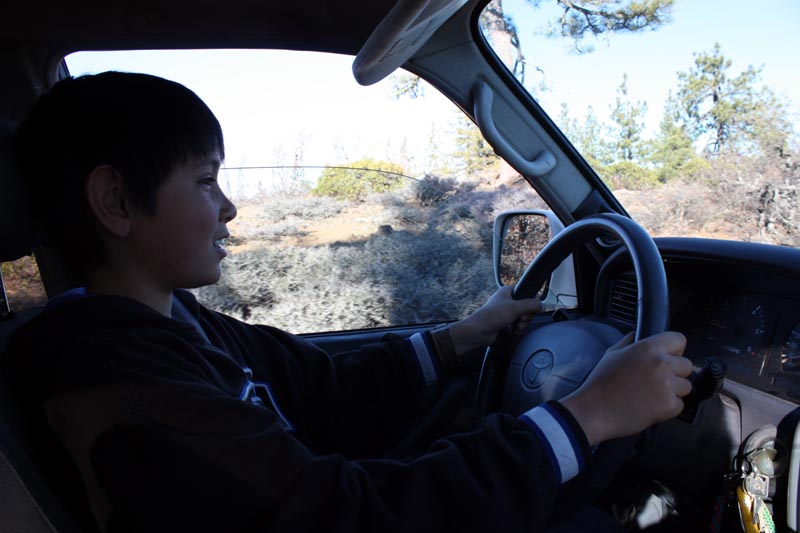 He's still driving - good spot for some poser shots. No other wheel tracks on the road, so we were definitely the only folk in the area.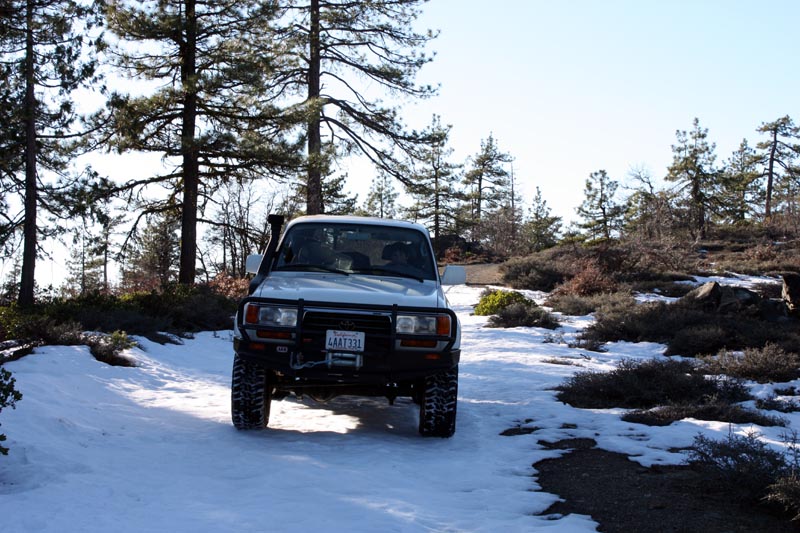 Our first challenge. Bit of an incline and the thicker snow prevented us from an easy passage, even with diffs locked we had to charge a few times to create a cleared path for the tyres. Made it and we continued on.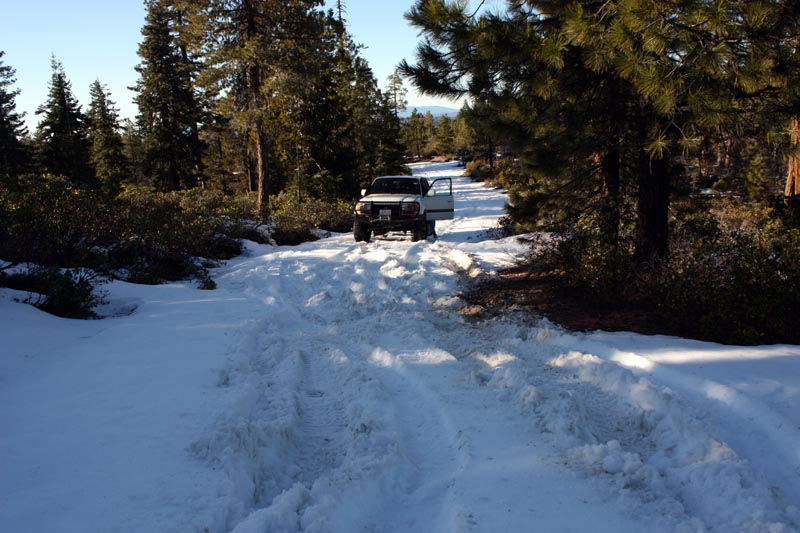 Then we gained more altitude and the snow patches (especially on the sun shielded sides of hills) became thicker. At this point we had a drop off to the side and charging wasn't letting us make any real progress. Time to put the winch to work. I really like the synthetic amsteel blue rope, no freezing fingers, easy to deploy and easy to loop up onto the arb for the next use.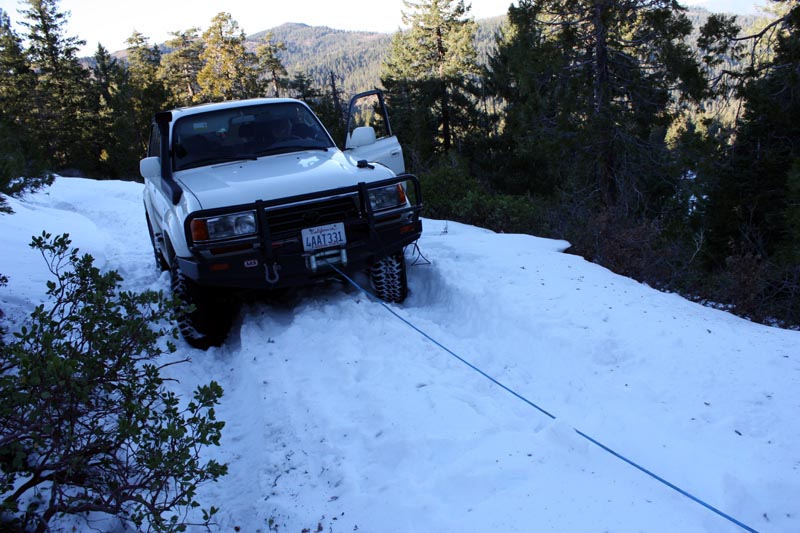 Laying out the synthetic line to a helpful tree. From this picture you can get a bit of an idea of the upward slope. We only need to winch about 20 to 30' before the tyres can get traction again and then get us back to clear ground.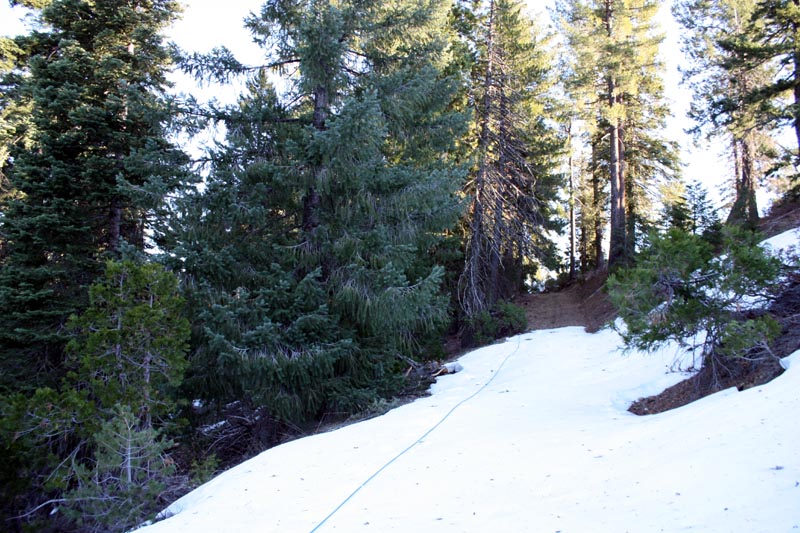 Making progress up the incline as the M12000 pulls us forward with light throttle keeping the wheels slowly turning.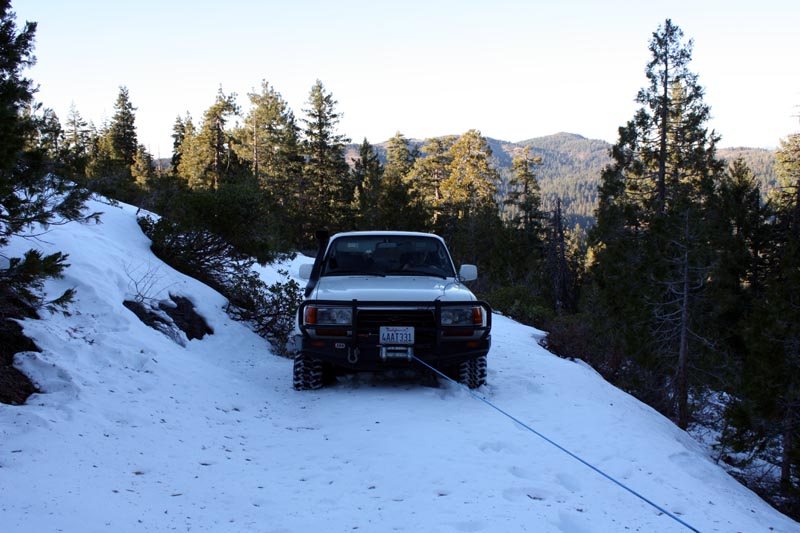 Morning after camping out in the back of the 80. We're on a peak call Red Mountain at around 5500'. Lots of snow patches around us but a beautiful sunny day that is slowly warming up.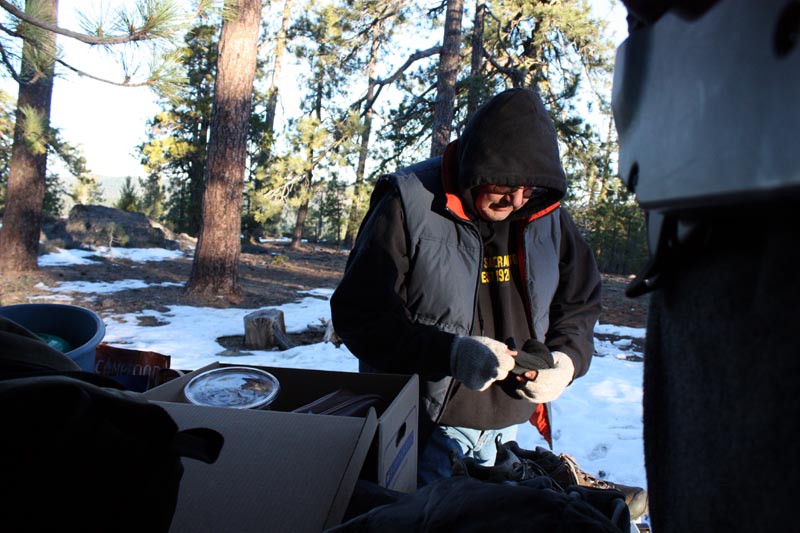 Off we go after breakfast to continue our drive along the 'motorway'. Stuck again, the snow deep enough to impede forward travel. As can be seen I just left the winch cable wound around the arb, rather than spooling it up on each use. The synthetic is just so easy to handle compared to wire.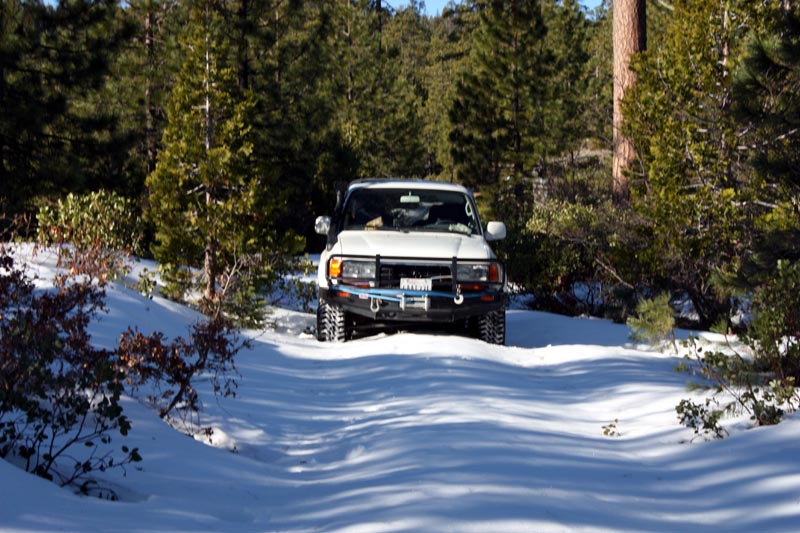 Another tree to the rescue as we start winching forward through the thick patch. We only had to winch forward 30' or so and the tyres were again finding traction and we continued on to our next camp site without further winching.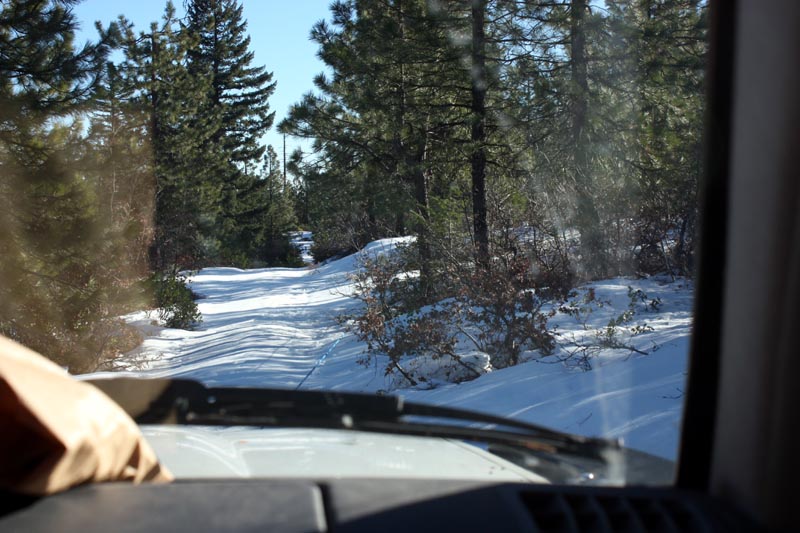 The tracks we left after the thick patch. We would drive back through here on our return to hwy 36 and it was so much easier since we could follow our own tracks, we only got stuck once and a bit of back/forth with locked diffs and we freed ourselves. Never needed the winch on the return.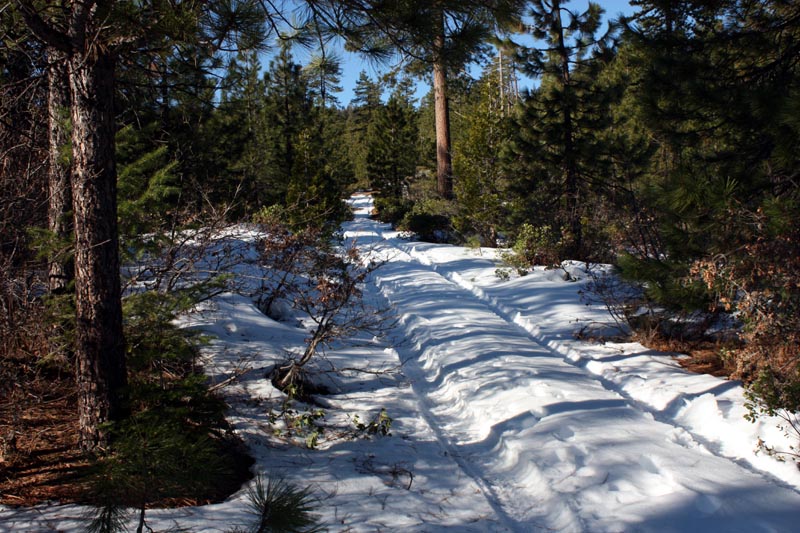 Time to wrap the synthetic again, just in case it would be needed again. Much faster that spooling it in each time and with synthetic you don't have to worry about it being wound tight and neatly on the drum.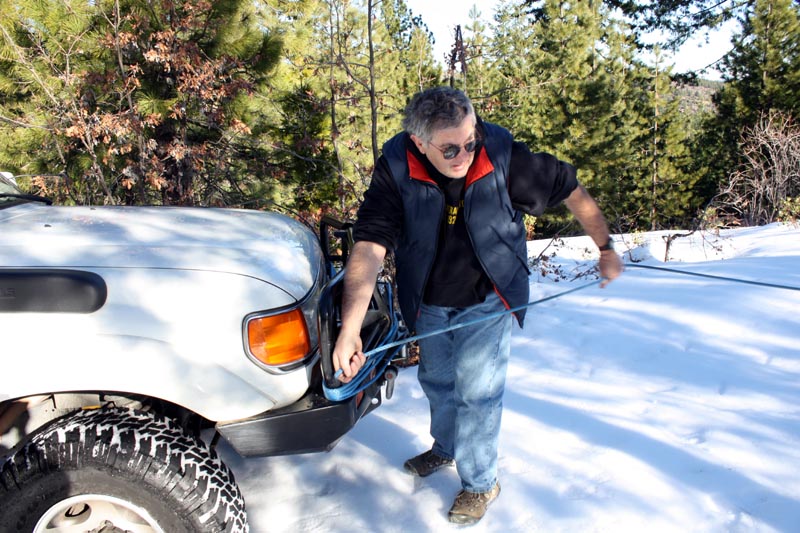 We found a nice sunny clear spot to make camp. To get here we had to move a fallen tree off the road and again no wheel tracks in the snow so we were still the only folk in the area. Nice to have privacy and the whole place to ourselves. The snow on the road was pretty thick up the hill so we decided to not push any further since we would be having to head home the next day.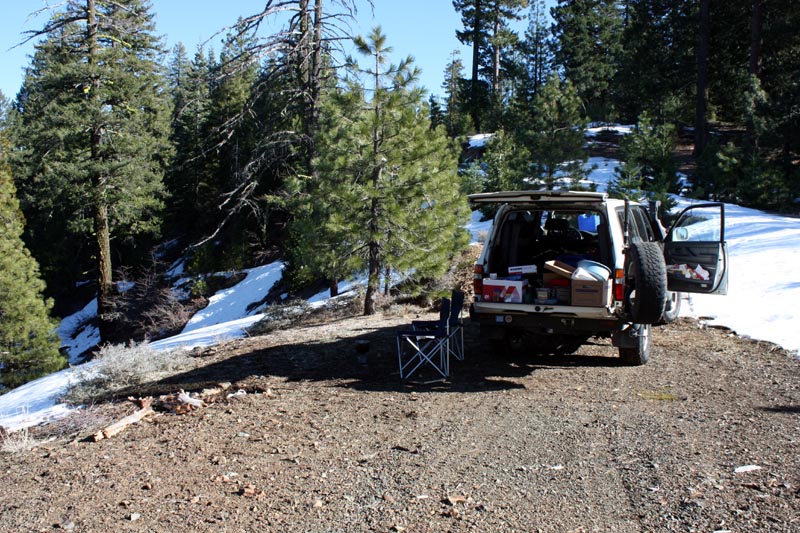 This is the road heading up the hill with our wheel tracks being the only ones. We drove up about 1/2 mile before deciding it wasn't worth winching further along since we needed to leave the next day.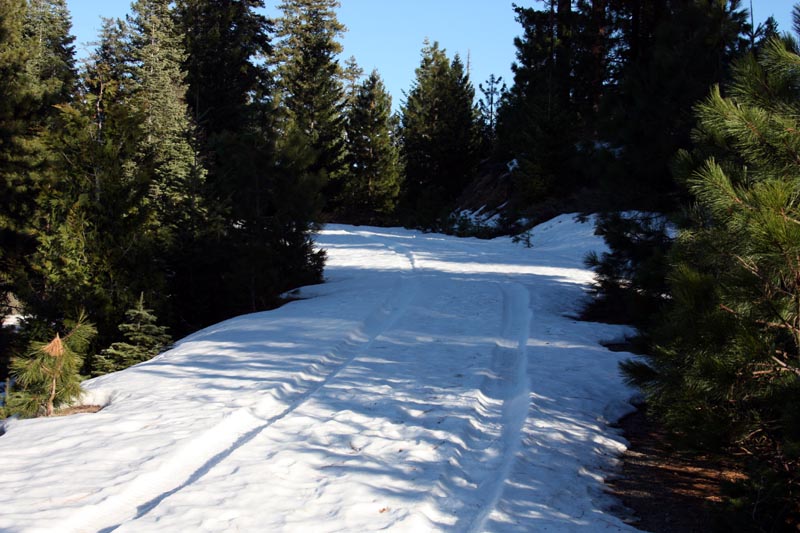 The next morning we thought that we could head back on a paved road that crosses the 'motorway' but soon found a lot of very very slippery ice. Not having chains it wasn't worth risking losing control on a road that we hadn't seen a single vehicle on each time we crossed it. So, turned around and headed back to hwy 36 via the 'motorway' - which was much easier on the way out since we had already cleared the path.
My son got to drive several miles of the 'motorway' back out and got to enjoy more snow driving.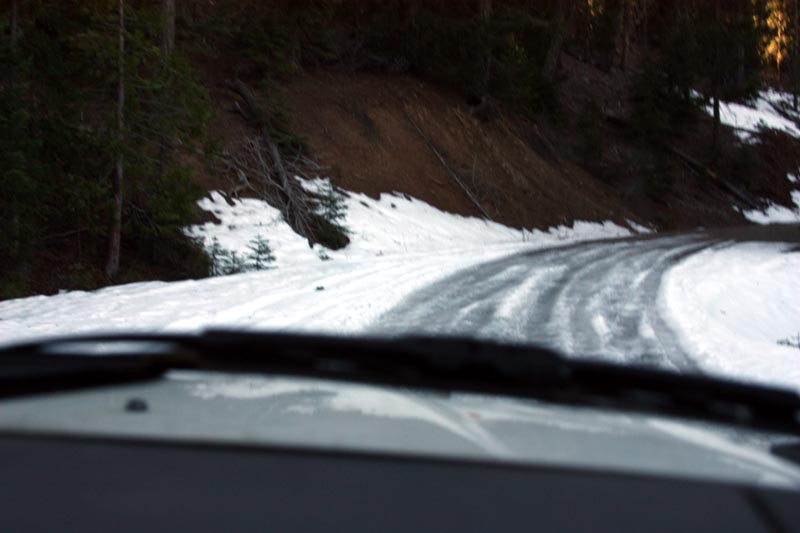 A great father & son trip and beautiful sunny weather.