Hollister SRVA
With snorkels installed it was time for a 4wd outing.
Participants:
Amando in his snorkel 80
Manuel in his snorkel 80
Jay, son and friend in his stock 80 (needs wife approval for more toys!!)
Myself & son in our snorkel 80
+
Tag along newbies in their Dakota pickup
Tag along guys in their lifted IFS minitruck with swampers
Hollister SRVA is a 4wd park where for $4 you can spend the day driving around a state run park of about 800 acres. The tracks range from easy 2wd to impossible/insane ;-)
Amando playing in some goop. Even Goodyear MT/R tyres didn't prevent his locked 80 from requiring a little assistance - though he ran the whole day at street pressure... Jay tried to strap him out - but he had to go uphill and lost traction. After a little playing around, we hooked up my winch and extracted the stuck 80. Amando remained at all times high, dry and comfortable in his 80! We didn't use Amando's winch because in his words "I tried to hook up my winch last night and there was a flash from the winch control box..."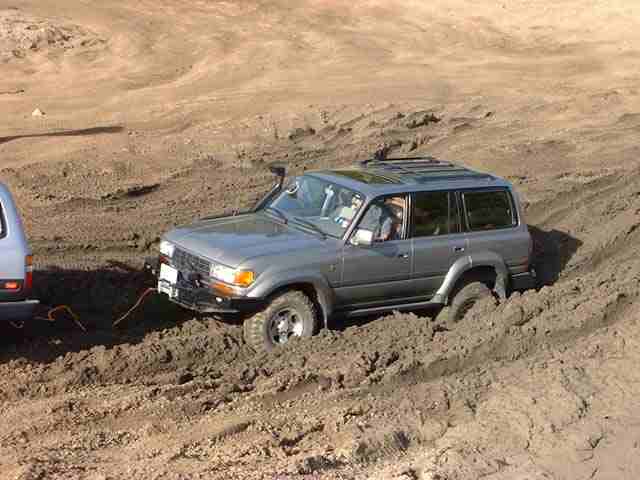 Playing around - lockers make it too easy ;-) If tyres don't spin - you just keep moving...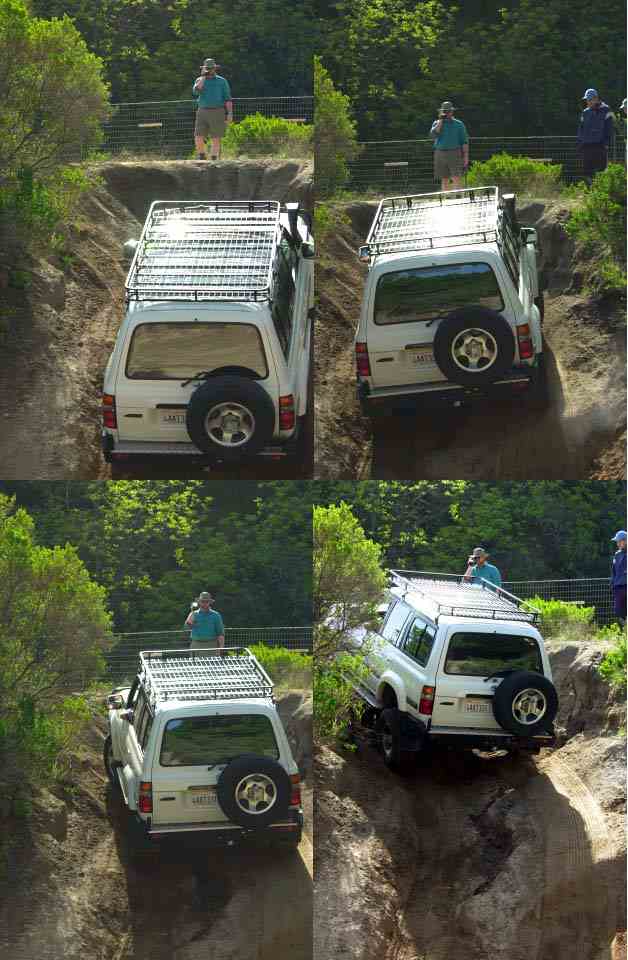 Man made obstacle course. Just a bunch of dips and rocks and stuff to negotiate. Ground clearance is the key to driving it. Our tag along Dakota newbies spent about 1/2 hour getting through with lots of spotting. Their long wheel base and ground clearance made for an interesting drive through.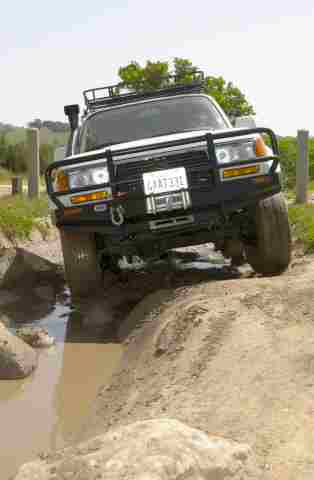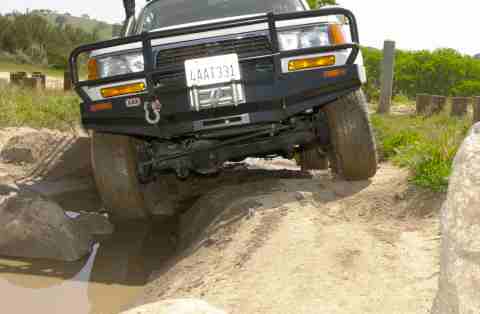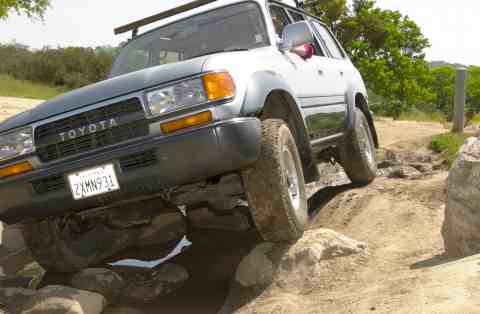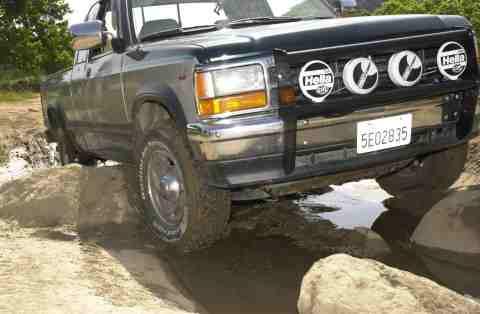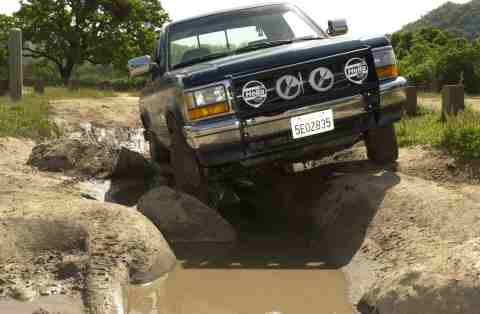 On the left, another of the man made obstacles at the park. Stairway to heaven I think its called. Essentially a smooth cement hill with some rocks and bumps arranged to ensure your tyres spin. Lockers again take care of this challenge easily - you just idle up - Manuel with street pressure in his tyres. The guys in their toy had a bit more fun, open diffs even with just a couple of psi in their swampers were spinning and sliding around. On the right Manuel is heading up truck hill - one of the steeper climbs at Hollister.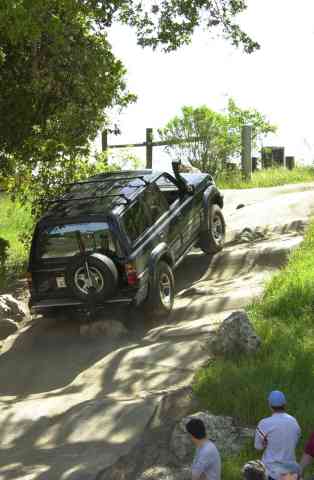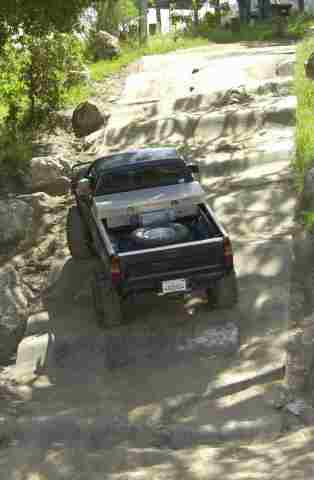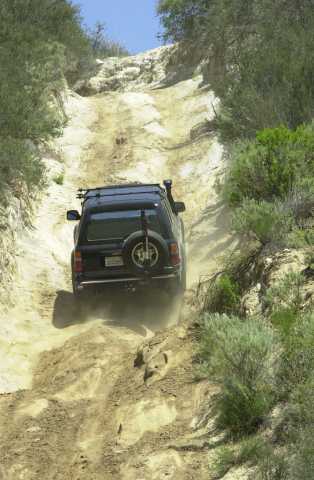 I think I can, I think I can... 5 fingers hill climb.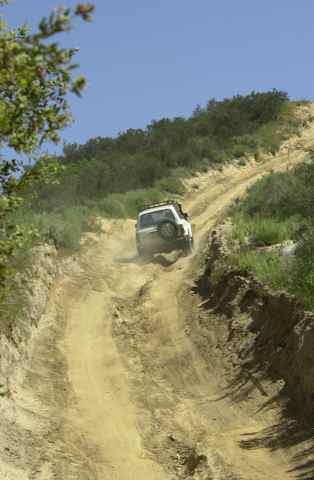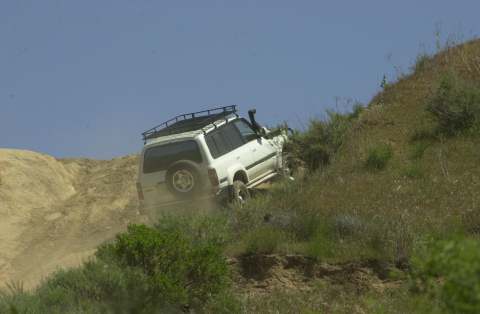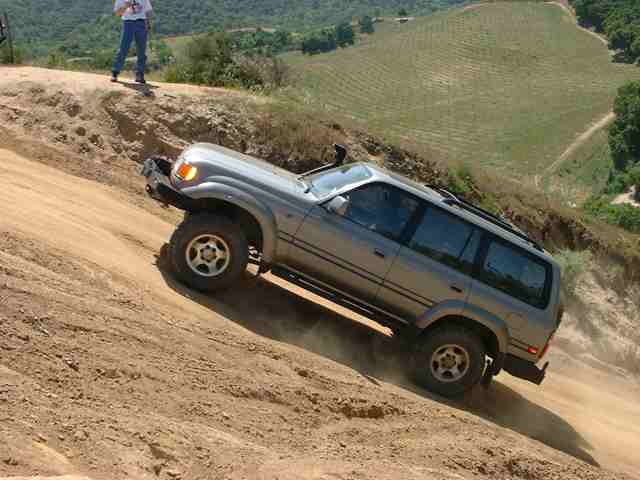 My son posing in front of our little convoy at the top of 5 fingers.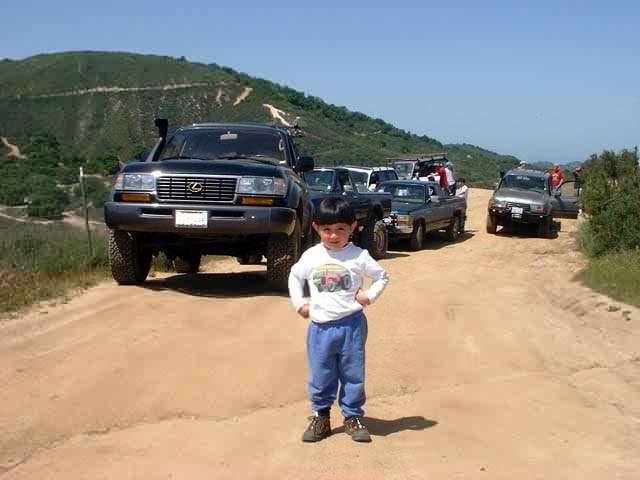 Good pictures showing why the 80 is so agile on rough terrain - with street pressure in tyres. It always impresses me how flat & comfortable the ride in the 80 is, though the guys in the minitruck are probably having a more 'fun' ride ;-)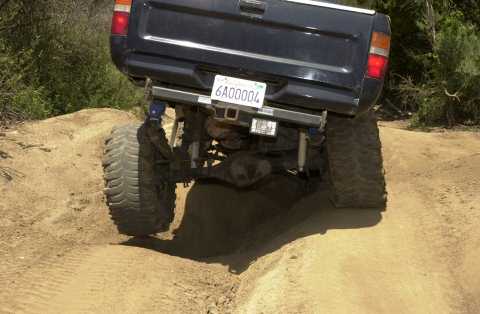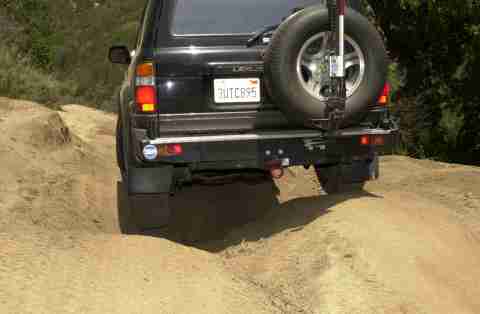 These are seriously aired down swampers. Manuel's low rider on the right. A very tucked in 285-75/16 AT.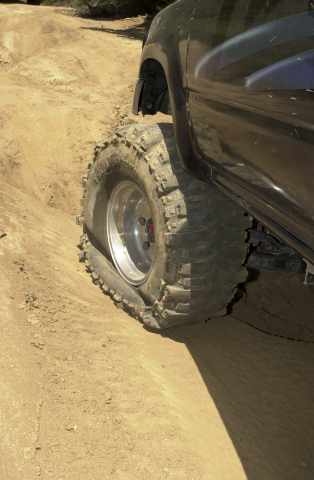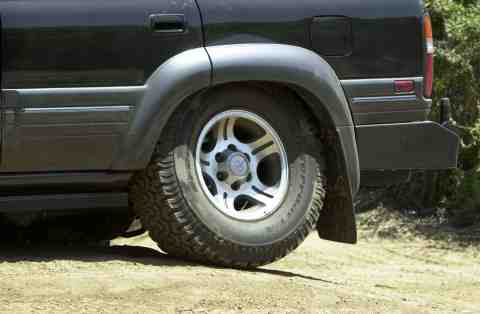 Time to give the rear coils a bit of a work out. Pretty neat to see what the suspension has to do to keep the folks inside nice and comfy ;-)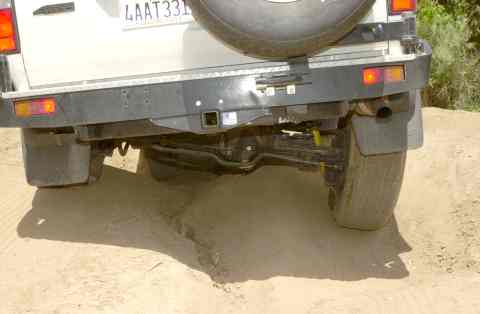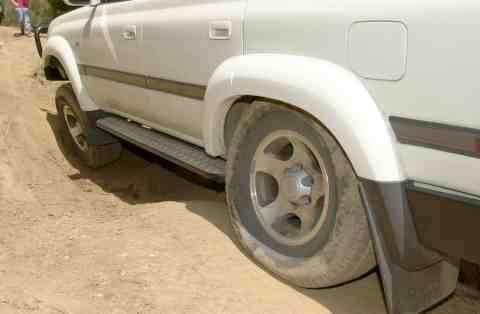 Jay seeing if he can get the most points for giving the tree the closest shave. Cleared it by a country mile ;-)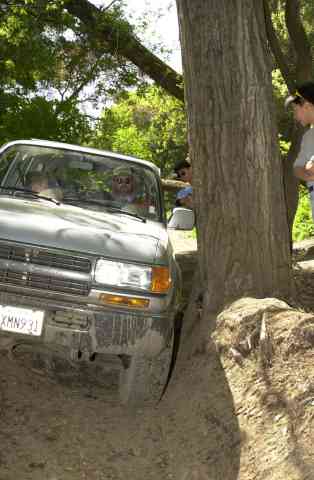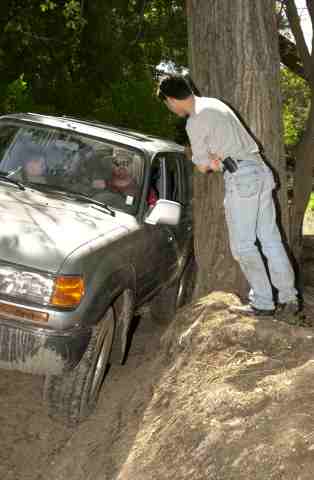 Another good example of the 80 tackling some interesting terrain - just getting a bit of air finally. The guys in the minitruck had a nice revolver shackle rear end - though their IFS drastically compromised their overall articulation - next on their list of projects.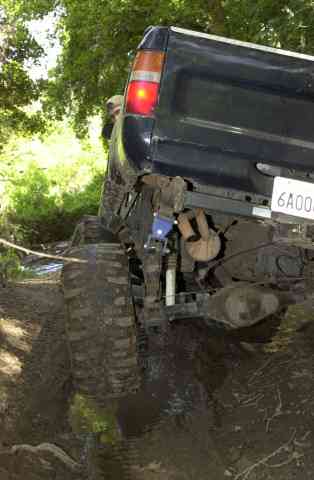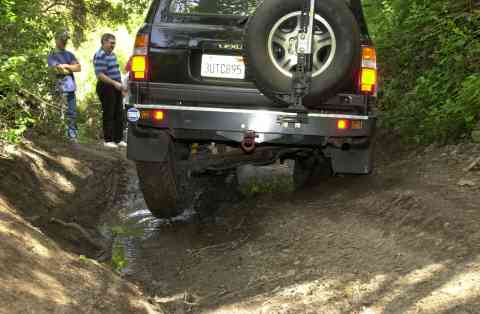 Right at the end of the day, our 4wding newbies had to negotiate an apparently simple muddy stretch. I don't think anyone (including their driver) was looking to see what line they had chosen. Simply put, the results are in the following picture. The dakota's left wheels had probably only 2 - 3 inches of grip before the whole vehicle slid/rolled down the muddy embankment. After getting his passengers to exit the vehicle, we hooked his rear to my winch (as an anchor) and his left front to Manuel's rear. Working together we managed to slide him back onto level ground. I'm sure the driver's adrenalin quota for the month was fully utilized on this Sunday outing. Then on the way back out we had to drive the same stretch, at least this time they just got bogged!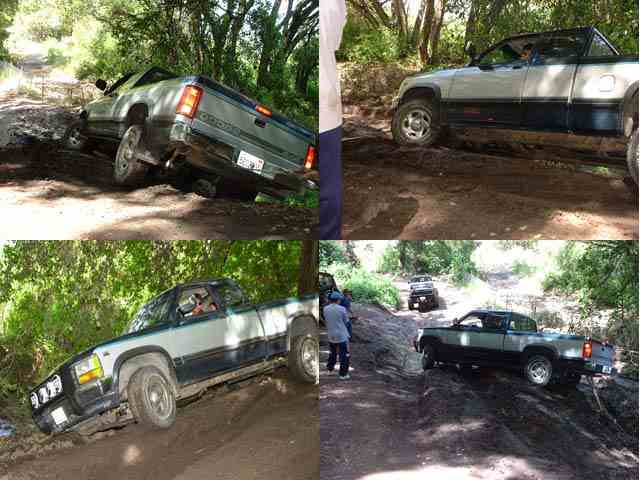 Click here if you want to check out our June trip to Hollister.